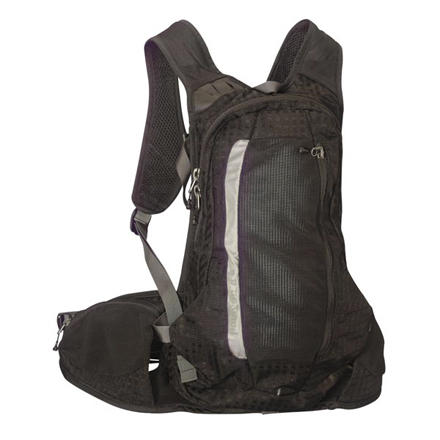 Have used this on numerous trail runs (winter, spring, and summer) and a handful of mountain bike rides. I love the side pockets for easy access as well as the suspension system that allows you to snug this baby up pretty tight, but there are a lot of strap remnants hanging around if that bothers you. The front pocket has expandable mesh which I've found allows you to well overstuff it if you need to. I'd agree with others that the bottom/main pocket is a bit hard to access, but haven't found that to be that big of deal. In the winter and rain, this sheds water very well. The pack also has 2 outside attachment points and comes with 2 straps, but I've not yet found a use for these. End of the day, solid construction, great wear, a titch on the heavy side.
Patagonia Endurance Pack is the perfect size.
I use my Pataonia Endurance Pack mainly for mountain biking. I think it is just the right size, and my favorite feature are the side pockets on the hip strap which keep things like my compact bike tool easily accessible. I can't say how nice it is not to have to take it off or ask a friend to grab things. I keep my little med kit, spare tubes, pump and a jacket if I need it in the main compartment, and energy bars easily accessible in the outer pocket. I really like the size compared to some of the options from CamelBak, and I just like the overall compact design and looks better. My only complaint is that there are a few long straps that hang off of the hip strap, but I think I may trim them off, and then I'll be happy as.
I've been using this for longer trail runs (anything over 2 hours when I can't use two water bottles), and it works well. No bouncing or chafing, and I haven't run out of water yet. It does feel a little overbuilt, as one review said, with a lot of dangling straps that I have to tuck away to make sure they don't bounce around. The pockets on the waist strap are handy for holding gels and salt tablets, though. Overall, I'm happy with it, although for strictly trail running (my only use so far) it's probably more than you need.
I had a larger version of one of these- the catalyst and it was surprisingly roomy for its size. Its also surprisingly water resistant, I went though a few rainstorms here in santa cruz with the thing on my back and all my gear stayed dry.
on the downside I didnt like the fact that the pack rode the hips more than the shoulders and the fact that it tapers at the top thus not allowing as much access to the bottom.
other than that it is very well made. Id have kept it but im a bit of a mil- spec gear whore since I do many times carry a machete and/or rifle along with other odd shaped loads- bottom line I needed something with more attatchement points for gear. Abrasion resistance is second to none
This pack is very well built, as you would expect from Patagonia. It's comfortable and stable. The hydration sleeve and hose exits are well designed. I use a 3L platypus big zip in the pocket and it fits perfectly. With the hydration bladder, there is a lot less room in the body of the pack, but you can still jam in a light shell and midweight layer. The biggest drawback of the pack is access: even with the zippers fully open, the opening is pretty constricted. It's a little difficult both to jam stuff down into the bottom and to rummage around in the bottom finding things. Overall, though, a good pack for warmer months.
Very well made pack. Sits nice on the back (not too high). Little heavy (somewhat over built).