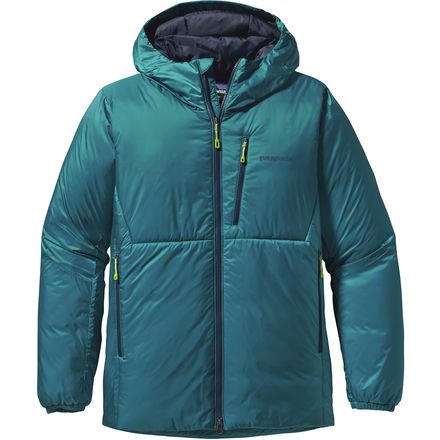 Detail Images

Community Images
Description
An ultralight insulator made famous on belay ledges worldwide.
When your partner has been on lead for the last hour and you're huddled on a tiny, frigid belay ledge in the middle of a snow storm, give thanks to Patagonia for the Men's DAS Parka. This lightweight puffy features a weather-resistant shell and high-lofting PrimaLoft insulation that keeps you warm even if it gets wet. The oversized hood fits over all types of helmets, and the two-way zipper lets you get at your belay device while keeping the jacket zipped. Large handwarmer pockets and interior mesh pockets store your chilly hands or water bottles, and Patagonia included a stuff sack for when it's time to climb.
Im 6'2" 155lb and am wondering what size would work best for me? Would use it around town and wouldnt need to layer
Hey Connor,



I would recommend going with the DAS Insulated Parka in a Medium if you do not want to layer. I am 6'1" 185 lbs and typically go Medium in Patagonia for a tighter fit. Feel free to shoot me any additional questions on this or other Patagonia Jackets.
Synthetic Goodness
Fit:

True to size
Great for when the weather might be a little wet and you don't trust your down. Purchased this for a trip to BC and it kept me warm even when it started drizzling at 5000 feet before we flew into the alpine. Fits my 5' 10" 180 lb frame perfectly with som room to layer underneath.
I'm gearing up for Rainier, and considering the DAS for my belay jacket. I understand the fit on this jacket has changed a bit within the past 2-3 years. I normally wear a small in Patagonia, but still find their regular fit outerwear a bit roomy in the chest. I'm 5'8" (barely), 140lbs, 36" chest, 29" waist. Should I go with a small or a medium?
Best Answer
Hey Chris,



What are you looking to do in regards to layering with this jacket?



You're right at the top end of the Small so knowing how you plan on layering will be a big factor in my recommendations.



Since you're gearing up for Rainier, I'd love to help you out.



Shoot me an email if you'd li ke to work 1-on-1 or have more quesitons.



Jared D.

Expert Gearhead

800.409.4502 ext 4055

jdowns@backcountry.com
Jared,



RMI's equipment list recommend a total of 5 (interchangeable) layers, including a parka. This is what I've got so far:



Base: Patagonia Cap 3

Mid 1: Patagonia R1 P/O

Mid 2: Arc'teryx Cerium LT Jacket

Outer: Arc'teryx Beta AR



I'm not 100% settled on the Cerium, it may be overkill. I might substitute it for a medium weight fleece: the Arc'teryx Covert Cardigan. The Cerium is the layer that would represent the greatest bulk underneath any parka. I don't like cold air pockets in my jackets, and generally prefer a closer fit. Even so, I'm beginning to think that a medium in the DAS may be the best option. What do you think? Thanks,



Chris


Hey Chris,



I'm going to send an email to you and we can work 1-on-1.



Jared D.

Expert Gearhead

800.409.4502 ext 4055

jdowns@backcountry.com




What's the length of a medium from back of neck to hem? Anyone?


Hey justsaygeorgia,



The center back length of a medium is 30.75 inches.
I trying to decide between this jacket and the Outdoor Research Chaos. I'm looking for a stylist warm jacket to wear around town and to work. I'm 5'7 and 155lbs, what size should I get?
The DAS here is tough to beat. Super warm, and super durable. For sizing I think you could go with a small if you're wearing it around town. If you were using it as a belay parka to layer over 2 or 3 other layers I would say medium.
Hi, I'm 5'10" 160lbs , Chest:96CM , Waist:81CM, Size S OR M?Thanks
Jack,

Medium would give you a little extra room to layer underneath, and in my opinion give you a little more comfortable fit overall. Small though if you want more of a trim/snug fit and don't like your jackets loose at all. Personally I would go medium for sure.
Exactly what I needed
Familiarity:

I've used it several times

Fit:

True to size
I was in the market for a mega warm puffy this winter after my last down jacket was forced into retirement. Initially I was set on down but decided to at least take a look at synthetic. To my surprise, after some research and good reviews I decided to go with the DAS parka. After getting it and trying it on, it is EXACTLY what I needed. Mega warm, looks good, beyond comfortable, and well designed features. I love wearing this to the trailhead in the morning before skinning when the temps are beyond frigid. While not fully waterproof, I wore this in the rain during a bike ride and the water just beaded off. Also, Patagonia redid the design to make it better suited for active use and clearly it works because my range of motion is not impaired whatsoever. The only downside to the jacket, and with almost all synthetic puffies in general, is the fact that it doesn't pack down small. But personally I have other jackets for hut trips and bringing on long tours. For reference, I am 6'3'' and about 180 and the large fits well. Plenty of room to layer underneath but doesn't feel huge when I'm just wearing it over regular clothes.
Nice
Familiarity:

I've used it several times

Fit:

True to size
I am 6'0" 210. Slightly longer torso. Bought a large. Length is good. Past my waist. There is plenty of room for a long sleeve fleece to be worn underneath. Slightly snug around armpits with the fleece. Very warm. Wear a fleece vest underneath in winter. Walking around in 25F and I am warm. I might have tried a Medium if I had this to do over, but I am very happy with this.
So far so good
Familiarity:

I've used it once or twice and have initial impressions

Fit:

True to size
Will take it out on ebc trek in a couple of weeks, but so far around town, 20F, im usually hot and have to take it off. Seems like an awesome piece for really cold conditions. True to size, the mexium fits perfect for me at 5'10 185 lbs. I have room for a pata r2 under it with no problems.
Customer feed back to a Gear Head
Familiarity:

I returned this product before using it

Fit:

True to size
Hood adjusts very well with and without a helmet, but the collar is only about 2 inches high where the jacket leaves the torso and I sits right at the bottom of the chin and doesn't feel quite high enough. Fit is boxy.
Ageless Parka
Familiarity:

I've put it through the wringer

Fit:

Runs large
I've had my Das Parka since 2007 and, except for a small tear on the forearm (my bad), this has kept me warm and dry ever since. It does run big, in my opinion, but that does allow for more layers if you need it (probably won't). Roomy zippered pockets keep your extras handy and safely stowed.
I am trying to decide between the DAS parka and the Blank Diamond Cold Forge Hoody. Will be using for winter climbing, ski touring, and all around living in Vermont (cold, wet, and windy).
DAS for sure! Patagonia has over 40 years experience making clothing, and the DAS is a long running style that has been refined and updated over the years. Also the DAS will be more weatherproof with it's PU coating rather than a DWR w the cold forge.
Outstanding
Familiarity:

I've used it several times

Fit:

Runs large
I'm 6'4" 250 with an athletic build and this fits me fine. Overall, this is a great coat, stylish enough for the city, but a go-to piece for the outdoors, the area it was designed for. It's warm, and blocks the wind very well, is well built, with constant layering throughout the coat. One minor quibble is that the hood could be a little bigger/longer, though I am wearing an XL and it is probably due to my frame. The insulation in the hood is solid and should help you stay warm. With a fleece, I could see some one wearing this down to the teens or a little lower if they're daring, and easily low 30's and above with just a shirt on underneath(with a took on since the insulation in the hood is the thinnest part of the coat-though still solid). Folks looking for their hiking, rock climbing main piece should definitely check this coat out, and will make anyone happy who is looking for a warm Winter coat that ins't bulky.
I'm 6'4" 250 lbs with a 50" chest. Will...
I'm 6'4" 250 lbs with a 50" chest. Will an XL fit me? I usually buy XXL so a coat is somewhat roomy instead of snug. Also, is this the latest edition of the jacket? Thanks!
Best Answer
Hey Eme4398144,



The XXL would be a better choice size for you in this jacket. An XL tops out at 47 inches in the chest area so I believe it will be too snug for you. You can always try it and if it does not work use one of our return labels for $6.99.
Like a mobile bed
Gender:

Male

Familiarity:

I've put it through the wringer

Fit:

True to size
I like this jacket . I don't know how it'll perform in the cold since it's obviously summer but I can at least attest to its comfort. It feels like I'm wearing a pillow and I just can't get over how comfortable it is. I've read enough reviews to know that I won't regret it or be let down when I put it on for its intended use in the winter. I'm glad I got it $100 off, that just makes it sweeter. I'm 5'10 167lbs, 39 chest and the medium fits perfect. I'm giving it 4 stars since again it's not winter so it would be dishonest to say it's perfect without putting it through a real test.
I'm 6'3", 165lbs, chest = 39", sleeve =...
I'm 6'3", 165lbs, chest = 39", sleeve = 35", what's the best size for me? Generally a large is too baggy in the torso but better fits in arm length. Also I would probably just be wearing a tshirt underneath. Thanks.
for your height personally I would go with a large here Paul, but you might be able to work a medium since you don't want it to be baggy in the body. The DAS runs about 1/2 size big since it's a belay parka, designed to be thrown on over layers. And since you're just rolling a t-shirt it just might work.
Hey, Paul. Did you end up getting this coat? I have your exact same measurements, and I have the same question about choosing between the Medium and the Large.
I'm 5'10" 156lbs , Chest:98CM , Waist:81CM,...


I'm 5'10" 156lbs , Chest:98CM , Waist:81CM, size: S or M ?
Hey Jack,



Thanks for your question.



I would suggest a size Medium for this jacket. Patagonia DAS Insulated Parka - Men's.



I hope this helps.
Nice warm parka
Familiarity:

I've used it several times

Fit:

True to size
I bought this parka for my trip to alaska, it works great and feel comfortable
Damn Great Parka
Gender:

Male

Familiarity:

I've used it several times

Fit:

True to size
Solid parka, will keep you warm down to at least 20 degrees with nothing underneath. When hiking in the whites I love getting to the summit and putting this on, it keeps me warm and cozy even if it's zero and super windy. The hand warmer pockets are insulated on both sides and the big internal pockets are perfect for keeping water bottles, phones, and anything else warm while stopped.

Two complaints

-The sleeve length is actually pretty short, I don't think anyone would complain if the sleeves were long enough to keep your hands warm.

-The hood cinch is of the single pull variety, I see how it's nice on a summer rain jacket but it would be really nice if you could cich the hood around your face the way you can with a two way adjustable hood.

Sizing is pretty ideal, it fits over an outer shell without being all that bulky.