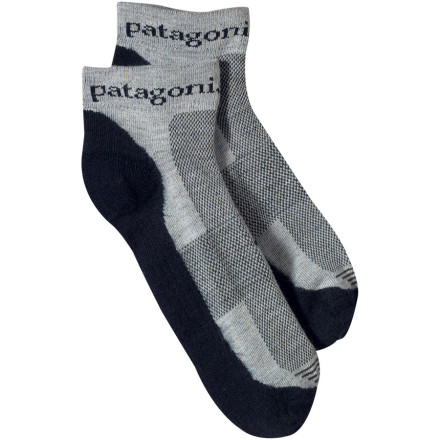 Patagonia Lightweight Endurance socks feature a blend of wool, nylon, polyester, and a splash of spandex to create an ideal balance of cushioning, durability, and moisture management. Use them for biking, hiking, running, and more. Use the ankle-high Endurance from spring till fall. Comfort details include knit jersey mesh over the top of the foot for maximum breathability and a felted footbed for cushion that will last a journey of a thousand miles.
These socks are made for hot weather. They are comfortable and wick moisture very well. I wear them on the bike and on the trail with my low hiking shoes. The heel area seems to be wearing quicker than I expected them to.
comfy and light...however...peeling came pretty quickly to my dismay...i need to take these and my other style patagonia socks back i think...smartwool is a good alternative and they have slight peeling as well but i feel are better.
these socks are super comfy and i use them when i wear my trail-running shoes and theyve lasted longer than the shoes and are still SUPER comfy
I now have four pair of the Patagonia Ultra Lightweight Endurance socks and decided to try out this sock. They are great, about the same as the Ultras. Very comfortable, feel great on runs and my feet are very happy with them :-)
These are my new favorite socks- bumped Smartwool off the top...they hold up better after multiple trips through the wash/dryer and they do a good job of keeping your feet dry.
Other than my Balega X-Trainers, these are my favorite socks. I did a half ironman triathlon in them, and it was 100 degrees during the race so I was pouring water over my head all day. The socks held up, though, and my feet felt great at the end of the day (well, relatively). I'm a 14 a the XLs are perfect. Planning on buying more pairs.