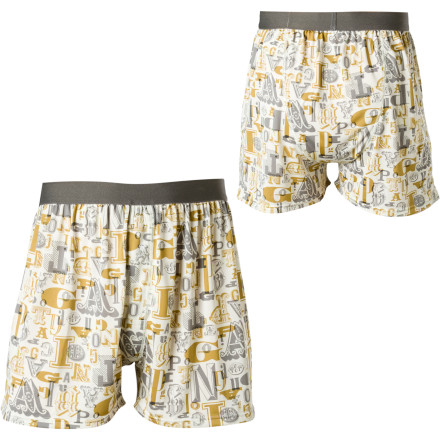 Detail Images
There is underwear out there that will do all kinds of things: glow in the dark, impersonate animals, and even provide you with a meal if you can stomach the taste of sweaty fruit snacks. How about underwear that actually keep you comfortable? The Patagonia Capilene 1 Boxer is made from silk-weight, moisture wicking polyester so feel good whether you are powder chasing on the mountain or trail running in the hills.
Fit good, but elastic isn't good
I like the fit and they work great when I have them on, they wick moisture, stretch when I need them to, stay put. But the elastic likes to bunch up, just on one side of the boxers and gets a little irritating. Maybe it's just my pair that does this, since I haven't read any body else having problems with that. Other than that, they are good and I recommend them.
Good for trips. It's a good, looser alternative to long underwear, and almost a necessity in the summer (obviously not wearing long stuff).

Last word: Cotton boxers don't know what hit them.
Does the aztec have pockets?
Does the aztec have pockets?
These are boxer underwear. They do not have pockets.
They're light, breathable, and stylish. No complaints, and mine have lasted quite a while.
I got hooked on silk boxers back in the 90's when my wife bought me a pair for my birthday. The problem was "silk" boxers don't last long. Enter the Patagonia Capiline Boxers. These are amazingly comfortable and like the other reviewer stated, they are quite literally like being naked. They are soft and actually wick moisture away. Since I started wearing these my wife keeps buying me these at various holidays. Now I have about 7 pair and they are all I wear. I wear them under my climbing pants and under business suits. And after years of wear - I can't wear these things out. The elastic is still bomber and the fabric is still soft and supple. It's almost ridiculous how well these things hold up.
Light, almost invisible feeling. Closest you will get to being naked while still wearing underwear. Bulletproof during a found of golf in 97degree heat. Buy, buy, buy!