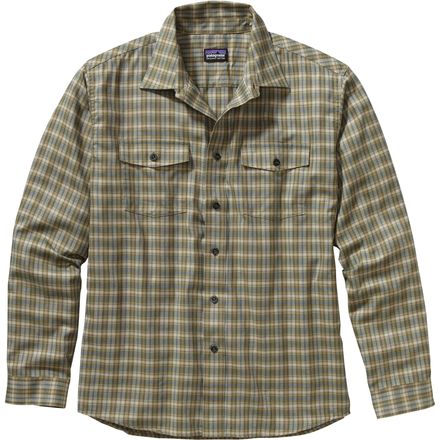 Detail Images

Community Images
Description
Surf the ocean or surf the pow, but keep the Buckshot Flannel close.
Patagonia calls the Buckshot Flannel Shirt a "surfer's mainstay", but we wear this puppy all winter long, and there ain't no waves here in Utah, unless you consider the 500-plus inches of snow to be a liquid/plasma/perfection hybrid wave of sorts. We just call it powder—and we call the Buckshot a supremely comfortable shirt for dominating the après scene, hitting the No Name Saloon for a burger (or a cougar, depending on the mood), and chilling by the fire. Patagonia's mid-weight organic cotton flannel is ultra soft, and the slim(ish, we're not all triathletes) fit looks great tucked in for dinner or left loose over some cords.
killer long sleeve
Familiarity:

I've put it through the wringer

Fit:

True to size
As all the other reviews said, this shirt is awesome. I used them over the last year for everything, looks/functions great around town and around the camp fire. A huge plus on this long sleeve is breath-ability without loosing warmth. I keep one in my car as my go to button up when the sun goes down. Not as warm as my Patagonia Fjord but I find myself going for this one more because it's not as thick but still almost as warm. Wore it all day while teaching high ropes courses and loved it!
Where are the shirts manufactured ?
Made at Guangdong Esquel Textile Co in Guangdong, China
I'm 6'1" 175lbs and the medium is a great fit. Normally sleeves are too short for me. Good fit, looks great.
Awesome shirt!
Familiarity:

I've put it through the wringer

Fit:

True to size
This shirt is awesome! The organic cotton/polyester blend is light, soft and yet warm. I wear these shirts year-round here in Southern California. For me they are casual ware and yet they are nice enough to be slightly dressy.



The construction is solid and the shirt is naturally wrinkle-resistant thanks to the polyester content. I took one of these to Hawaii and it came in very handy while hiking and camping in Volcanoes National Park.



The fit is a little boxy but it's a "regular fit" by Patagonia standards and the bottom line is that it's comfy. I can't say enough good things about this shirt.
Perfection.
Familiarity:

I've used it several times

Fit:

True to size
First off- the other reviewers are right- this shirt technically isn't a flannel. It has a flannel pattern, and the material is thicker, but it still is more of a typical button down shirt with a tad of softness added. Regardless, I love the shirt so much. It's insanely comfortable, has a very well make feel, and great colors. I can get away with wearing this shirt to work, but also to the crag on a weekend.
Awesome shirt, not really a flannel
Gender:

Male

Familiarity:

I've put it through the wringer

Fit:

True to size
I thought this was gonna be a fuzzy flannel and its not... BUT it is an awesome thick, durable, comfortable, well made shirt. It is similar to a standard oxford shirt but uses a much sturdier fabric that is extremely comfortable and very soft. I'm 6'1 and the large fits great. Would consider this shirt to be very consistent with patagonia sizing.



*Update* I just ordered another... Great shirt.
+1 to everyone else
Familiarity:

I've put it through the wringer

Fit:

True to size
Whichever one of you Backcountry employees gets to decide what goes up in the showroom at your UT warehouse, you totally made me spend $80 that I otherwise would not have. That's your job though right? I was waiting for some other items, and saw this sitting there on the rack. Decided to try it on and bam, felt like I looked like a stud and bought it.



I'll just go ahead and echo what's already been said. This shirt is awesome. Feels great, looks great, fits great. It's thin for a flannel, but really comfortable. 6'2 195lbs and I like the fit of the Large.
Patagonia quality!
Familiarity:

I've used it several times

Fit:

True to size
This shirt is as great as almost all of Patagonias stuff. It is a little misleading though to call this a flannel, it is pretty light weight, and doesn't really seem to be like other flannels. The thing I love about Patagonia shirts is that they fit me well, and they always have some really great colors to choose from. I'm 6'2" and 220 and I wear a large, in most other brands I have to go Xl, but then I have extra fabric around the gut area, and it looks boxy, but with Patagonia, I'm always happy. BTW the Valhalla blue is siiick.
Patagonia Buckshot Flannel
Great shirt,Like all Patagonia stuff, constructed perfectly !! I wanted the Prussian blue, sold out everywhere. Wish they would make more when they have a hot color.Not really flannel in the truest cence of the word more like a very soft Egyptian cotton.Looks great,should wear like iron.Anybody have a Prussian blue they want to sell.Need a large.
Patagonia Shirts are the best
Familiarity:

I've put it through the wringer
My go to, do everything, look good anywhere, comfortable everywhere shirt. A shirt for life not for a trend.
Unanswered Question
I've fallen in love with the looks of this...
I've fallen in love with the looks of this shirt but my weird body size makes me hesitate to buy it online. I'm 6'3" and an athletic 215lbs, I wear a large t-shirt but seldom wear long sleeves because to get a good fit I need the xl shoulder but then I end up with a really baggy shirt everywhere else. Can anyone speak from experience about the XL? Is it a slimmer or wider fit in the gut? Thank you.
Perfect Knock Around Shirt
As a company ... It doesn't get any cooler than Patagonia. Seldom do they produce a bogus garment and the Buckshot Flannel is a perfect example. This shirt is not really cut for a robust, barrel chested dude. It has somewhat of a slim fit. I'm 6'1" and 188 pounds with a 42" chest and broad shoulders ... In this shirt, as with most of Patagonia's stuff, I wear a large but I'm right on the edge between L and XL. Quality is awesome and you get bold, "out of the box" colors to choose from. I have the Prussian Blue one and it goes with so many different pants. Blue and gray denim or gray cords or khaki's ... it's all good.
Nice shirt. Different than expected
This is a nice shirt that is much lighter weight than I expected. The fit is pretty big. I am usually wear an XL and have plenty of room in an Large. The cut on this shirt is pretty short so if you have a long torso, beware. I am 6'2" and have a slightly longer than average torso and it fits good but if I was any taller it would not look good. This shirt is great for work or a night out but is not heavy enough to offer any warmth on a cold day. The pics of the Fancy Chambray color are accurate.
Stylish, Comfy and Durable
I simply love the fit of the small - I'm 5'7 and 145, and it fits perfectly. I'd say it's a bit of a trimmer fit just an FYI. The fabric seems very durable, but not overly bulky as well.
besides Patagonia, what other flannel...
besides Patagonia, what other flannel shirts do you offer?
Do a search for "Flannel" in the search box at the top of the page. BC has a lot of options.
This is a phenomenal shirt. Fits great, feels great and wears great. It's so good I just bought another one to wear to work as well. Patagonia makes quality clothing and technical outwear and they've never let me down.
Comfortable, versatile, awesome
A soft, travel-friendly shirt that looks good as good at the office as it does while grubbing on fish tacos. The cotton/polyester blend breathes well and keeps wrinkles away, but is not as thick as your traditional flannel. I wish the shirt was a tad longer but otherwise, no complaints.
I love this shirt. It fits nicely. As with all Patagonia stuff the quailty is what you would expect. I would say go with a size down as most people said. I got the large and I usually wear an XL.
I've run this through the wash a couple times and it just keeps getting better. Nice fabric, for an all-cotton shirt it looks great straight out of the dryer. It's a pretty roomy fit, I'm 6'1", 190 and I bought the XL. Sleeve length is pretty good but the body is very generous, I definitely could have gotten by with a Large