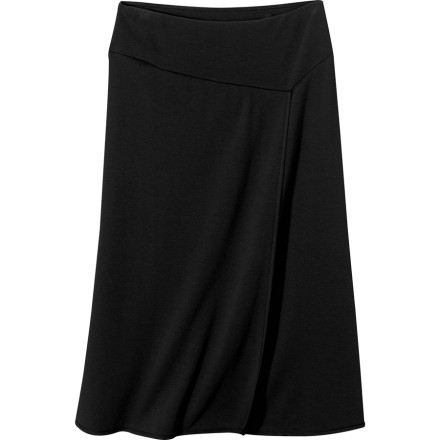 Detail Images
I am happy with this skirt. It is great for travel as well as everyday wear... a great basic piece to add to your wardrobe.
I love this skirt. The fabric is a nice medium weight to flatter rather than reveal. It looks great with tall boots or with sandals. I would buy it again!
Loved this skirt. Not too tight or too loose, and hung just below the knee which was what I was looking for and hard to find at 5'9". Lightweight, comfortable---soon to be my favorite knocking around skirt!
Wasn't for me...the contrast stitching made this skirt look a bit too casual, not what I was looking for. It is not a slinky type fabric, but thick like a sweatshirt...I returned it.
Easy to wear, works well with a boot with a heel in the colder weather. Love the unique wrap look. Will wear this often to work and after.
Great skirt, feels great, looks great, is great!
Not the best option for shorter women
I've wanted this skirt for a really long time - the reviews were always positive, it looks so dang comfortable, plus I like what the Patagonia as a company. I was disappointed when I finally received it, though. I am barely 5'2", and the skirt hit me just a few inches above my ankles - not very flattering. Plus the wrap-around feature made it feel like too much fabric. The skirt overwhelmed my smaller frame and I ended up returning it. It's too bad. I really liked the feel of the fabric and the construction, it was just not meant for a smaller-than-average person. I wish patagonia made pants/skirts for with a shorter inseam!
It traveled to India, has been worn many days a week and still looks great and is unbelievably comfortable.
Mid ankle or calf on a taller person.
Another great Patagonia product. Such a nice fabric with a nice weight. Okay to wear in cold weather with tights. Good for casual or dressier outfits.