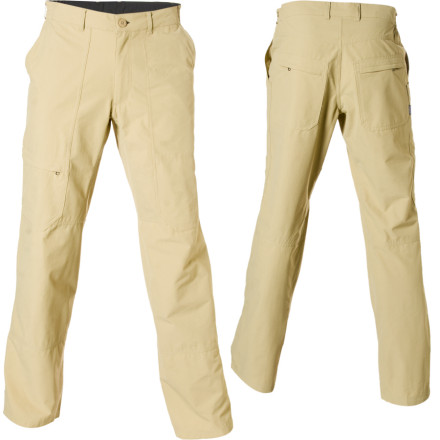 Detail Images
What do you think about this product?
Have questions about this product?
At last: a great pair of travel/adventure pants which actually fit well. These are nice-looking (almost dressy), super lightweight, have lots of pockets without looking like "cargo" pants, are very comfortable, and have a traditional fit to the legs. This cut is far slimmer than the gigantic thighs on many other pants e.g., Columbia Utilizer.
My only mini-gripe is that the material is a tiny bit noisy with walking, which may be due to the spandex sheen. Also, thes are so nice-looking that is seems odd to take them out and abuse them on a rough hike or climb.
The forest gray color is a nice dark gray-green, which goes with lots of other colors. I saw a khaki pair which look more like butterscotch, and have a notable sheen to them.
These pants are nice, light, have a nice fit, but might be a bit too lightweight in cool/cold weather.
I like that they stretch a bit because I mainly use them for climbing so they don't rub against my knees when doing a high step or something. Also the waist button could be more durable, I mean it didn't fall off or anything but for active wearing, I feel like it could've been better.
My waist size is 32 and got a medium size one: The fit is perfect.