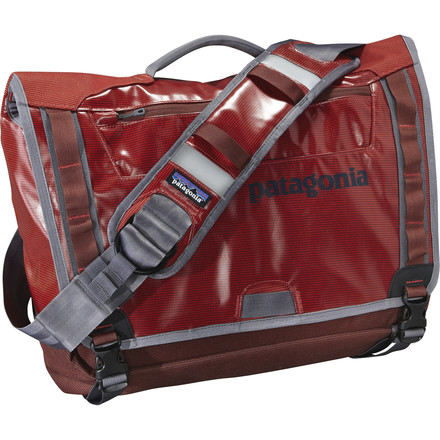 Detail Images
The Patagonia Black Hole Messenger Bag is built for those of you who are too busy biking through storms, charging to work, and racing from class to class to worry about babying your bag. This insanely tough messenger utilizes the same super-human material used in Patagonia's climbing haul bags so you can subject it to spectacular abuse without having to worry about it busting a seam or ripping a hole.
Fully adjustable seat belt webbing with floating shoulder pad give you a comfortable ride, and it can be set for your left or right shoulder for a custom fit
Black Hole duffel fabric (used in Patagonia's climbing haul bags)combines 1200D nylon and a DWR finish for extreme durability and moisture resistance
Water-resistant zippers keep rain out of your bag
Oversize main compartment is big enough for books, a change of clothes, and your 'good' shoes
Padded computer sleeve cradles your laptop
Two mesh pockets, an organizer panel, and an internal key keeper make sure that your essentials stay together
Daisy chain lash points on and under the main flap hold let you stow a rope, a yoga mat, or pretty much anything else you can tie on
LED attachment loops means you have no excuse to not be lit up on after-dark rides
She loved it.
Familiarity:

I gave it as a gift but have feedback to share
I got this as a gift for my girlfriend and she loved it. This thing is versatile, she brings her laptop in it to work and then clothes and any type of gear we might need when we are going on adventures. It has a great shape where it is big, but not too big, and it is light weight.
Can't go wrong.
Familiarity:

I've put it through the wringer
Semesters of abuse through college, and still use it on a regular basis when I travel. Enough room for all my work stuff, and still have some room for other necessities through the day. The strap does slip a bit, but when everything's adjust I've not found it to be an issue. Other than that, it's a great bag, and super burly. I don't really baby my bag, but it's taken a beating and still looks new.
Forget the hideous business briefcase.
Familiarity:

I've used it several times
I wanted a briefcase/messenger back to take to work but not some crappy faux leather thing a door-to-door encyclopedia salesman would carry. I also wanted something strong enough to be able to beat up and throw a change of clothes in and take out to camp for a night or two. This thing fits the bill perfectly. It looks good, feels super-durable, and all the organization pockets are placed very logically. I do think the Velcro closure is overkill since it buckles closed anyway.



People below have commented on the strap being uncomfortable, which I agreed with at first. I turned the strap around and it fits great now; must have been put on backwards at the factory.
Poor strap design
Familiarity:

I returned this product before using it
Yep. Straps are a huge issue, just like everybody else stated below. You can't move it around and the bag sits very awkwardly. I'm not sure if it's because I am a petite person, but it wasn't comfortable at all. Returned it before using it, I'll probably go with a smaller, more adjustable messenger bag.
A little heavy for my daily commmute
Familiarity:

I've used it once or twice and have initial impressions
I really loved the look of this bag and many of the features but once I put my laptop and all my stuff in it, it was quite heavy. I suffer from back pain from commuting by bike with a heavy load on my back and I was hoping this backpack would lighten the load but it seemed to only add more weight.



I also found flaw with the strap design. It loosened during my commute and even though it says you can wear it both ways, you really can't without sacrificing the padding since the shoulder strap is sewn to the strap itself.
Poor strap design ruins it for me
Silly me didn't heed previous warnings about the shoulder strap and ordered the bag anyway because I loved how it looks. I thought, "How bad could the strap really be?" Bad enough that I am sending the bag back tomorrow and ordering the Osprey Flapjill messenger bag instead!



The padded part of the shoulder strap is sewn *to the strap* so it isn't adjustable at all. Also, the actual strap material is slick like a seatbelt, so it loosens itself while you are wearing it. It also slips and slides all over the equally slick fabric of my Marmot Hailey jacket meaning I can't keep the darn thing on my shoulder for longer than 20 seconds.



It's a good-looking, waterproof, tough-as-nails-feeling bag overall but unfortunately none of that matters due to the larger design flaw of that awful strap.
Nice looking
Familiarity:

I've put it through the wringer
First off, I second the strap issue. I think maybe a mixup between design and production. But this is a tuff bag, I use it daily to haul laptop and files. It it very good in this crazy Utah fall weather because it sheds the water great. It would be a perfect bag if the strap wasn't handicapped.
Who designed this strap?
Familiarity:

I returned this product before using it
One star you say?



First off, this bag is pretty nice. It looks like it's darn near waterproof, large enough to store whatever I need, and appears I can beat it like the Samsonite gorilla and it will stand up.



So, what's the problem? The shoulder strap. I don't know if the folks from P-Gucci have never rode a bike...or walked...but this strap doesn't work for either.



As packaged, you can sling the bag over your head to rest on your right shoulder...and I suppose it would be fine...if you left it there for eternity. But when you lift it over to rest on your left shoulder, the pad isn't anywhere near where it needs to be. And since it's sewn in, you can't move it to where it should be. You also can't move it to your right shoulder...b/c the pad won't work there either...unless, you significantly shorten the strap.



Also, I'm told, through some re-aligning of atoms, you can make the bag work as a messenger bag on the left shoulder, but I'm not allotting an entire afternoon to figure it out...b/c even if I did, I'd still be stuck with a bag that wouldn't work very well while carried on either shoulder.



So, a messenger bag, no matter how awesome, is pretty worthless if you can't get the strap to work correctly. Whoever was on Patagonia's design team that thought a sewn-in place shoulder pad was a good idea...that person is a knuckle-head.



This bag would get a 5-star rating if the shoulder pad were not sewn in place...so, Patagonia, get on that! Until they do, it gets 1-star




is the main compartment zippered?
is the main compartment zippered?


Best Answer
The main compartment is not zippered, it is held closed by the compression straps and some Velcro other than that its exposed to the world.
...but no light can escape...
What color is the interior of the blue...
What color is the interior of the blue larimar black hole messenger bag?
Best Answer
Hey there, thanks for the question.

The inside of the Larimar Blue messenger back is a green color, looks like Kelly Green. I found this picture on Patagonia's website, it's pretty tough to see, but you can kind of get a tiny peek the actual color by looking closely at the corner of the bag.
This bag would have been perfect, but there's an elephant in the room--the stabilizer strap. Instead of being near the center of the foam padded strap, it is on one edge. That makes it unusable on BOTH sides. Off of my left shoulder, it's crammed underneath my armpit, and from my right shoulder it goes way too low under my breast. As far as I am concerned, a messenger bag that does not have a properly functioning stabilizer strap is unusable for anyone who commutes by bike. It is unfortunate, as the rest of the bag is great. Tons of daisy chains, great organizer panel on the inside, two zippered pouches--one on the flap and one underneath, and a fully padded laptop compartment. I mostly chose this over a Chrome bag because of the laptop compartment, the fact that it has a handle, and that you can switch it to either shoulder. But now I have to return it because of the wonky stabilizer strap. Sad times.
Bought this bag to catch all the stuff I feel the need to haul to the office every day!

It's a champ, durable and lots of space for all my crap.

Good for commuting on my bike too.


I love this bag. It's comfy, stylish, waterproof, and has plenty of room to stash all my junk. My only complaint with it is that it only fits laptops 17 inches or smaller and not one centimeter larger. My laptop is 17.3" wide, and it didn't fit in the laptop sleeve (I keep it in front of it now). So not really the bags fault, just a word of warning to check your laptop size before you order this.
Too small for my 17" laptop
Bought this to transport my ginormous 17" workstation laptop for work. The wide screen 17" format was too wide to fit in the laptop pouch. Otherwise it was definitely a nice bag but I returned it because it didn't work for the thing I bought it for... I would avoid this if you're trying to find a bag for your 17" laptop, I got one of the Patagonia backpacks instead and it fit. Bit of a squeeze though.