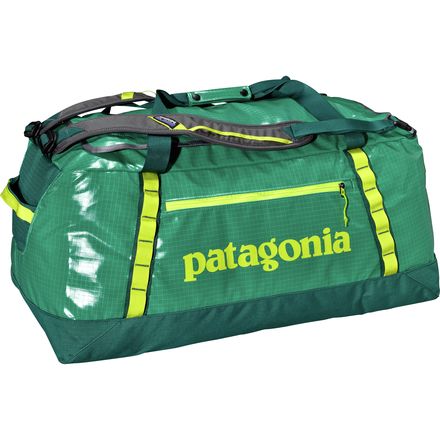 Detail Images

Community Images
Prepare for multi-dimensional travel—or just a week-long getaway—by packing your climbing, hiking, or travel gear in Patagonia's Black Hole 90L Duffel Bag. Inspired by rugged-yet-light alpine packs, the Black Hole features a burly ripstop fabric coated in a TPU laminate and a DWR finish for the ultimate in outdoors protection. The padded base protects your gear throughout the trip, and Patagonia padded the removable shoulder strap and removable backpack straps for comfort. Internal organizers and zippered mesh pockets organize all the small things, while the external side pocket stows the duffel for compact storage. Compression straps prevent your gear from bouncing around whether you're traveling via airplane or four-wheeler.
Removable, padded backpack straps
Laminated ripstop fabric with DWR finish
Protective padded base
Zippered top access
Internal organizers and zippered mesh pockets
Duffel stows inside zippered side pocket
Internal compression
I managed to live out of this bag for a month while traveling about Deutschland. The back straps were perfect for lugging up endless flights of stairs. This bag is durable and waterproof. Perfect size for a medium to light packer.
What fits in a Black Hole 90L?
Keep in mind, I take size 7 in shoes, and an XS-S in most clothes. The backpack is an empty daypack, the 28L Patagonia Refugio. If you're a 6-foot, 175-lb. man, your clothes take up more room than mine.

Included is a lightweight shell (top left), down mid-layer, fleece vest, a snap-T fleece + a re-tool fleece, the essentials like socks, underwear, baselayers, baggies, cords, lightweight hiking pants, Ts, and casual pull-overs, etc. There are also some snow pants in there and those take up a pretty big amount of space. Other items are climbing shoes, a harness, a chalk bag, a book, trail runners, hiking boots, a camera + extra lens, notebook, watch, etc.

This should give an idea of what of yours you could pack and for how long a trip it would be good for.
When it couldn't get any better, it did.
Gender:

Female

Familiarity:

I've used it once or twice and have initial impressions
Sending a huge, 90-liter-sized THANK YOU to Patagonia and Backcountry.com for selecting me to test & review this gear! I'm really grateful to play an active role in such a great community.

RELEVANT INFO ABOUT ME: I'm a 5' 4.75", 105 lb. lady. My arms are a tad lanky. Now, onto the duffel!

PERFORMANCE: This bag can be thrown around and not only survive, but look brand new. I've only used it a few times, so mine truly looks like I just took it out of the box, even after surely being in a tussle at the airport and at baggage claim. (I must say, it was the coolest bag in the carousel.) But looks aside; the bag itself is incredibly light and durable for the size--the upgrade to ripstop polyester from their former model was a reassuring performance factor, despite it being a fairly thin layer of polyester--but don't let it deceive you--amazing gear is often thin and light, something one might often take as being flimsy. Rather, this is super strong. The reinforced bottom is also nice, mostly because I don't feel so bad about shoving it along on the floor while waiting in line to check in at the airport. (Sorry, duffel bag, but this is just part of your duties.) Finally the internal compression straps were an excellent added feature. I own a 60L in the older model, and compression straps would have been an awesome addition. Well, here they are--and they do help fit a few more things if you really need to pack it to the brim or if you simply want to keep things from shifting around in transport. Lastly, the zippers on this bag are SO sturdy. I've never gotten that feeling like they're going to pop; they are tough. I haven't put the daisy chains to use (yet) but the webbing (which also constitutes the handles) also seems very promising.

SIZE PROS: This bag is cavernous. I have dealt with duffels and a lot of backpacks, and I really never seemed to fill this bag up, while my other bags have been stuffed beyond capacity (think, sitting on bags to get the zipper to close). For me, I would say it held 25% more than what I thought it could. Because the size "90 liters" or "5492 cubic inches" is a bit tough to get a grasp of--a bit like Descartes's chiliagon-- see my pics (to follow) with the sorts of stuff one might be able to fit in the bag comfortably, and fully, so you can be able to imagine what of yours might fit. Depending on the adventure, how many other bags you take for your travels, and how you pack--light or heavy--it could hold anywhere from a week to a months' + worth of clothing and gear.

FIT CONS & PROS: As for me, I'm a petite lady, so it's a bit much for me to carry if it's full. I'm 5' 4.75" so the length of the two handles (for carrying it at your side) are a bit long for me, since my arms fall only 2' from the ground, but I solve this really easily by doubling the handle up inside of a larger velcro travel handle. I imagine this is definitely not an issue for most people. As a "backpack", it hangs past my derriere, but even so, I can manage to get it to the airport to check it. The TSA might roll their eyes at you if you try to call it a carry-on; however, the 60L Black Hole has fit as a carry on (in my experience, with American Airlines) and for my small frame, fits well. However, this bag sits really well on my boyfriend's back--he says it has good weight distribution for traveling, is comfortable, and doesn't sit too far down his back. He is 5' 11.5" and 150 lbs., with a small frame. The backpack straps are also really easy to attach and remove, and are easily adjustable. Patagonia didn't skimp on this "extra"--they made it an important and functional, easy-to-use detail.

A NOTE ABOUT USE: Of course, this is not primarily meant to be used as a backpack for trekking or hiking (so beware of points knocked off for comfort in that arena). That would be analogous to, say, using a sledge hammer to crack nuts; this bag is meant to do the grunt work, not the more dainty stuff, like keeping the air flowing between your back and the bag. This is a duffel, and a MIGHTY fantastic one at that.

Plus, it carries itself.
Favorite Duffel
Familiarity:

I've put it through the wringer
This is by far our families' favorite duffel bag. We have several in different sizes. They are durable, hold a ton, and look great. Even our oldest bag, that has been through many flights and adventures, does not show much sign of wear. Moving the bag is easy thanks to all the handles and straps. The 90L feels bottomless and can carry a stowaway or all the gear you need for your next excursion.
Good enough for drum corps!
Familiarity:

I've used it several times
Sent my daughter off on a summer adventure marching drum corps. I Decided to meet up with her group and volunteer for a couple of weeks...but knew I needed something that was strong, flexible, and could throw on my back. This duffel met my expectations and then some! Was able to fit all my gear without problem. Since I got the larger 90L bag, took some getting used to throwing the duffel on my back using the backpack straps...but made it easier moving to/from buses and housing sites. Looking forward to adding a couple of different sizes from the Patagonia Black Hole collection.
dragged. dropped. hucked. stuffed.
Black Hole 90L video review