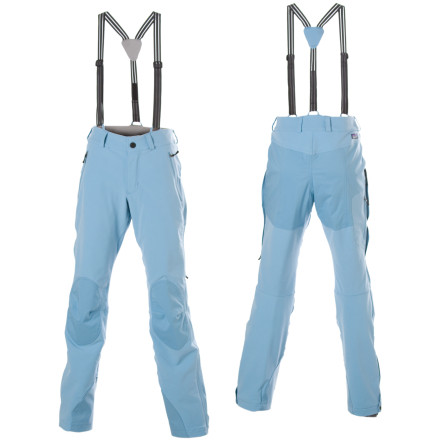 Detail Images
These durable buggers kept me warm and dry throughout all of last winter mountaineering and skiing. I usually only wore one layer underneath and always returned home happy. Definitely skied through trees and branches with no tears or knicks to show yet!
Hi. I'm torn between the backcountry guide...
Hi. I'm torn between the backcountry guide and the alpine guide. I need them for lots of bushwacking/hiking in the Appalachians in the spring (read wet and cool but rarely snowy). I'm a field biologist looking for a durable pair of warm and water hating pants. Good cargo pockets a plus as I'm usually carrying lots of stuff. Opinions?
Alpine Guide sounds like it will be the best pant for you. The Backcountry Guide Pant is more of a winter ski touring pant. Alpine guide is tough, sheds water, and should be great for the Appalachians.
Brought this mainly for mountaineering, but as of now used for couple of Ski trips(20-30F). The construction of this pant is top class. The number of pockets, vents, fittings and quality of clothing all are top class. Love this Pants. Everything in this pants has a reason.
Great Mountaineering Pants
Used these for two weeks in the North Cascades and on Rainier. I have a problem with butt exposure when wearing a harness so I wanted high-waisted pants with suspenders. These fit the bill and were awesomely comfortable as well. I didn't need my hardshell pants the whole trip. They are not completely waterproof, though, so you'll need another layer if you're in some serious wet.
They dry out quickly over a rock or on a line, which was pretty awesome as well.

Side zips are great for ventilation.

Cons: getting out of the suspenders to pee is a pain. I experimented with tucking my fleece into the pants to reduce the number of layers I needed to take off. Better option might be to invest in a freshette.
Are these pretty breathable? They say that...
Are these pretty breathable? They say that they are made of polyester...

Here's the deal: I'm in search for the 'perfect' pant. Here is my list of things I want: controllable maximum ventilation for ski mountaineering/alpine touring on the way up but offers protection in the deep stuff or to keep me dry in a snow storm or really wet snow (so must have gaitors), stretchy fabric for movement and must be light because I don't want anything restricting me. I would prefer zippered sides so that I can take off and without having to take the boots off (this is negotiable).

Is this pant it? Does anything like this exist? Please let me know!
This is definitely your pant. It's the perfect backcountry ski pant, and pretty much exactly what you are describing. Very breathable soft shell, with side thigh vents, and waterproof panels in the knees and butt for when you sit down for lunch or kneel to take your skins off. They've got a nice gaiter, stretch well, and have a great DWR coating on them for when things get wet and nasty.
No more Patagonia Mom Jeans
I have been wearing patagonia for years, but hardly find a pant that doesn't fit like mom jeans. I love that these pants look normal and don't ride up. I ordered a size up than I normally wear, but with thermals they were perfect and comfy. They were long enough and wide enought to fit over my snowboarding boots. They are thin for cold days, but great for spring and touring.
I've been wearing my Backcountry soft shell pants every day for the last 4 weeks, for work, trapping wolverines in the North Cascades.

We snowmobile and snowshoe into our trap sites and do a lot of work with sharp tools during our day. These pants are proving to be tough enough for the job, no rips or blowouts. There's been a few times, going through the woods, I caught them on a sharp stob that I was sure would have ripped them, but so far, so good.

They are way lighter and less restrictive than my old school, heavy wool pants. I love that about them.

I wear two pair of under Armour style of base layers with them. If the temps get lower than 20 degrees I need to wear another insulated layer on top of them while snowmobiling.

We shovel snow for hours at a stretch sometimes, and they are great for doing hard physical labor in, with out getting over heated. The side vents are nice for that.

The thigh pocket is lame. You can fit maybe 2 sticks of gum in there, or a small Bic lighter. Probably not both.

They are not water proof. You need to plan for a waterproof layer over top, if you're in any wet conditions at all.

I'm impressed with the comfort, mobility and so far the toughness of the fabric.
I was wondering the same question as the...
I was wondering the same question as the earlier poster who inquired if the fit is the same as the Alpine Guide Pant.cheers
They are the same cut so they will fit the same, yes.
The fit is similar (same back yoke, etc.) but I did not find them to be exactly the same. I have two pairs of the alpine guide pants, and I love them. I bought a pair of these, hoping they would fit the same, but they did not. The inseam on these pants is longer by an inch or two, and the rise is also at least an inch taller (for the same size of pants). At 5'4", the softshell pants were too tall, both in rise and inseam, for me, and I had to return them. Hope this was helpful.
would these pants fit the same as the...
would these pants fit the same as the patagonia alpine pant?
They are the same cut so yes they'll fit the same.