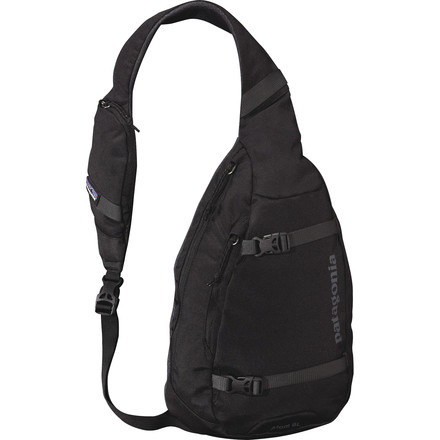 Colors

Detail Images

Videos

Community Images
Description
Ready to ride.
Patagonia designed the Atom Sling Bag with a single strap and a teardrop shape that stays put whether you're hiking to a lake or commuting to class. This simple design provides a lot of convenience for you, since you can access the bag without having to take it off—just spin it around to your chest. Patagonia also added 3D spacer mesh to make the shoulder strap and back panel more comfortable and breathable. The Atom's recycled polyester is strong and light, and its DWR coating helps keep your gear dry in the face of light rainfall. It also features adjustable buckles that let you lash more items to the pack when it's full.

3D spacer mesh shoulder strap and back panel
Single-strap design with teardrop shape
Recycled polyester with DWR coating
Zippered main compartment
Adjustable buckles
Wanted to keep!!
Familiarity:

I returned this product before using it
Wish my review would be a 5 star and that I could keep this awesome bag. I would reiterate everything that others below have said about "not leaving home without it" and me not being a "purse gal" either. Only thing is, that I get headaches and neck aches if I have a pack only slung on one shoulder and that shoulder being the right shoulder. So, that's me. I had to return. I wish it was ambidextris (don't even know if I used that word right). The quality of the material is great, so much better than other sling bags I have tried (I have only tried one other, just FYI). I would find that this bag would last quite a long time - several years if not more. It's lightweight, got nice padding and air flow, great places to stash things....it's perfect. I would recommend this to anyone and everyone that doesn't have a quirk with their neck and shoulders :)
I carry this EVERYWHERE!!
Gender:

Female

Familiarity:

I've put it through the wringer
I love this little bag and I've definitely put it through some things over the last year! lol I take it with me everywhere (short treks, hiking, biking, work, the gym, walking to the market, etc...) and use it daily. The little compartment on the chest strap is perfect for my ID/Debit card/cash, lipgloss, and barely fits a decent-sized folding pocket knife (my essentials! lol). I have a carabiner attached to the top thick strap for holding a Nalgene, and the smaller/thinner straps across the front of the bag hold the Nalgene in place as I zip around. My 32 oz. bottle will easily fit inside the bag, but I usually have other things that take up too much space. This really is the only bag/purse I carry and I honestly take it with me everywhere!! If I tighten the bag down all the way, I can even run with it. I am 5'6" and weigh 110 lbs.; I think the Atom is the perfect fit and is very comfortable to wear for all-day use!
Overlooking the beautiful Salt Lake Valley after a nice morning scramble up the West Slabs of Mount Olympus.
THE purse for ladies who hate purses
Gender:

Female

Familiarity:

I've put it through the wringer
I admit it: I hate purses. It's so hard to find one that's just the right size for all the essentials (roomy but not enormous), comfortable even when loaded down with the occasional bottle of your favorite alcoholic beverage, AND cute while still remaining functional. But let me tell you, ladies. THIS IS IT.

I bought my Atom Sling this spring before a trip to Japan because I needed something as functional as a backpack but small enough to take pretty much everywhere. I had seen a few people with them around the office before and thought, why not try it? And I am sooo glad I did, this thing is a dream! It's the perfect size for traveling -- you can fit a book, some snacks, water, headphones, and a wallet with room to spare. The straps might be my favorite part of this pack, because they make it incredibly easy to clip on your favorite jacket or sweatshirt just in case the weather turns when you're out and about. My one qualm is that the "phone" pocket on the front is a bit small for my Samsung Galaxy, but that's not really an issue because I just use it to pick up random trash I find laying around (Leave No Trace, people!).

In addition to being perfect for traveling, I've found this bag to be an awesome size for half-day excursions. I take it with me on short hikes and scrambles, and it fits everything I need with no problems (a 1L hydration bladder, a couple granola bars, camera/phone, a light jacket, and the necessary summit beer). You can even take it to parties...let me be the first to tell you that this thing fits a six pack or a full bottle of wine. You'll always be prepared with this thing :)

THE TAKEAWAY: Buy it. Stuff it full of fun things. Take it with you everywhere.
Great all-purpose bag!
Familiarity:

I've put it through the wringer
I originally purchased this bag to use as a fly-fishing bag to complement my Simms Freestone stocking waders (http://www.backcountry.com/simms-freestone-stockingfoot-wader-womens?ti=U2VhcmNoIFJlc3VsdHM6c2ltbXM6MToxMzpzaW1tcw&skid=SMM003V-SM-S). While both Simms and Patagonia make sling packs specifically for fishing, both run approximately double the price of the Patagonia Atom Sling Bag, and I didn't feel I truly needed the bag to be waterproof since I didn't plan on putting anything water-sensitive inside (the waders have a cell-phone pouch).
I took this bag on a 3+ week trip to Alaska, and it quickly became my go-to bag, supplanting both my purse for city outings and my backpack for long hikes. I was amazed at just how much I could stuff into this little bag (water bottle, hat, gloves, keys, snacks, walkie talkie, selfie stick, extra batteries, AND a thin rain jacket) without straining the zippers. When I needed to shed my fleece, I simply tucked it under the straps on the exterior. It's also super easy to add carabiners to the exterior straps in case you want to attach any other items. I went on some strenuous 6-8hr hikes, and the only time I felt the need to actually use the waist strap was when biking, so mostly I just clipped it closed without wrapping it around my waist, and that prevented the straps from dangling. The mesh on the back made it breathable, which was very important on the long hikes. The design of the sling made it easy to access my gear without having to remove the bag, but removal was super simple, with or without unclipping.
I also wore this through several Alaska rainy days, and while it is not waterproof, water did bead off it in lighter rains. During heavier rains, I simply wore my rain jacket over it. I did have a small pack cover for use if necessary, but never actually had to use it.
Perfect fit for me
Familiarity:

I've used it several times
I purchased this bag because my sister has one and I loved how easily accessible everything was to her. I take my dog hiking and it's the perfect fit for everything I need on a trail for myself and dog without being too bulking and heavy. I can fit my 1L camelbak inside and alleviates my having to clip it and having it swing. I love the front little pouch for kleenex, chapstick,etc. I like the clip on the inside for my keys so I know exactly where they are and won't misplace them. The single sling strap is lightweight and comfortable with the right amount of padding. I've taking it kayaking and paddle boarding it's the perfect size, the fabric is breathable and water repellent.
Good bag, imperfect fit
Familiarity:

I've used it once or twice and have initial impressions
The bag is nicely designed and a great size for day trips. Note that it hangs over the right shoulder, unlike many other sling bags, in case that matters to anyone considering it.

But neither my wife nor I could get it to hang right, whatever the load or strap length. The padded portion of the strap would always ride on edge, making it more like a rope attachment than a pad. Maybe it was just our particular bag?
Its just ok...
Familiarity:

I've used it several times
My only complaint is the way the bag sits across your chest when you wear it. The cellphone pocket is in an awkward spot and the rest of the strap is thin and hikes up. I think it looks funny so i usually wear it over my shoulder.
The perfect bag!
Familiarity:

I've put it through the wringer
I take this bag with me everywhere! It is perfect for going around town, traveling, concerts, etc. It can easily fit a water bottle, wallet, puffy jacket, and snacks for the day. I love the pockets - 2 inside and one outside - to organize my stuff.

The only thing I would change is the front chest pocket. I currently still have the iPhone 4, which fits perfectly, but when I upgrade to basically any phone larger than that, it's not going to fit!

Overall, I love this bag and would highly recommend it.
Love it!
Familiarity:

I've put it through the wringer
Durable and comfortable. Holds all my necessities for theme parks, walking, beach life, etc. Couldn't have found a better bag to carry
Perfect Day Bag
Familiarity:

I've put it through the wringer
I bought this bag to as my day bag when traveling through Europe for a month. I wanted a bag that would hold anything I would need throughout the day, maps, money, passport, DSLR camera, snacks, etc. and it worked great!

There is a clip inside that I could attach my small wallet too, so I knew it was safe. It was also very easy to swing to my front to access items quickly, but also feel safe when walking through busy tourist areas.
Adventure pack
Familiarity:

I've put it through the wringer
A little pricy for the size but doesn't change the fact that I love this bag! Perfect size between a fanny pack and a day pack.
Awesome for everyday use
Familiarity:

I've put it through the wringer
I wear this bag everywhere! I purchased it a couple months ago in navy and I have carried it everyday since. It is large enough to carry a couple water bottles and a rain jacket or light sweatshirt, but it isn't too bulky as to discourage everyday use. I am very petite and it fits me very comfortably and doesn't strain my shoulder. The pocket on the front of the strap perfectly fits my iPhone 5S, despite other reviews I read before purchasing. I recommend tying up the waist strap if you don't plan on using it regularly, because it does get annoying if it constantly dangling against your leg. I would definitely purchase this bag again for either myself or a friend! I can even use it to carry my ukulele on my back, as you can see in the picture, taken at the top of Max Patch Mountain! I definitely recommend this bag, especially for the price!
Great purse alternative!
Familiarity:

I gave it as a gift but have feedback to share
I bought this bag for my girlfriend as a gift. She doesn't really like to carry a purse but still have somewhere to put her stuff. This has worked absolutely perfect for that!
Great smaller bag
Familiarity:

I've put it through the wringer
This bag survived two weeks of cross country driving to two different music festivals, tumbling down a hill (stayed on me the whole time!) and is still in great shape. I wish it were just a bit larger, but at this point I have too many stories with this bag to let it go! No problem holding my keys wallet and phone in a waterproof Pelican case and a nalgene in the main compartment, my small camera in the front pocket, and a notepad in the other one.
versatility, roomy, overall good design
Familiarity:

I've put it through the wringer
Note: this review applies to an older version - patagonia removed the 3rd pocket above the main compartment.

Had 2 models (2008 and 2012) of this so far (wore out the zipper on the first). The bag has a place for everything: a 'cell phone' pocket, a tiny compartment on the shoulder strap, and 3 divided areas within the larger compartment (1 elastic band area in the back, and 1 zippered mesh area on the outermost area). Even used the outer buckled straps to carry items that won't fit in the bag (e.g. a wrapped up sweatshirt, a bicycle tire pump). The *best* part (to me) is being able to flip the bag to your front while walking / biking / etc, and access the items inside without having to stop. Also forgotten to zip it a few times and yet never lost anything thanks to the design.

Picture compares 2008 model (left) to 2012. Not sure when / why they eliminated the 3rd pocket.
Will the cell phone pocket hold an LG G3/4? What are the measurements of the pocket?
EDIT: My apologies - I just realized the older model I have has a 3rd pocket that I use for cell phones - these models lack that (2 pockets only). It may not fit. really disappointed in this redesign now.



[the older pocket on the main compartment] fits a galaxy s6 with decent room to spare, so yes, it would easily fit the LG.
Very handy
Familiarity:

I've put it through the wringer
Pros - Versatile and very well made/tough. I use it primarily as a lunch box for work. I actually used it the other day as a pistol range bag. I can certainly see how this would work well as a day hike companion in the spring.
Cons - For my day to day purposes I felt like I had to cut off the waist strap. It's pointless if you use the sling for daily commuting and there is no way to hide or draw it up. You either have to use it or cut it off.
Unanswered Question
Where is the "waist strap"designed to attach to the sling? The attachment slides up and down the sling. Strap reaches easily at sternum, doesn't reach easily at waist where sling is all the way around the back.
bought as a gift
Familiarity:

I gave it as a gift but have feedback to share
I bought this for my wife for an upcoming trip and she absolutely loves it! the only complaint is that she wishes the front pocket on the sling was a bit bigger to fit her phone. other than that, a great product!