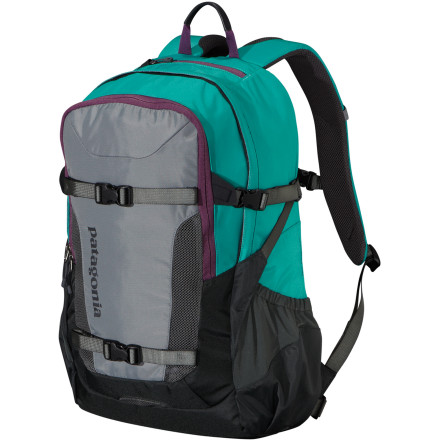 Detail Images
Take a weekend excursion to the beach with the Patagonia Atacama Backpack, so you have a place for your wet things on the return trip. The front wet storage pocket holds a dripping swimsuit and features mesh that vents and drains water as you return home on your longboard. To reduce post-shower sweat production, the Atacama features breathable air flow mesh on the padded back and shoulder straps. Once you get home, toss your laptop into the padded sleeve, which is suspended in the pack to reduce impacts, and head to your secret free wireless chill spot. Compression straps hold your board and make sure your expensive electronics don't bounce around while the sternum and stowable waist belt keep the Atacama snug on your back as you shred through the city.
Share your thoughts
What do you think of the
Patagonia
Atacama Backpack - 1709cu in
? Share a...
Rugged!
Familiarity:

I've put it through the wringer
This is a really well-made pack. I've mostly used it as an around-town bag, but have done lots of dayhikes with it.

Pros:
- The front compartment does a great job of isolating wet gear from the back. I'd confidently carry a laptop in the laptop sleeve at the same time as wet swim trunks in the front.
- Very water resistant: I've been caught in some truly nasty downpours while wearing this bag, and haven't had any problems with water in the main compartment.
- Nicely adjustable: I've loaned this to people shorter than I am, and this pack adjusts to fit them just fine.
- Inside pockets are super helpful for organizing phones, laptops, and passports. Very thoughtfully laid-out.

Cons (Neither of these are major, by the way!)
- The waist belt is really an afterthought. Don't count on it providing much support. I ended up taking it off.
- The logo on the front started peeling off after about a year of use. No big deal, but it's a bit unsightly.

So yeah: A really well-made bag that is a great hybrid between an urban-use pack and a hiking pack. I just wish the waist belt was a bit more robust.
Good for swimming
Familiarity:

I've put it through the wringer
Works great for taking family to the pool, and stowing wet suits in the separated and mesh-drained wet pocket on the way home. A used towel can also be folded over the gear-straps on the back.
A few minor issues:
1. The side pockets are too large and squishy to hold water bottles securely. I add a carabiner to clip bottles to the compression straps, otherwise they fall out.
2. Because of the design with wet pocket on outside rear, all of the internal organization is on the inside of the main back pocket flap. Organization is great, maybe not quite as accessible as wiht a standard design backpack because you have to dig down further, but I still like it.
3. Very minor: the grab-handle loop on top is narrow and therefore not hugely comfortable, and it would be great if they added elastic loops to secure loose ends of all of the compression straps.

All in all, a great bag. Versatile and very useful for swimming. It gets a lot of use for that purpose.
It is such a nice day pack and on my past trip to utah it was extremely nice having a dry compartment and one for wet stuff. Highly recommend
Im a swimmer and were lookin for a good...
Im a swimmer and were lookin for a good swimming backpacks for the team that hold like swimsuits and towels and other stuff, wet and dry. would this be good for it?
yes it has a wet compartment and a dry one
Yeah the front pocket is for wet and the lining in-between the main dry part is completely water proof. The front pocket also has a mesh part so your wet stuff can breath and evaporate through it
Does anyone know if you could possibly...
Does anyone know if you could possibly carry a snowboard on this pack? I realize it says you can carry a skateboard, but I was wondering if the weight of the snowboard would be too much for those straps. Thank you!
Best Answer
Ashton,
The straps would definitely be able to hold a snowboard, and should work pretty well overall as a snowboard pack.
Great bag for going to the office.
Let me start off by telling you guys what I use it for and how I use it. Basically I needed a lap top bag for work, but I wanted something that would hold a few papers and my lunch. I also tend to carry a nalgene full of the beverage of my choice in the mornings.

So the pro's are:
Holds my 15" laptop
Has a special pocket for my phone on top
Can hold my lunch in a separate compartment from my laptop
My nalgene fits in the side pocket
I can fit my jacket on the outside when I don't need it anymore and strap it down.

Cons-
Shoulder straps are a bit narrow and stiff
Bottom could have used a bit of a heavier duty fabric...I am hard on my stuff.

None of those are deal breakers and as is the bottom is tough. All in all it is a great bag and since it is Patagonia, it should be in for the long haul.
Allows me to fit day to day, gym stuff, and not too big so that I'm carrying too much. Front part fits my gym shoes and flip flops. Nice to have a part for my iPad as well. Bag looks sweet too.
Awesome. Pack. Hope it never dies.
My goal was to buy a pack that works for a day hike and works for the commute. The 28L size works great- I can stuff my workout clothes + lunch + laptop in when I head into the lab. The laptop container does truly convert to a camelback container and after a week of long day hikes in 40-70 degrees, I have decided this is an awesome day hike bag as well. It allows you to carry enough food + layers for a variety of conditions. When it's not as full, it cinches down well. It's an added plus that the cinch down straps can help keep your nalgenes in if you have them on the sides. I find it very comfortable. Haven't tried the keep dry front pocket yet.

I don't know if I would recommend this for someone with a small torso or a very petite person. But other than that it's darn near perfect, I agree with the others, and I would buy this all over again.
is this a good winter pack? i was wondering...
is this a good winter pack? i was wondering how a pair of MSR denalis would fare attached to this pack...thanks for any info
Edub,
Thanks for the question. I think this would be a good winter pack for you. I'm assuming Denalis are snowshoes? Or trekking poles? The Atacama pack here isn't the most technical pack, but for day hikes on either dirt or snow it's a great option for the price. Snowshoes or poles could definitely strap to the back, and as long as you don't have too heavy of a load the chest and waist strap will work well to stabilize things. Hope that helps.
Is the backpack waterproof or resistant?...
Is the backpack waterproof or resistant? If I was walking to class in the rain would I need to be worried about my laptop and books??
It's only going to be weather resistant, no backpack is really waterproof unless it's a canyoneering dry bag. That said you'd probably be in a little rain.
No worries for walking to class in the rain with it! (as long as its not a 30 minute walk lolz)
Is there a pocket for a water reservoir?
Is there a pocket for a water reservoir?
Best Answer
Yes it does. As quoted from the Patagonia website: The sleeve also holds a hydration reservoir and comes equipped with a tube port.
I'm a marine biologist and was really in need of something like this. I use this pack for everything. The "wet" compartment is big enough to hold my board shorts, rash guard, booties (not much room to spare, though) and does a good job of keeping the main compartment dry. I'm not much of a skateboarder, but the straps along the back designed for holding one are perfect for securing my fins when I come out of the field.

When I'm not sopping wet, this is my academic pack. I usually carry two computers- a 16" vaio and a little Eee netbook. The laptop compartment is big enough to hold both at once and I can easily fit a few textbooks and files with them.

The straps are comfortable and quality is on par with what I expect from Patagonia.

One complaint though: the computer compartment can be a bit tough to access if you have a larger computer and a full pack. The main zipper doesn't extend down as far as I would like, but this is pretty trivial in comparison to all the good things about it.
Great backpack. I use it to haul my work gear back and forth. The laptop sleeve is great and the inner pockets are adequate for power cords, mice and all the other things you have to pack around on work related travel. The side pockets are large enough for Nalgene type bottles but sit close to side so when not in use they keep a low profile. Straps are comfy and adjustable making it a nice bike backpack
Like a little guy chilling out on your back.
Definitely a very comfortable pack with versatility out the wazoo. The outer portion is nice for those wet trunks and towel you recently shed after hitting up the hot springs. The inner, big stash pocket has everything you ever wanted plus that one additional pocket you are still finding a use for. Load it up for some heavy travels and she'll treat you nicely with the perfect back and shoulder padding seemingly made to contour to your every curve. Good pack for that universal area of your life...