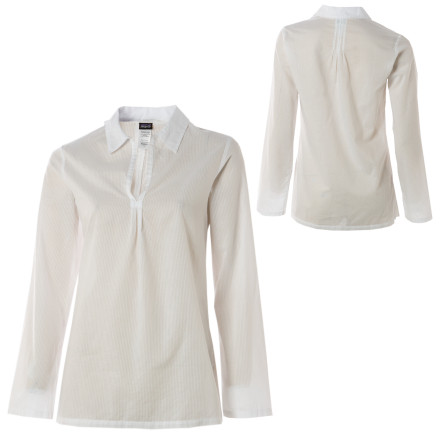 Detail Images
What do you think about this product?
Have questions about this product?
I am so in love with this shirt - tried it on at a local outfitter and decided to order from here - so very beautiful and tailored just enough to be slimming. Great fall color scheme. Seems thin enough to wear on a warm day and still be comfortable. Had I not seen/tried this on before I purchased I might not have known it was going to fit so well - so if you have an opportuntity to try this (or anything) on before you on line purchase it might save some dissappointment. I however love this shirt!
Shirt is very thin. Got the blue, shirt's background color is more beige than white. Actual shirt feels kind of like paper, more like the material of a really crisp men's shirt than a soft jersey t-shirt. Probably will be comfy for really warm days, but that's not the application I got this for. Not worth the $75 in my opinion.