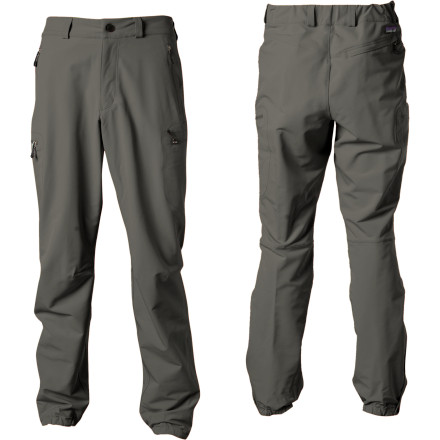 Detail Images

Community Images
When you're squeezing the last few days out of your climbing or skiing season, the Patagonia Men's Alpine Guide Pant is you uniform of choice. Perfect for alpine rock routes or spring corn runs, this softshell pant features a durable, stretch-woven polyester shell that resists wind and water. The brushed lining stays comfortable next to your skin, and the gusseted, zippered cuffs come with tie-down loops. When you've put this pant through the ringer, send it back to Patagonia to be recycled through the Common Threads Recycling Program.
Used it during an alpine climbing trip: very comfortable, dries quickly, tough fabric, breathe well. Perfect softshell pants for mountaineering.
Very worthwhile, No support from the company
I now have three pair because I seem to wear them all the time. The 2011 model improved greatly over the prior year because they added another leg pocket and, they no-kidding sewed the pockets instead of just gluing them on. Yes, "Welded construction" = nothing more sophisticated than glue which comes apart with use. Period. I wrote the company a scathing letter after having a pair put back together by a tailor. I got zilch from Patagonia - no offer to replace and not even a pencil-whipped apology but they changed the pants. The fit is euro-slender. I am 5,11" 180 with a 31" waist and I wear a 34" in these. Muscle types like me take notice. The belt loops (6) are wide enough and sturdy. The fabric is heavier and good in breezy, cool weather. These are equally good for ice climbing or summer bouldering up high. The leg cuffs are very nicely finished and adjust perfectly for boots. As to water repellancy, DWR is a joke so keep spraying them down with the renewer stuff if you care. Bottom line: these are great pants and Patagonia could care less aout your experence with them.
Great climbing pants. Multi-day ski mountaineering trips to Shasta, no problem. Just the right amount of stretch and water resistance. Very breathable, what more do you want?
I sized these the same as all of my other Patagonia stuff and they fit perfectly (I'm 5'10, 155#, 28ish waist). I went with the size 30 for layering and mobility. They have held up fine hiking around, climbing on all types of rock (granite, limestone, sandstone, etc.) and they still look brand new. They give me great range of motion and fit cleanly under my harness.
Needed to buy a slightly lighter weight pant than my winter softshell. These fit the bill perfectly. Wore them on a climb up to longs peak,co in April with midweight underwear. Very comfortable and perfect for what I needed them for. Not too slim fit like other softshell pants. Great 3 season pant.Highly recommended.
Alpine guide pant sizing. I wear 33 X 30...
Alpine guide pant sizing.
I wear 33 X 30 or 34X30 for relaxed fit.
I am always between a 32" and 34" depending if they run big or small. How do these run.
They run really true to the size so if you are a 33x30 usually, I'd go with the 34 for a better fit and mobility.
The elastic in the back of the waist will keep you comfortable and offer some forgiveness wether you are layering or just experiencing weight fluctuations.
I normally wear jeans 30-30, what size...
I normally wear jeans 30-30, what size should I get for this pants? Thanks!
I'd recommend a small. It has the shortest inseam and is still 31 inches long so anything bigger will be too long. The waist fits 29-30, but the stretchy nature of the fabric should make a small perfect.
could these be used for both snowboarding...
could these be used for both snowboarding and skiing?
I dont see why not. They are a cozy pant btw you will love them.
They're not as water resistant as other pants, so if you find yourself sitting on your butt a fair amount when stopped, they might not be the best choice. Otherwise they're great!
do these pants work okay for skiing?
do these pants work okay for skiing?
They're great for backcountry skiing! If you layered well underneath them, I'm sure you could use them at a resort too, but I personally like the Backcountry Guide Softshell pant by Patagonia for that. These have a pretty good DWR on them and block the wind fairly well, however, if its really blowing or you're sitting on a wet chairlift a few times an hour, you'll probably end up a little wet.
These pants are my all-mountain pants. For skiing, climbing, trekking, etc. You'll be fine skiing as long as you are skiing and not rolling down the hill.
Related to ed's question, (and hoping for some input from knanier), I am looking for a good multi-purpose soft shell pant for resort and bc skiing, snowshoe, etc. I want something that will work as an outer layer on dryer or warmer days and something that will also work comfortably layered under my hard shell or bib for days of extreme cold.
Hey there. How does the waist fit on these...
Hey there.
How does the waist fit on these pants?
I am a 35 in jeans. Should I get the 34 and bank on the stretch?
Do they go from 34"-36" if I buy the 34"s?
Thanks for the help.
Richard
Go for a 34 it will fit fine.
How flexible are these pants? How would...
How flexible are these pants? How would they do in the rain?
Best Answer
These are quite stretchy and do incredibly in the rain when new. The DWR does wash off if you wear them a lot and don't wash them separately with special detergent though. You'll love these pants.
You'll have no problem with flexing in these pants. FULL RANGE MOVEMENT! As far as the rain....if its a downpour, you'll get a little wet but they'll dry really fast and in light rain you wont even know its raining.
Essential pants for ski adventuring
As a ski mountaineer and avid back country skier, I am delighted with the Patagonia Soft Shell pants. They are tough, they wick and shed snow and water. On most climbs they are the only layer needed. Their design offers maximum freedom of movement and minimum drag, a great benefit when climbing.

Gerry VanderBeek
Glenwood Springs
I wear a 36 in jeans. How do these pants...
I wear a 36 in jeans. How do these pants fit? True to size or cut for tiny people? What is the inseam?
I wear a 34 waist and bought a large. They fit me perfectly with a lots of room to stretch (stretch waist). As far as the rest of the pant goes they are quite baggy and won't be an issue. Would not recommend over a hard shell pant for mountaineering, but they are great pants for hiking/ wet weather.
I normally wear a 32" waist and 30" inseam. I got size 30 because the 32 was way too long. The waist has so much stretch in it that I still have room to spare. These pants are fantastic.
Does backcountry.com ever carry these in...
Does backcountry.com ever carry these in a 'long' size and if so when would they might be in??
Unfortunately there is no "long" available in the Alpine Guide Pants from Patagonia.
These come as close to everything you could want in a back country pant as possible. They block wind, repel water, they're warm, they stretch and they wear like iron. The only drawback to these pants is the price tag. Luckily Patagonia and BackCountry stand behind them and it should be a one time purchase, making them worth the price for a lifetime pant that has this many attributes.

I normally wear a 33 waist and 32 length and went with the medium. They fit well with room to layer underneath.
My husband got these pants for our Kilimanjaro climb. He loved them. They were great across a range of temps, very comfortable, good in high winds. True to size.
Are they totaly wind proof? (Like hard...
Are they totaly wind proof? (Like hard shell ones)
Best Answer
Andrey, the Alpine Guide Soft Shell Pants here aren't as windproof as a pair of hard shell pants with a membrane, but they are very, very wind resistant and work great in nasty weather. good luck!
Got a pair of these for hikes in colder weather. I've only used them once but they worked great. Used them on a snowshoe / snow shelter trip. The weather was a little warm for building snow shelters, but the melty snow just ran right off these pants so I was kept nice and dry. They were also breathing really well so I didn't get hot & sweaty while I was digging in the snow. Once the sun set and the temperature dropped I added some long johns and stayed nice and toasty.

My highlights: they fit really well (not too baggy or too tight), breath great & keep me dry. Really happy I got these and can't wait to use them some more.