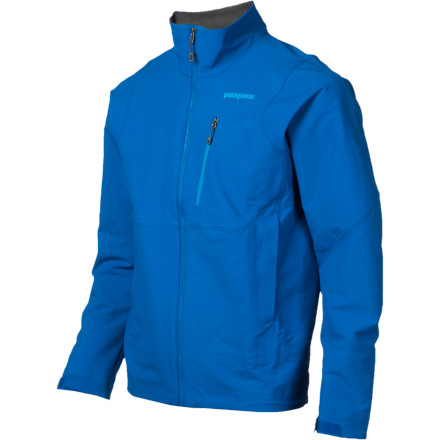 Detail Images
Navigate the steeps in comfort and warmth with the Patagonia Alpine Guide Softshell Jacket. This intuitively designed softshell blends a conventionally two-layer design into an efficient, single layer of Polartec Power Shield stretch-woven fabric. Flexible enough to move with you but resilient enough to block the elements, the Alpine Guide Softshell makes a great companion for when you're hucking your way up a frozen waterfall.
Polartec Power Shield wicks moisture from within to keep you dry while allowing natural ventilation for temperature regulation
Deluge DWR treatment sloughs moisture
Regular fit allows you to layer under the Alpine Guide, or in extreme conditions to wear it under a technical outer layer
Hand and chest pockets keep your small essentials organized and within reach
Great jacket, but durable?
Familiarity:

I've used it several times

Fit:

True to size
Great jacket for moderate weather and aerobic activities. Front pocket zipper broke after a few uses, will send to patagonia for repair.
Sleeves are almost sufficient
I have long, gangly arms, probably a 77" wingspan. The large fits everywhere and when my arms are down, the sleeves reach past my writs. But they don't quite move with me. If i reach, i am exposed. More of a comfort issue than anything else. But compared the new BD jackets, the Patagonia Alpine Guide falls a hair short.



Update: climbs really well. I'm keeping it. No issues with the sleevs while i slapped at ice this weekend.
How does it climb? I am looking for a...
How does it climb?



I am looking for a softshell for ice climbing. After nearly cutting my hardshell this weekend, I've decided I need somethign that won't cut on a pick quite as easily. Softshells flex a little better and resists puncture/tearing.



Since ice climbing burns a lot of energy, i don't need a super insulated shell, but I do need something that will allow a couple of layers underneath and fits long enough to go under a harness - and fits under a puffy (when i belay).



I am pretty convinced this is the solution, but would like a reinforcing second opinion.
Best Answer
Hi Courtney,



Your thinking re: using a softshell for ice climbing is spot-on. The only caveat that I would make is sometimes, when the sun hits the ice (especially on a longer climb) and the waterworks turn on, a softshell will leave you soaked relatively quickly..so you might want to hang on to your hardshell for those later spring climbs.



That being said, the Alpine Guide would be a great jacket. Powershield is good stuff--but you may want to consider a jacket with a hood on it as well. For that, I'd check out the Marmot Rom, available here: http://www.backcountry.com/marmot-rom-softshell-jacket-mens?ti=U2VhcmNoIFJlc3VsdHM6bWFybW90IHNvZnQgc2hlbGw6MToxMDptYXJtb3Qgc29mdCBzaGVsbA



Not only is the hood + windstopper really great, Marmot also uses their proprietary Angel Wing fit, which allows you to raise your arms above your head without the jacket lifting up as much...and while the Patagonia coat is very well designed and made, I love the Angel Wing fit in all of my Marmot coats.



Hope this helps! Hit me up if you have more specific ice climbing questions--I'd be happy to help.
Thanks Thomas. I am actually specifically looking for a softshell that DOESN'T have a hood. All of my hardshells have hoods and if I need one, I can go with one of them.

My belay puffy does have a hood and I can stuff a hard shell in the bag for additional backup.
I personally like the Mammut ultimate light jacket. its got a trim fit but great range of motion, its hoodless, high pockets that can be used in a harness. I feel patagonia jackets ride up on me when lifting my arms overhead.
Great tech softshell
Familiarity:

I've used it several times

Fit:

True to size
I have a had a lot of similar jackets over the years. Some Arc'teryx and Mountain Hardware. Others I have had were great, but for the money this jacket stands tall. I especially like how close this fits while still allowing a lot of free movement. I wouldn't recommend this jacket for highly aerobic activities but great for cold conditions when a shell wouldn't give you the right breathability.
fit is great
Familiarity:

I've used it several times

Fit:

True to size
i layer a nano puff under and its nice and warm. keeps me warm and dry without too much weight.
Awesome light-weight touring jacket.
Have used this on multiple trips now and I agree with what Bill says below, on long tours as long as the wether doesn't get too nasty, you can wear this and a thin base layer and maintain a good temp without getting too wet inside.



I also agree that it would be nice it it had a hood, pitzips too for that matter but features add weight. I have also been carrying my hardshell to throw on over this when it really starts to come down or gets too gusty.
I use this as my mid layer touring every time I go out. I usually get away with wearing a light merino top and this jacket for the entire up-hill portion of the day, sometimes downhill if its nice out. Definitely breathes real well and sheds light rain and heavy snow. I like how it stretches which adds to its overall durability. Next time I buy a mid layer it will have a hood, I am jealous when I see my friends use theirs.