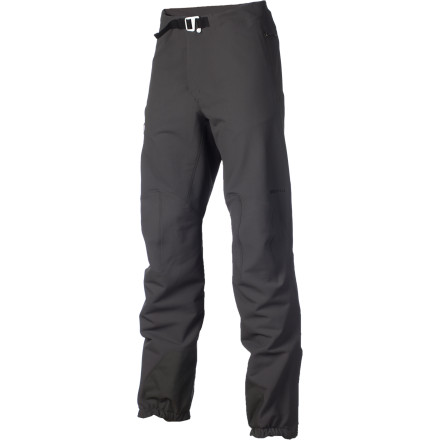 Detail Images

Videos

Community Images
All-day touring and ice climbing have their demands on the body, especially when weather isn't cooperating, so be prepared for peak-bagging and route-navigating with the Patagonia Alpine Guide Pant. Built with Polartec Power Shield four-way-stretch fabric, the Alpine Guide Pant accommodates a full range of motion on acrobatic ascents that have you pushing your typical limits of flexibility.
DWR coating helps to bead and slough moisture to keep you dry during extended outdoors time
Cuff reinforcements resist abrasion from crampons or ski edges to add longevity to the pant
Integrated webbing belt helps you achieve optimal fit and support for long, active days
Ample pockets store snacks, a camera, and other essentials
Perfect pants for outdoor adventures.
Familiarity:

I've put it through the wringer

Fit:

True to size
First off..I'm a stocky build with some skiers thighs and broad shoulders. That said, for anyone who seems to eternally have troubles with clothing fit..Patagonia's normal line seems to be cut for a person with a stockier build (mountaineering/lifestyle) rather than thinner (alpine style, more Arcteryx). These pants are a steal at $114.00. I just spent the last 5 months in Argentina and used these pants for everything from ice climbing in Patagonia, rock climbing in the northern Andes, and treks up 6000m+ peaks (Aconcagua and Mercedario). Still have a water repellent finish after 7 months of hard use. Oh and I climbed for them in two weeks back in the states before I left as well (in the winter, basically never taking them off). Still no smell..that I've noticed..



Only complaint: The waist clip/buckle is a bit weird, but nothing wrong with it. Sometimes tough to get off when you really have to pee in the middle of the night "sin lanterna" (without headlamp).
Nifty knickers
Familiarity:

I've put it through the wringer

Fit:

Runs large
Good pants - better customer service - bought a pair from here, used them a week mixed climbing in the Alps and then returned them. The mediums were just too big, I was swimming in them. I am 5'9" and 147ish pounds, even with a base layer the medium was too large. Backcountry took them as return and put a small in the mail and I have been shredding in them ever since. As other reviewers note below there is a distinct lack of ability to cinch these down tightly. I also went to suspenders to keep them up. However, they perform like five stars - typical Patagonia quality - I highly recommend them. Alpine climbing in full conditions and backcountry skiing here in the French and German Alps are activities I use them extensively for and they excel. Now if they just made a bib...
Good, but some stupid design choices
Familiarity:

I've used it several times

Fit:

True to size
Fundamentally good pants. I used them for skiing, backcountry skiing and winter hiking. About the right warmth and wind resistance for what I do. But they have a few really bad features: 1) instead of a button or a hook at the top they have a tiny flimsy velcro, which doesn't hold anything. I ended up sewing on a snap. 2) the belt is internal, but does not go all the way around, i.e. your ability to cinch it up is very limited. I use suspenders. 3) internal belt with no belt loops means you can't clip anything to them.
Great all-around Softshell
Familiarity:

I've put it through the wringer

Fit:

True to size
Purchased these because I wanted a pant that I could both ice climb, and ski tour in. These are definitely great for both. They have a killer DWR and offer a loose, stretchier fit. I'm 6'3, 210 lbs and ordered the XL. They fit great but I need to cinch the waste down quite a bit. I think these could be improved with belt loops, which they don't have already. Patagonia included a fixed belt on the pants, but I still find it doesn't cinch down enough. I use these for ski touring when I don't need a hardshell, and they work great. The cuff fits over my boot just barely (Scarpa Maestrale). Overall, I'm very happy with the pants.
good pants
Familiarity:

I've used it several times

Fit:

True to size
was really hesitant to buy softshell tis expensive but after wearing this winter ice climbing and hiking I am glad I did. I always have some trouble with patagonia sizes (small too tight, medium too large kinda deal). this was same but not as bad as other stuff.
Here's my photo that is clearly superior to Joey Sweeney's.



These pants will make you:



Climb better

Ski faster

Make you butt look amazing

Hold Keys

Keep snow out

Resistance cuts and tears from skis or crampons

Make your photo better than Joey's
I'm 5'11'' 155 LBS and I bought the size 32''. I grazed these these a couple of times with my crampons and they didn't rip or puncture.
Good fit, great durability
Gender:

Male

Familiarity:

I've put it through the wringer

Fit:

True to size
I like the integrated belt. Keeping my pants on is generally a priority... And having a harness and backpack makes that a challenge for someone with a couple of pounds of bacon fat attached to his lower back.



The pants have room in the thigh for air flow and are long enough to fit down to the laces of my boots, but don't bunch up and catch on crampons.



They'll hold up to a few accidental scrapes and puncture resistance remains high.
Great for snow shoeing and x-cntry sking
Familiarity:

I've used it several times

Fit:

True to size
Both activity's in Crested Butte, CO over the Christmas holiday. Good fit, no loose material, but enough room to move. Kept me plenty warm but not too warm in temps in the mid teens.
Great pant, except in the rain...
Gender:

Male

Familiarity:

I've put it through the wringer
I have worn these for everything, climbing, hiking, etc. I love them, except for the seam around the knee. If you are ever caught in the rain with them you will understand, water streams off your shell slides down the thighs and then right onto the seam, and from there straight on to you shins. It was crazy how much water got in this way.



The reason water got in so easy was that the seem was catching water instead of working like a shingle which would make the water pass over the seam. A bizarre design flaw in my opinion. I bought a pair of Patagonia Knifeblade pants and they are designed like a shingle so I have higher hopes for them.



*Update* Just wore these skiing inbounds today. Worked great! Temps in high 20s - low 30s. Greatly appreciated the breathability and stretch.
How is the inseem? I'm a tall boy and don't...
How is the inseem? I'm a tall boy and don't need to be wearing gaitors just to cover the gap between my boots and pantaloons.

I have a pair of the Stoic softshells and they fit about perfect. Would be convenient to have another pair of pants in another color.
6'3" with a 33.5 (if we're being exact) inseem. I normally think a 34" inseem looks a tad baggy, but that may be because I'm 'saggin.'


Most used..
Familiarity:

I've put it through the wringer

Fit:

True to size
Most used pant in my closet. Lift and back country skiing and ice climbing. Nice pant perfect greta being able to size the pant in inches. Only wish the cuff was more simple.
Patagonia Alpine Guide Pant - Men's
Old Versions Are Incredible
Familiarity:

I've put it through the wringer

Fit:

True to size
I have the older pre-power shield version of the last couple years. This has been a standby mountain pant for several years for good reason. It has exactly what you want.1) Good, athletic fit. I'm a 33 waist and size M fits me perfectly without excess bagginess in the lower leg and the waist is tight enough that it doesn't sag at the end of the day with a pack on. 2) zippered pockets all around, two at the thigh and two at the waist (I never use the back pocket) allows you to securely hold food, map/topo, chapstick, knife. Zippers are crucial and I really like having two cargo pockets for the extra storage. The cuff with zippered and webbed taper get's the job done when on ice, rock or skiing. The rubberized lower cuff with the loops pre tied to allow under boot stirrups are key as well. This pant just gets it all right. I am assuming the new version has all these features. I'm concerned the power shield fabric will not breath as well as the older version (the whole point of softshell is to breath and dry quickly. Typically, adding a membrane of any sort will reduce usefulness).
I actually have the older style with the belt loops, so can't comment on the new built in belt. I can say that these are amazing pants, breathable and light weight, just enough stretch to stay mobile through any activity. I usually wear these without any insulating layer down to around 10F, if I am working even somewhat hard they are perfectly warm. Cross country skiing? Yup. Climbing ice? Check. Climbing rock? Grab em. Skinning up for fresh lines? Undue the boot cuff and let it ride. Fairly durable, have a few tears from brush thrashing but nothing a little stitching couldn't fix. I usually wash them with Nikwax TX at the beginning of the winter and the DWR stays good for the season. Love them.
Is this pant similar to the backcountry...
Is this pant similar to the backcountry guide softshell pant from Patagonia?
They are similar, though these pants are a bit lighter then the backcountry ones. 558 g as opposed to 808g for the backcountry version.



These pants are more for climbing and light mountaineering, whereas the backcountry guide pants are more for heavy mountaineering and ski mountaineering and backcountry skiing.
I use this pant for lift skiing...perfect
The biggest difference in hand is the backcountry guide pant's material feels heavier (warmer) and the backcountry guide has inner gator cuffs (makes them heavier).
he liked them
Gender:

Male

Familiarity:

I've used it several times
Got these for my 17 year old sun. He is a skinny runt so he would have been swamped by the baggy snowpants worn by snotty-nosed, spotty, obnoxious brats. Its the sort of ski pants 007 would wear. Sleek, well cut and very functional. Might get myself a pair too!
Great pant; fit...not so great
Familiarity:

I've put it through the wringer
Great materials and weight, backed by Patagonia's waranty and environmental commitment. But the design needs some work, which is kind of dissapointing considering how long these have been around.



Pluses:

+ Good material (nice blend of breathability and warmth). I use these in temperate weather ski touring without long underwear, and the warmth/breathability is ideal.

+ With the gusseted leg zippers, they work for both ski boots and mountaineering boots

+ Some nice design points, such as a way to clip the leg button down when in expanded mode

+ The internal belt does not go all the way around (this makes it WAY easier to tailor these pants...your tailor can take them in without ruining the belt system)



Deltas:

- the elastic belt design is silly -- each side of the belt is attached to the pant with elastic...so you can't crank the belt down (since it stretches).

- Fit: Please Patagonia, please, please, please....make technical pants in "short" inseam lengths...I spend $20 per pair of pants to shorten them (and then I loose the elastic and grippers at the bottom of the pants)

- Make the legs a tiny bit wider and they'll actually fit over my shiny new dynafit boots.


Alpine Guide Pants
Gender:

Male

Familiarity:

I've put it through the wringer
These are pretty good pants. Not sure how I feel about the built in belt. I prefered the belt loops on the older version. Pockets are good and the seams are solid. I have repaired a few crampon cuts but they keep out snow well. Good for ski touring and ice climbing on the coast.