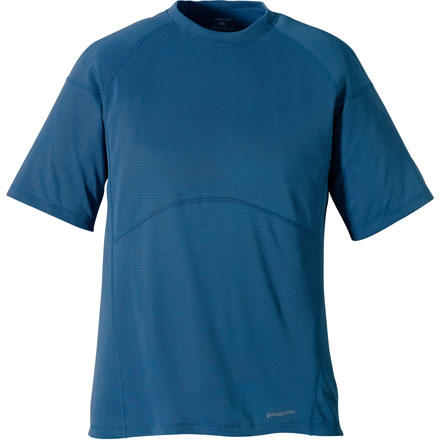 breathes great. fits true to size.
snags and runs like cheap pantyhose
If you're looking for durability or just a non-cotton t-shirt for layering or moderate spring & summer days, this is *not* the shirt to buy. I bought this as a gift for a friend and wasn't sure why this shirt was so expensive but figured the higher price tag (would impress him and) must mean higher quality. I threw it in the wash with another shirt that had some velcro on it, and the velcro snagged the fabric in several places and put a thin, 1-inch long tear in it. After just one washing, it looks junky and old. However, keeping as cool as possible in very hot weather seems to be the primary reason people buy this shirt. It hasn't been hot enough where I live to put it to the swelter test, but as the person who paid $50 for a gift, it's hard to see it fall apart after normal use.
Unanswered Question
Is this as good as the Arc'teryx Ether...
Is this as good as the Arc'teryx Ether Comp Jersey, which costs about $20 more? What's the difference between the 2 shirts?
I bought this shirt for my brother. He said he wears it all the time on warm weather runs and in the gym. It breathes well and wicks moisture, which keeps him cool and comfortable (or so he says).

Plus it looks cool.
Very good shirt overall. I get no chafing (especially in places where pack straps hit), and very good air flow. I wear this for ultras and it's worked very well. My only problem is with the durability; I don't have a problem with it snagging on foliage but whenever I run one through the wash (even in one of those "dry clean" bags) I get a ton of pills in the fabric. I would still recommend this shirt.
I stay cooler in this shirt than any other I have worn. The slightest bit of air movement goes through the fabric, better than wearing nothing. Then with any over layer the shirts provides reasonable insulation for its light weight. The material snags and pulls very easily so don't expect it to keep looking new if you wear it alone and get any where near vegetation. This doesn't bother me so I gave it 5 of 5 for functionality.