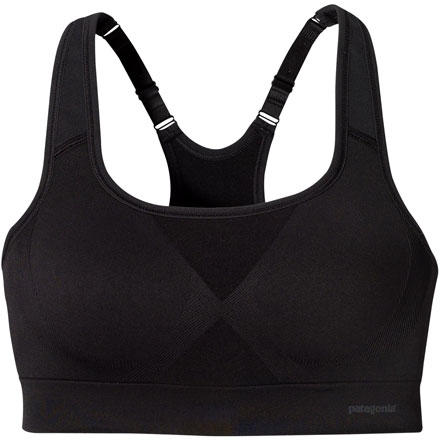 It's a very comfortable sports bra with lots of support. I would recommend anyone looking for a C/D bra to try it.
Being desperate for a bra with enough support for my current size which is 38-40 c/d I decided to buy this bra even though I thought I must be crazy to spend $50 on a bra. I like the bra so much that I now own three of them in different colors. I especially like that I can slide it on over my head without any hooks or other closures.
I AM A 34 DD. DOES THE BRA SLIDE OVER THE...
I AM A 34 DD. DOES THE BRA SLIDE OVER THE HEAD OR DOES IT HAVE A BRA HOOK.
This bra slides over the head. I am 40 c/d and it is the only good bra I have worn since gaining all this weight that has resulted in my current size. I thought I must be crazy to spend so much money on a bra but I like the bra so much I now own three in different colors.
I wear a 34 fuller cup or small d bra. I am all natural but sad to say a little saggy. I've been searching for a good sports bra that I could wear to spin classes or for
walking. I probably wouldn't run with it but it gives me the best support in any racer sports bra ever. The fit is true to size. You won't be sorry!!! Well worth the money. I wish they had a ton of colors to choose from. I purchased the 34d and it is perfect.
Is there any cup-like support, or is this...
Is there any cup-like support, or is this a uni-boob bra?
Uniboob, but somehow less annoying then other uniboob bras, it has a hint of shape.
Overall a nice addition to my wardrobe but definitely should have gone a size up on this one. I'm typically a 36C or D at a well known retailer for undergarments (VS) but the 36 in this was pretty tight. Granted this would make for an active fight, keeping things in place, it also made for some discomfort. Next time I'll pick up the 38 instead. Otherwise, the fabric and styling is great.
Unanswered Question
I'm a 32DD, what size would I choose for...
I'm a 32DD, what size would I choose for the best fit?
At 34DD, it's difficult to find a decent sports bra. This is just about the closest I've found to being up to the task of supporting my chest in a comfortable and flattering way. It's not quite enough for high impact activity, but I haven't found the magic top that is.
I am a 32DD, which is an impossible size to find, particularly in a sport bra. But this baby really does the trick! It's snug and keeps everything in place without squeezing uncontrollably. AND it's super comfortable and don't rub or itch even when I have it on for 10-12 hours.
This is the most supportive sports bra I've ever owned. And great that it comes in 34-C/D, which is often a tricky size to find. It's very comfy and I will buy more!
This is a great bra- it fits great and is really comfortable even for larger cup sizes. Material is soft and doesn't scratch your skin.
A better bra from Patagonia
Didn't think Patagonia could produce a better high impact bra than their last c/d cup model, but this 1 is even more stylish, streamlined, & comfortable. And hey, doesn't hurt that it has so much recycled polyester. Highly recommended-
Returned it. Yes, my C/Ds fit in there, but there certainly is not enough support to consider this a "high impact" bra. It was comfy & fit well, but I expect more support in a $50 sports bra. I miss their much older (90s-early 2000s) C/D bras & haven't found anything quite comparable in comfort & support since...