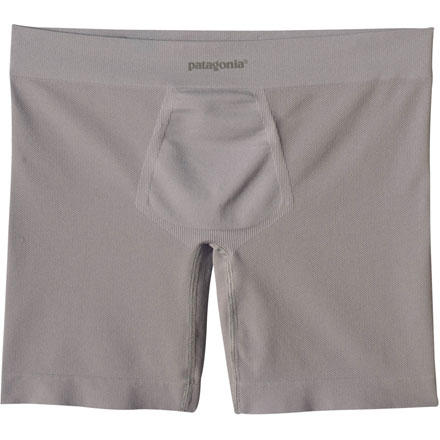 The Patagonia Men's Active Sport Boxer Briefs should be the first step of your layering system when you go skiing, hiking, or climbing. Patagonia used open-weave polyester material in these form-fitting boxer briefs because it wicks moisture from your skin, breathes, and dries quickly. Forward-set, flat-sewn inseams ensure you don't get chafed inner thighs.
Very comfortable and dry.
These were great for the year they lasted. The crotch blew out slowly, and I was a bit disappointed. I will stick with the boxers instead.
Got a pair and they fit perfectly for me. No leg ride up, wicks great and I'm a big sweater, good support. I liked the first pair so much I bought 2 more pairs. I haven't had them long enough to comment on their durability over time.
This is the new version, long live the old version
If you bought a pair of these a couple years back and loved them, like I did, don't buy these. I agree with all the comments about the material, and the way they move around. Why does Patagonia always make changes to their best selling stuff? Hello??? There is a reason people are buying it.They should add a warning to their products:"Warning! Except for the name, this is completely different from what you bought a year ago. It is made of cheaper material, and fits completely different, but hey, we make more money."The Old vs. New picture is attached, note the difference in size, they are both smalls, note the difference in the thickness of the material, the old is super thin, note the difference in the waist band and the leg bands... Cheap, worth about $8.00.
Just Okay...Actually Not Really
I really dig most patagonia products, but these aren't quite right. The material is nice, but the fit is a problem for me. Basically when I move around, they move around, but not with me. That is, they get all in a bunch and I end up having to keep pulling down on the legs or else just being uncomfortable. My guess is that this has to do with them not being stretchy enough. I mostly just wear them around for short runs or to the gym now. I'm fit, so maybe if you're real skinny, or real flabby they may work better. But that 's just speculation since I assume patagonia tested these before they released them (they must work for someone right?). I usually just wish I was freeballing it when I wear these, and that's often how it ends up!
High performance, low comfort
Though these wick sweat better than any base layer I own, they NEVER stop riding and bunching up. Not too bad for hiking, TERRIBLE for skiing.
Pro: 1. very breathable
2. keeps the butt dry under all but extreme humid warm conditions
3. dries fast
4. packs light and compact
Con: Would have given the briefs 5 stars if the inseams would have been about 3 to 5cm longer.
picked up some of these to wear backpacking. First off they are NOT quick-drying they take a long time to air dry. The material is comfy, but it is too thick. These keep you too warm for summer backpacking warm to the point that it is uncomfortable. To just wear everyday they are fine, but don't drop the cash for them.
I wouldn't buy anymore of these. I personally don't like the material. It's got almost a microscopic grid and if you sit for very long, they can get a little painful. As already mentioned, they do have an odd fit as well. I love all other Patagonia stuff that I own, but these are usually avoided. Next time I'm going with Icebreaker or Exofficio.
Strange cut. I have to constantly adjust these all day long. Even if I wear them to work. These are a last resort in my undies drawer.
Like the boxer briefs. I had to size up to a large on these when I usually wear a medium, I liked these best out of the few that I had tried. Great for warm ski days and in the summer.
no waist band a good thing
I've tried 6 different brands of this type of underwear/brief. This one is the best and most comfortable so far. Other's I've tried are 5.11, Under Armour, Dockers, and Ex Officio. Yes, it is sort of a weird fit, as these don't have a traditional elastic waist band, but at the same time, they don't feel as constrictive by having to use compression to hold them up like others do. Breathability and warmth better than expected.