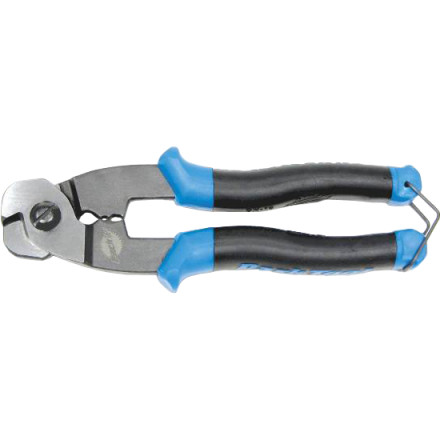 Detail Images

Community Images
Description
Shop-quality cutters.
Made with cold-forged, heat-treated steel, the sharp jaws of Park Tool's Professional Cable and Housing Cutters CN-10 cleanly sever both cables and housing. The cutters feature a handy built-in crimper for cable ends and a "forming hole" to ensure cables glide smoothly through fresh-cut housing.

Cold-forged, heat-treated steel
Precision ground cutting jaws
Built-in crimper and forming hole
Snip Snip
Familiarity:

I've used it several times
I've always used other cable/housing snips and have struggled with frayed cables and smashed housings...until I bought this.

Get it!
Does just what I was hoping.
Familiarity:

I've used it several times
Clean cuts every time with no frayed cables.
Solid construction
Familiarity:

I've put it through the wringer
This was one of the first cycling specific tools I got that felt it was worth its weight in gold. If you've tried cutting housing or cables with anything other than a dedicated tool, you've probably been disappointed and heading back to your LBS for a new cable. For simple basic maintenance of replacing your housing every year or so, these are mandatory. They pay for themselves quickly and will last for years and years to come.
Spectacular quality
Familiarity:

I've used it several times
Superior quality to the marine cable cutters loaned to someone back in the day and forgotten. Cheaper, too. Expect these to be an heirloom.

Clean cut through JagWire housings, needing only minor work with an awl to open up the cut. Clean cut thru the JagWire cables, no fraying at all.
Snip snip.
Familiarity:

I've put it through the wringer
Super sharp, great for snipping cables and ensuring ferrules stay in place. Comfortable in either hand, if you have a beer in the other. Well worth the upgrade from a cheap set of pliers.
Must have tool
Familiarity:

I've used it several times
Every bicycle enthusiast should have this tool for basic repairs. Works great, feels like it's built well too. Just purchased it not too long ago but I have already used it many times.
Crisp Cuts
Familiarity:

I've put it through the wringer
Throw away your old pair of wire smashing, cuttin' diagonals, as this thing is the BOSS when it comes to clipping cables!



Talk about ease of use clipping, one handed style- it gets cables clipped in a blink of an eye.



I was a total skeptic at first, but after the first cut to the 573rd cut, I am still a believer! They're still going strong and still sharp as all get out!




Does the job with no fuss
Familiarity:

I've used it several times
These cutters make neat, clean cuts reliably time after time.



A great addition to your toolbox if you are going to be cutting gear cables and brake hoses
it cuts stuff real good
Familiarity:

I've put it through the wringer
Can't beat it
The Cadillac of cable cutters
Smooth operation and mostly flawless cuts. I even use mine to trim hydraulic lines and then just clean up with a razor. Several years and thousands of cuts in...same beautiful, effortless action. If you are messing around and using diagonal cutters, save yourself the hassle and get the real deal.
Another one needed in the tool box.
Familiarity:

I've put it through the wringer
Yeah, yeah... You have a pair of wire cutters already. But they won't cut as good as these. If you don't want to be a hack mechanic then get a pair of these and have zero issues with cutting cables and cable housings. And remember to crimp your end caps or have furry cable ends that will need to be replaced.
This is a very good set of cable cutters. Cuts fast and clean. No complaints.
An absolute necessity if you do your own brake maintenance/derailleur cable installation and repair.
The Craftsman of Bike Tools
Familiarity:

I've put it through the wringer
Durability, Reliability, Quality. Honestly, when you pick up park tools, you know they are worth the price. Feels like Craftsman stuff. These do the job, cutting cables, housing, and crimping ends as needed. Always in my tool box at races and bike trips, or on my bench.


Makes your hands happy :)
Familiarity:

I've put it through the wringer
In the old days, I used to wrestle with a standard wire cutter when learning how to wrench on my bike - argh. There is no way you can cut through bike cables with standard wire cutters....well, maybe if you make a total mess of the ends. No brainer for bike builds or cable changes. Makes cutting cables a snap - literally. Leaves the ends tight and still easy to guide through any cable housing without any frays to ruin your day. I have had mine for years now, still sharp and works great. Defiantly a must have, even for the average peep :)
The best cable cutters on the market
After several years of using subpar snips, I decided to go really high end and got a pair of knipex cable cutters, I found they performed exactly the same way as cheap cutters when it came to cutting bike cables, so I bit the bullet and got these, the Park cutters are amazing, a clean cut EVERY-TIME.
Another great tool from Park Tool
Wondering why i haven't bought this any sooner. Have used basic wire cutters for the longest time, but these make the job much easier!
When you buy a park tools tool you can know for a fact you're getting a solid tool that will do what it is supposed to and never fail... always a wise investment for bike tool needs! Stop struggling trying to get cables with those dull pliers and upgrade to the effortless and clean cutting of these guys.
Do yourself a favor and purchase one of this. You will do the job right the first time and without any headaches. Forget about using other types of tools, use this cutter for cutting those tough housing cables. Durable and comfortable on the hand.