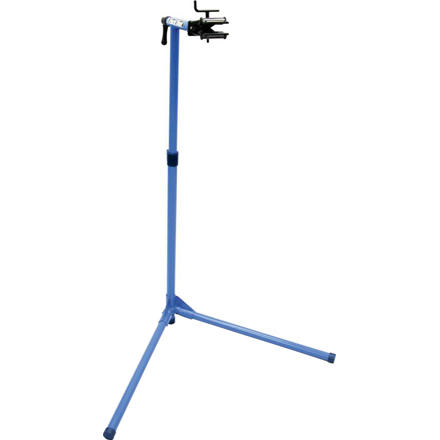 Community Images
Description
DIY.
You can work on any frame design out there with the Park PCS-9 repair stand. Between its 360-degree rotating head and its screw-down clamp, there's always a frame tube or seatpost to clamp to. And, with the height adjustment, it doesn't matter how tall you are or what part of the bike you're wrenching on, it will always be a comfortable, if not simple, adjustment.
360-degree rotating head
Screw-down clamp
Adjustable height
Collapsible legs
Great basic repair stand
Familiarity:

I've used it once or twice and have initial impressions
This stand is very easy to put together and it only took 5-10 minutes. It seems pretty durable so far and it holds both my mountain and road bikes perfectly. It is a basic stand so your bike is pretty much fixed at one height with not a lot of adjustments.
Perfectly adequate.
Familiarity:

I've used it several times
This works great for simple repairs and cleaning at home. So much better than trying to lean your bike up against a fence or something especially when working on the drive train. Awesome price point for a solid entry level stand from a reputable company.
PCS-9
Familiarity:

I've used it once or twice and have initial impressions
Pretty easy to put together since there's only six pieces. It can hold my 25 pound bike in any position you please. I've already done some slight derailleur adjustments with it and having this stand, or any, makes working on bikes so much easier. For the price I can't find anything better than this out there. Would definitely recommend to anyone looking for a entry level stand. As far as I'm concerned I don't see why you would spend more when this gets the job done for less.
BASIC Repair Stand
Gender:

Male

Familiarity:

I've used it several times
I was very happy to see a more affordable option for bike stands and I have been happy with other Park Tool products I have purchased. The material is strong and sturdy while the overall assembly is pretty basic. I think the clamp is perfect as it is very easy to rotate from a horizontal to vertical position and anywhere in between while also controlling how tight you close it down on your seat post or bike tube.

Now for the 2 stars. The base of the unit where the leg assembly slides down and locks with the push button does not work properly. Once the stand is holding weight, any force applied by myself on the bike will cause the leg assembly to unlock the push button by sliding right over the top of it and the legs begin to slide up the vertical tube of the stand.

I may try to file the small hole opening where the push button should be locking because it seems to taper open on the inside of the hole allowing the button to easily be pushed in. I am hoping this fixes it, otherwise the stand is almost unusable.
Exactly What I was Looking For
Familiarity:

I've put it through the wringer
The PCS-9 is perfect for the home mechanic - it's easily adjustable and sturdy enough to not move around when you're torquing down a crankset.

I was able to find the sweet spot with the tightness of the rotating clamp and the pinch bolts of the telescoping pole, and now I can rotate the bike on two axis while it's in the stand, without becoming cumbersome or moving when I don't want it to. Raising and lowering the stand height is difficult, though.

Even as someone who used to work in a bike shop with Park Tool's Professional bike stands that weigh nearly 100lbs and cost about $400, I'm perfectly satisfied with the PCS-9.
Looking for a stand, why is this so much...
Looking for a stand, why is this so much cheaper than the rest?



Are the others any better or different?



I just need it for cleaning, and little repairs, and wheel set swaps, minor stuff...
Best Answer
Stands will vary on price depending on how heavy duty they are. A lesser expensive stand will be a little thinner tubing, and also not quite as stable for really cranking down on the bike. For most home work projects a stand like this is sufficient and will work well. Feedback also makes a comparable stand at the same price.
Stand and deliver
Familiarity:

I've used it several times
Holds bike perfect at what ever angle I want. Why buy the pricier version. What could it do better?
Looking to buy a stand for the house for...
Looking to buy a stand for the house for small repairs and cleaning. Was thinking of buying this one or do you recommend a different stand?
Best Answer
Hey Jesse,

I do like this one. I'm actually going to shoot you an email so we can discuss your needs and the stands a bit more.

Talk to you soon.
Nice sturdy stand
Familiarity:

I've put it through the wringer
This is the first stand our family got, and still the only one that lives in the garage. Simple, sturdy, and heavy so it doesn't tip over when bumped from its middle of the garage position. The top bar is nice and long with no extra nonsense for holding rags, chains and such. May never upgrade.
Not to bad of a stand
Familiarity:

I've used it several times
The stand doesn't fold up quite as much as I would like but that is my only complaint. Very sturdy and holds the bike great.
Easier to work than to be on the floor.
Gender:

Male

Familiarity:

I've put it through the wringer
If your serious about maintaining your bike by yourself, you'll need this. Since I have the stand, repairing and maintaining the bike it's easier than before. I love this stand, very simple to use, good quality and great to storage. It is the entry level but don't be fooled by this. Adjusting the derailleurs had been a walk in the park, you shift and adjust, very simple. No more back pain.
If you usually do your mechanical work at home and don't have a mechanic stand, this is the stand to get. This is the entry level stand. The stand is adjustable in height, and the arm can be rotated for more comfort. It is also very easy to carry and store. The quick release clamps are very useful and easy to set-up. It sure doesn't feel like the weight is 23 lbs, but the tool is very sturdy. Easy to assemble.

Make sure to put a rag on the main clamp so it doesn't scratch your bike. Also, make sure you tighten the quick release clamps.
This is your entry level basic stand. The quality is good enough for everyday home usage. The clamping mechanism is the "screw-in" type and wont be the same as those you see used in bike shops. This clamp is not upgradable. Holding the bike up and getting the clamp tightened takes a bit of time. The stand is study; but is heavy. The legs fold up, but the clamping arm doesn't, so dont expect it to fold into a small package.

Overall, a good stand for those who will occasionally use it for basic maintenance. If you plan to work on your bike on a daily basis, consider a stand with a different clamping mechanism
How many pounds can this bike repair stand...
How many pounds can this bike repair stand hold?
Best Answer
We used this stand in a shop where I worked and we used it to hole DH bikes, adult tricycles etc. I don't think you would want to use one to work on a car though.