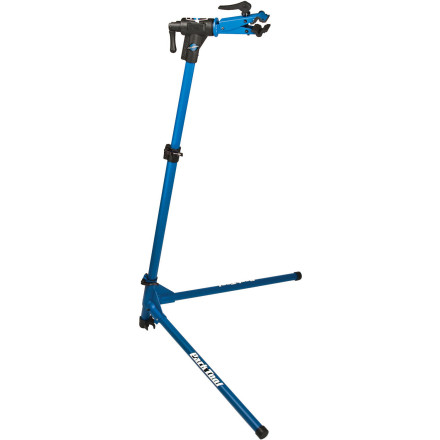 Community Images
Description
Work it.
The Park Tool Home Mechanic Repair Stand holds your bike securely at a perfect height so you can dust off your pants and stand up to work. No more sitting on the floor to work on your bike as it precariously leans against a desk or doorframe.
This stand's frame clamp is adjustable to multiple angles and can be rotated while working to get just the right angle on wrenches and cables. Its cam-actuated jaws are adjustable to hold a range of frame tube sizes, from 7/8-inch up to three inches in diameter, including deep, aero-shaped tubes. The Home Mechanic Repair Stand is also height adjustable from 39 inches to 57 inches at the clamp to accommodate different sized bikes and different height mechanics.
Cam-actuated clamp with adjustable jaws
Holds frame tubes from 7/8-inch to 3 inches in diameter
Clamp height adjustable from 39 inches to 57 inches
Three-point leg system
Folded dimensions: 41 inches
Have Stand will fix Bike
Familiarity:

I've used it several times
Love this stand Not too heavy, Sturdy Holds My Roadbike and Off Road. Keeps me from crawling on the ground and enlisting innocent bystandards from holding up the back end of my bike. I waited so long for this Bike stand to come into my life ... I don't know what I would ever do without it now. Plus it folds up pretty sexy and sets up Nicely on my little Balcony :D
The stand is solid, and super easy to assemble and fold up for storage. It holds my dh bike no problem. The clamps are all well built and work smoothly. The rough matte finish feels like it will hold up well to abuse. Ice been wanting a proper stand for a long time, and cannot be happier with this purchase!
A well designed stand
Familiarity:

I've used it several times
The stand is constructed heavy duty metal frame/tubing. The clamp is very easy to use. Once adjusted, the quick clamp/release lever operates smoothly and making it easy to get a bike onto or off the stand. The mechanism for adjusting the tilt angle of the bike is also very nicely design and once set for a particular angle, it can be locked in solid.



Minor problems with my particular stand were manufacturing related. I was missing a pinch bolt, and one of the plastic liner had its lip broken due to careless install. Adam at Competitive arranged contact with Park Tool, once I described the problem to them, replacement parts are now on their way. Very impressed by Park Tool's response.



Having been using the stand for a week to work on setting up a new bike I just bought. The stand made everything so much easier. This is a great investment for anyone who works on bikes, even if just once a week to lube the chain.
solid stand, decent deal
Familiarity:

I've put it through the wringer
I always feel that I'm paying too much for bike stands. they're relatively simple, not much engineering goes into them. that said, it's a good stand. solid, doesn't slip, fairly rigid. easy to use.
Great Stand!
Familiarity:

I've used it several times
Easy to put together - no issues. It is a little tipsy compared to the tripod legs the competition uses - but the rapid release and clamp is far superior and it matches all of my tools which are - big surprise - Park! I am going to try to add something to the leg tubes to weigh them down a bit just to be safe.
Great stand!
Familiarity:

I've put it through the wringer
If you are an avid roadie/mtn biker, you need one of these. Makes all those home repairs a million times easier. Quality is top notch, and stand feels extremely solid.
More solid than I had imagined.
Gender:

Male

Familiarity:

I've used it once or twice and have initial impressions
I was surprised at how solid and robust this thing is. It can handle my MTB easily. It went together relatively easily and can quickly fold up for storage. It unfolds quickly as well. The clamp is solid, the the finnish seems like it will hold up. This is one of those things that will still function after I am long gone. The only part that I have question about is the plastic collar that helps provide tension to the clamp and keeps it from rotating. We will see.



On a side note, mine arrived scratched and dented, but I don't think it will effect the function of it.
Get it already!
Familiarity:

I've put it through the wringer
Save some bucks and work on your own bike at home! Sure, you've gotta splurge a bit to get this thing, but it'll pay for itself just after a few uses. Nothing is worse than when you gotta flip your bike upside down or something (when you don't have a stand) just so you can get the pedals and wheels to spin. Blargh!#@$ With this stand, flippin' your bike will be a thing of the past. Derailleur adjustments, disc brake tweaks, all made so simple with this stand. Like I said, get it already!
Like it a lot, but....user error :-(
Familiarity:

I've used it several times
I purchased this stand after I took a bike maintenance course. During the course, I was amazed at how much easier every task was "on the stand" compared to on the ground. Here are my observations:

1. Heavier than expected, but still manageable.

2. Confusing instructions. Admittedly, I rarely put anything together, but when I saw the instructions, I was intimidated.

3. Despite the confusing instructions, got it together. But I had a few lock washers left over. Oops.

4. It is pretty darn tall when folded up, and now very easy to carry. I think I made a mistake in the clamp where the extender connects, because it slides open all the time when I am carrying it. And the legs keep falling open, too. Okay, so it's not terribly portable, but not meant to be. Hard to store in my vehicle, but that's my storage problem, not the fault of the stand.

5. I have a slightly uneven parking space, and I have to be sure to put the apex of the legs at the high point or my bike swings around and hits me. Lesson learned.

6. It's easy to attach! Although I'm not sure I'm doing it right. Still works.

7. Great range of adjustments in height and angle of bike. Love it.

8. I highly recommend this, and "how to use" tips would be helpful.

9. I hate blue. But see I still rated this five stars! I just wanted to put that out there. Sorry Park Tool. I know it's your trademark color.
Nice and portable
Familiarity:

I've used it several times
this is more portable than I thought, awesome! Easy to set up and take down. Exactly what a Bike stand should be.
Works great!
Familiarity:

I've used it several times
Love this stand. It does everything that i need it to do. Very well made and well designed at an obtainable price for the average guy. I have used it for maintainence mostly. Adjusting my disc brakes, lubing and cleaning my bike and chain. Not sure what I'll do with it next!
Solid performance to price ratio
Familiarity:

I've put it through the wringer
As a journeyman cyclist and a geardo, the natural progression is to learn to fix what you break. I took a look at the Park Line of stands and found that without any knowledge of what a top bar does, or an appreciation for the intricacies of some minor adjustments in angles, I would be best served by a simple, reliable workhorse. Alas, Park delivered with the PCS-10 Stand. Heavy, durable, and blue. It works great for basic tune ups. Any work on the driventrain, bottom bracket, brake lines can be accomplished with ease. I've also installed a fork and crown with this bad boy.



From the hobby cyclists perspective, this is a must have to same some scratch you can upgrade to the holy grail of cycling gear to shave those precious seconds off your times. Plus, who doesn't enjoy a beer looking back on a do-it-yourself success story?
Great maintenance and repair stand
Familiarity:

I've used it several times
This stand is trivial to assemble, and obvious how to use. It's robust, and strikes a nice balance between heavy enough to be stable, and light enough to move easily when desired. It gives every appearance of a lifetime purchase, both in terms of quality, and functionality.
Love my first bike repair stand
Familiarity:

I've put it through the wringer
I have the PCS-10 for over 2 years and I have used for repair, bike wash, clean and regular maintenance. It is well build, looks good, hold the bike well if you tighten the clamp after closing the quick release. My only complain is that the button or what you call the silver ball which hold the stand is difficult to press and fold the stand. I can fold the 2 legs easily but to lower the stand is a little challenging for me. Overall, highly recommend this stand and make sure to get the tray too.
Love it!
Gender:

Male

Familiarity:

I've put it through the wringer
This is the second one I bought, not because my old one broke or anything, it is still just as good as when I bought after 100s of hours of being used, I just bought this one so that my roommates and I can work on more than one bike at a time. Ridiculous, you say?, Well when its three guys and 15 bikes I say one stand is not enough! Oh and I forgot to and that it folds to like nothing! I bring this everywhere my bikes goes ahahaha
Its ability to function from such simplicity is amazing.