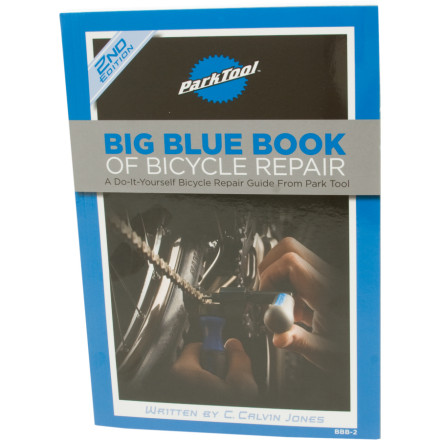 Detail Images
A visit to your local mechanic costs you time and money, especially when you could learn to pull that bottom bracket yourself. But even the most seasoned home mechanic will find the Park Tool book useful when there's a $5k jewel dangling from the stand. Compiled and updated yearly by the number-one bike-tool company in the world, the Big Blue Book contains step-by-step instructions for repairing everything from road to bmx bikes, whether you're doing simple maintenance or a complete overhaul. Lots of photos allow your 6-year-old daughter to walk you through the most complicated of repairs, and as a result you'll spend less money on six-packs for your local mechanic.
Good book for basic bike maintenance
Very happy with this book. Clearly written by an expert bike mechanic. Lots of pictures to help guide you through the maintenance steps. Recommend for any newbie to bike maintenance.
Big Blue Book of Bike Repair
I'm an amateur mechanic and picked this book up to supplement my knowledge. Although I haven't gone through all of it, it seems well-written and straightforward. There are more than a few things I've learned from other mechanics that are not in this book, but seem like they should be. The book covers a lot of popular brands but has left out many others. All in all, a good book for novices with any level of experience and any kind of bike.
Unanswered Question
I am looking for a book that will cover...
I am looking for a book that will cover all aspects of my Specialized Stumpjumper. My dealer is 125 miles away and I would like to be able to service my own bike completely. (brakes, gears, headsets, spokes, suspension, crank etc). I guess I'm needing a complete manual to gude me and a list of tools I need to purchase as well. Thanks, Sherri King
Required Reading for Aspiring and Experienced Mechanics
Was able to read through it in a single day and was blown away at how seamless the descriptions, diagrams and pictures are in this book and that fact alone makes it so much easier to learn what you need to do to take care of your bike. Covers everything from basic tunes to more advanced fixes for bike components. Knowledge is power and this book will give you plenty of it.
This book is informative and good to have handy in case you need to do a quick repair yourself.
Park Tool Big Blue Book of Bike Repair 2nd Edition great for the basics
The Park Tool Big Blue Book of Bike Repair 2nd Edition has just about everything you would ever want to do. It gives you solid instructions with good illustrations. It may not address some more technical issues but for basic bike maintenance, you can't do much better.