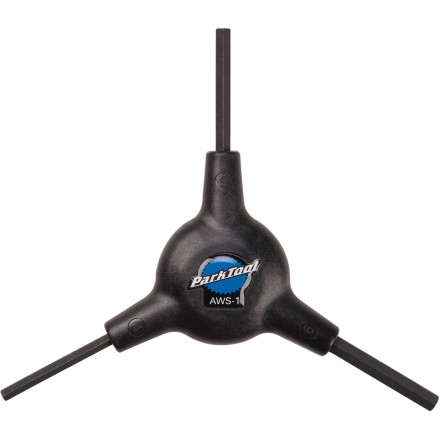 Description
Arguably the most popular tool in cycling.
When making adjustments to your bike, the three most common hex sizes are 4, 5, and 6mm. Park Tool, being the savvy purveyor of bicycle repair equipment that it is, developed what's quite possibly the most iconic shop tool ever -- the 3-Way Hex Wrench.
Known internally at Park Tool as the AWS-1, and to mechanics worldwide as a 'Y-wrench,' this three-way has 4, 5, and 6mm hex wrenches. Each are bonded to a sturdy plastic center handle in order to ensure a firm grip. And by having three sizes instantly available, you'll spend less time fumbling around, and more time fixing things.

Solid!
Familiarity:

I've put it through the wringer
I got this and tossed it into my bucket of cleaning and maintenance supplies. It does what it is suppose to and has taken a beating but still going strong. Very happy and would buy again!
My Daily Driver...
Familiarity:

I've put it through the wringer
Great tool for daily bike maintenance. Features a great #4 hex, an even better #5, and the best #6 hex on the market. For all your metric adjustments this fits the bill.
No other bike tool than park tool
Familiarity:

I've put it through the wringer
I have been using park tool for a while now, and nothing has failed, all of there tool are built to last and work great!
Should Have Bought It Years Ago
Familiarity:

I've used it several times
I wish I could get back all the lost time searching for hex keys in the garage. This has the 3 most used hex sizes, feels great in the hands and allows better leverage to easily torque those bolts!
This is nice, and worth the price! A standard.
Not the 3 Way you are thinking
Familiarity:

I've put it through the wringer
As a home mechanic, I got by just fine using a multitool for pretty much all my repairs as I had basically everything I needed all in one tool. While it worked well, fiddling between different sizes got old and I realized there was a better way. This is that better way. Not only do you have the most commonly used sizes all on one simple tool, you can apply torque much better for them. This tool is definitely something that is a staple to have in your toolbox for wrenching.
#1 tool for bike repairs
Familiarity:

I've put it through the wringer
Out on the road, a multitool is king, but in a shop, the 3 way hex wrench is king. There are very few bolts that you'll frequently adjust that will not fit one of these 3 heads. The nice wide grip gives you enough torque to loosen even the toughest bolt. I would recommend using a torque wrench to tighten all of the bolts, but a 4,5,6 3 way is great to have.