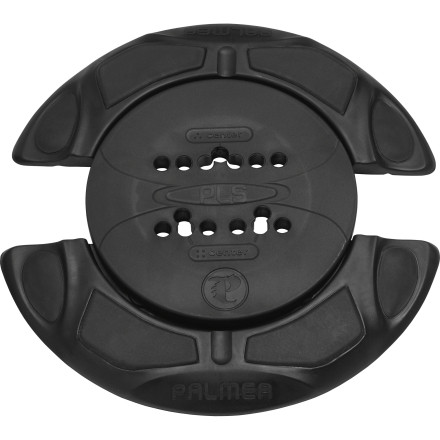 Community Images
Palmer Binding a good option
I have size 14 feet with a 258mm waist board. Without the Palmer Risers the toe hang is a good 1.5inches. I've been out for a few runs as a beginner/intermediate rider and the board has felt great, no toe drag issues, and because of the height (i have the super lift 20mm) it seems easy to carve and stop on a dime while using less pressure because of the added leverage... so it's a thumbs up for me.
Is this product compatible with Burton EST...
Is this product compatible with Burton EST system?
, ☃bcs_badge_alumni_label☃
No, these will not work with ICS or EST.
Palmer PLS Binding Lifter
These things rock. This is the second set I've purchased (only because I lost a piece of the first set, not because they broke), and with a big board they make a HUGE difference. Not only do they keep your toes and heels from dragging, but they really do improve edge to edge control. I definitely recommend them.

Mike
Is there a major difference between the...
Is there a major difference between the standard, flex, and shock?
Best Answer
Babs, for the most part, the technical difference between the three are the height they raise your bindings off of your board(10-20mm). The point of these things is not only shock absorption on stomps and high speed stability, they also act as a physical leverage increaser between you and your board. Depending on what you want to do with these in your setup whether for race or backcountry or park, i'd just go with the shocks, i use them in the park and for off piste stuff, and i feel like the extra 7 mm gives a comfy bed when you pull those massive stomps and at high speeds, its feels like your riding in a B with wings over the wheels. Hope this helped, adios!
I have size 13 boots would I need 13mm or...
I have size 13 boots would I need 13mm or 20mm
I have the 13mm and wear 13s as well. i have about 2.25 inch clearance from the base of the board to the bottom of my boots.(Stance 23",+15,-15; Flow NXT AT bindings). the 20mm will give you another 3/8 inch. Not sure about the effectiveness of the Dual Durometer set up.

NOTE!!! I have since removed the lifters. no difference in carving, just better board feel.
I'm interested in these just for the...
I'm interested in these just for the performance enhancement (I don't have dragging issues with my feet). For performance purposes alone, which style would I be best to use?
I have the shocks. i took them off, though. without them i feel like i have better feel for the snow under foot. with them there was a marked decrease in the feel of chatter.
i wear a size 13 boot the width of my board...
i wear a size 13 boot the width of my board is 25 what size plamer binding riser should i get 10 mm 13mm or 20mm
The shock would be your best bet, or even the super. With your boot size, the bigger the better.
I ride with a size 15 boot and I thought these helped a ton when I got a narrow board, however they broke mid-season and I rode the rest of the season with my bindings directly on the board and never had a problem. Right now I cruise the banana without risers and do fine. So you don't really need them.
Write your question here... Do the Palmer...
Write your question here...

Do the Palmer risers come with hardware to mount on the board?
Can the risers be used with burton EST...
Can the risers be used with burton EST boards also because of the channel in them? I have a burton custom X, and a Burton X8, both have EST, which I love by the way, but i need risers for the custom X and want to make sure that the risers can be used with the board but with nonEST bindings being used.
I am in the same boat, I have a Burton JJ and want to put NXT ATs on it..Would love to get an answere to this too!
you gotta get some burton risers man... www.Burton.com send em a letter and they'll just send um for free
Hey Blizzard...I was wondering what did you say in the letter that made Burton just send them to you for free.I'm very interested and would love a set.
Are these lifters universal and will with...
Are these lifters universal and will with they fit on my Drake bindings?
Yes...they are universal, and should work under every binding except the new EST bindings from Burton.
I will admit, I was very VERY hesitant and nervous about getting lifts, after reading dozens of horrible comments about "losing feel" and having them break and just sucking in general...I have to say that, after riding the shocks in Tahoe for a week straight, I LOVE THEM. I no longer experience drag with my size 12 boots and an 09 custom 162, I can carve on a dime, and I dont experience any lose of feeling with the board...People need to stop hating on binding risers and embrace them. Anyone can ride a narrow board with these puppies!
if you have big feet that hang off your board and pick up your edge these are a must
I don't understand why you would want to ride without these. I have pretty long feet and toe drag was always a problem. These devices give me just enough clearance to remedy the issue. Turns are crisp and clean, energy transfer is improved, there really isn't a downside. For less than $100, you can make your ride smoother and stay on the slopes longer.
if your board is to skinny do you think...
if your board is to skinny do you think these would hang over the edge?
Fur: You would have to have an extremely skinny board for these to hang over. I wouldn't be too worried about it if I were you.aaalllen: It's adjustable. You have a minimum width given the circle and the wings, but that's not going to be a problem. To adjust it to your board, you move the wings toward the edge and the circle sits on wing pads.
they eliminate toe drag, take less effort to really stick to your edge, and help with stability at speed. Everything about turn initiation just feels crisper- all your power goes directly to your edge. These are 10x as effective (and stronger) than the 'Burton Elevators'. Go with the SHOCK for the dampening as well as the toe rise.
I ride the SHOCK and they are not only great for railing turns, but they also reduce the amount of toe drag someone with size 12+ feet might have. I also have a pair of STANDARD PLS, but prefer the SHOCK as they reduce chatter. One last thing is if you do a lot of traversing say in and out of the backcountry that extra leverage amounts to less energy spent while on edge. It would be hard for me to go back to riding a board without them because I would know what I am missing.
I really like these. I bought the SHOCK (13mm lift) and think that they totally cut down on the amount of effort needed to hard turns. Granted these are not an necessity by any means, but merely a nice-ity. They don't give too much lift where you feel that the center of gravity is off. They do add a little more cushion under your feet as well. I wouldn't ride without these again by choice, but if I am riding one of my boards without them, I wouldn't feel like I would have to change my riding style. I know that sounds like I should give them an average rating, but they are great for what they are, basically an accessory.