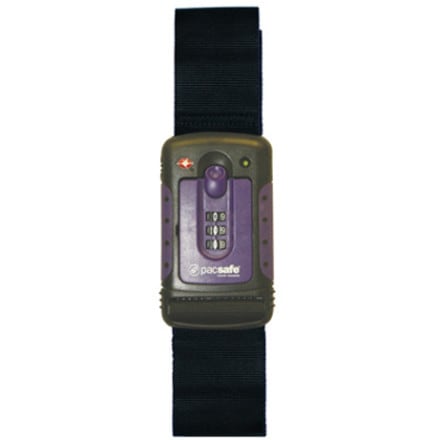 Having your belongings pilfered through is a bummer. Instead, wrap the PacSafe StrapSafe 100 TSA Luggage Strap around your backpack and lock with the three-dial combination. This PacSafe luggage strap cannot be loosened once it's locked, so it discourages crooks from taking what they want from your bag. This lock is TSA-approved, meaning that Transport Security Administration inspectors can safely open and relock this strap, as is required.
Share your thoughts
What do you think of the
Pacsafe
StrapSafe 100 TSA Luggage Strap
? Share a...
Yes, it's totally obnoxious and looks like construction tape, but I love it! It definitively makes my bag stick out from others when it comes down onto the carrousel at the baggage claim.

I also like that there's a little indicator that turns red when a TSA key is used. If the indicator is red and you don't have a TSA notice in your bag, you know that somebody messed with it. With a little push in the right place, you can turn the indicator back to green.
Posted on
just wondering how long the strap is?...
just wondering how long the strap is? thanks!
Best Answer
Responded on
74.1 inches.
Unanswered Question
Posted on
Sir, I want to know the length of Strap...
Sir, I want to know the length of Strap Safe 100 TSA Luggage strap and where it is avaiable in COLUMBIA MD 21045. Thanks ..MURTAZA