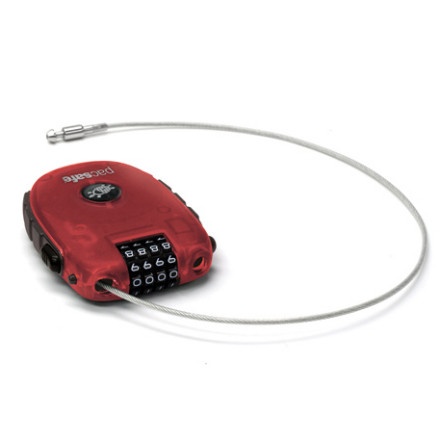 Community Images
Thwart would-be thieves from snagging your sweet gear when you lock up your bike, skis, and bags with the Pacsafe Retractasafe 250 Cable Lock. Its slashproof steel cable dashes the hopes and dreams of nefarious hoodlums from making off with your valuables. A resettable four-dial combination lock still keeps them guessing when all other attempts to beat the 250 have failed.
What is the diameter of the end and the...
What is the diameter of the end and the cable?
The diameter of the cable is 2.4mm (or 0.1 in), its dimensions are 9.5 x 6 x 2 cm (alternatively, 3.8 x 2.5 x 0.8 in), the length is listed as being 90 cm ( or 35 in), and the weight is listed as being 90 g (or 3 oz) ... (http://www.goinginstyle.com/Pacsafe-4-dial-Retractable-Cable-Lock-Retractasafe-250-P4474C66.aspx).

Hope this helps!
the item was broken just being in my luggage. the big button doesn't work anymore, you can still use (though without any comfort) it but the overall experience is absolutely negative.
This lock will make your gear safe from the opportunistic thief who is looking for a quick and easy target. With time, any thief will be able to get around this lock. Get a piece of string to see how short 3 feet really is. The cable needs to make a complete loop in order to be secured. See my pictures below. Very light.