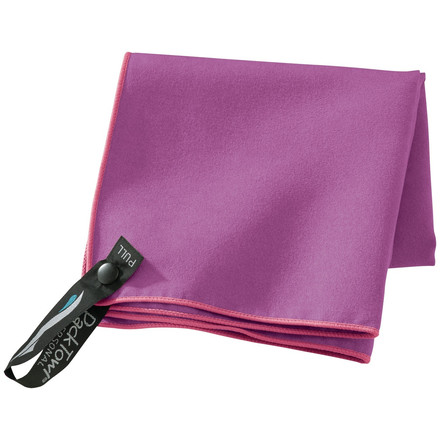 Colors
Lightweight, quick-drying, and incredibly soft, the Packtowl Personal Towel is an excellent choice for travel, camping, and exercise routines. Its microfiber blend is not only exceptionally soft and smooth, but it also soaks up four times its weight in water for quick and easy drying. Plus, its antimicrobial treatment means this towel resists odor build-up when you're camping and traveling for extended periods.

Polyester, nylon microfiber blend
Antimicrobial treatment
Camping necessity
Familiarity:

I've put it through the wringer
This quick-drying towel is a camping must-have!

I ordered the medium and it is perfect for drying dishes or using as a washcloth. It dries extremely quick if you hang it in the sun, which comes in handy when doing dishes the morning before packing up. The towel packs very small and the fabric is super soft.

I'd love to pick up the XL (bath towel) size version of this as a gym shower towel.
Light weight and easy to store
Familiarity:

I've put it through the wringer
I have really found this towel handy. Light weight, easy to clean, durable with use, easy to store, and very absorbent. Overall a great purchase.
Packtowel to the rescue!
Familiarity:

I've put it through the wringer
I love how compact this towel is and the the little mesh bag that it comes in. I also got the opportunity to find out just how absorbent it is when I spilled a full beer in my tent! Woops! Luckily I had my packtowel handy was able to get all cleaned up in under a minute. It dries super fast too :)
They did the job.
Familiarity:

I've used it several times
I ordered the Packtowel for my job as a summer camp counselor and had great expectations for it. The strap on the product broke the day I received it, but that obviously didn't affect me being able to use the cloth, it was simply frustrating. I took it with me to Bonnaroo and camp and found that it was too much of a hassle to put back in the case, but served its purpose. I will probably look for another product similar to this next year.
Literally, the Best
Familiarity:

I've put it through the wringer
There's five of us, which means we used to dedicate an entire backpack to hauling beach towels to the beach/lake/pool. And, even worse, that meant we were hauling five dirty, wet, gross towels home from the beach/lake/pool. Upgrading to five XXL Packtowls literally changed our lives. We can haul all five Packtowls in the same space we used to dedicate to a single towel, and because the microfiber dries quickly we never have to bring a wet towel home. Just use the intergrated snap loop to hang the towel from any convenient structure (we hang ours from the frame of our beach shelter) and the towel will be dry enough to pack in just a few minutes; this also means the towel can be used repeatedly through out the day and it will be dry almost every time you reach for it. Sand and dirt just brush away, so you'll never find yourself rubbing damp sand into your eyes after a swim, and you'll never bring home a large handful of washer-choking sand.

We purchased XXL to replace our traditional beach towels, and they're plenty big for laying out in the sun, or wrapping around your entire body (or, if you're an 18-month-old, wrapping twice around your entire body). But, if I were going to buy them again, I would probably opt to save a few bucks and downgrade to the XL (bath towel) size.
I liked this towel. I went backpacking in Europe and it was perfect. I needed something light and compact. It's absorbent and it dries up quickly. I got the XL and it's a decent size, it comes in a little pack which I really liked. I'm pleased with this towel.
Good towel. Snap loop broke.
Familiarity:

I've used it several times
I was very excited to receive this towel. It comes with a little bag to keep it compact in your pack. The snap loop broke within the first day or two due to poorly constructed plastic pieces, but I still love the towel nonetheless. I tried gluing the snap back on. If that doesn't work, I'll just use a small carabiner instead.
best towel ever
Familiarity:

I've used it several times
This is the best towel ever. I use it both at home and camping. It absorbs so much better and quicker than any bath towel i have ever used.
Great Towel and Compact
Familiarity:

I've used it several times
Great towel, I really like it, first time I used the snap for the loop broke so I have no loop to hang on my pack. I will make something that will last. (Cheap plastic snaps do not hold up)