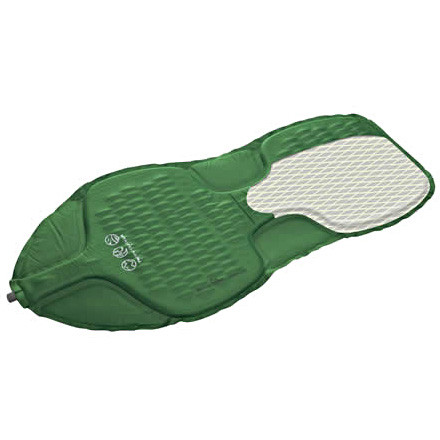 Detail Images
What do you think about this product?
Have questions about this product?
Pacific Outdoor Uber Lite Sleep Mat
This mat is by no means meant for comfort. It receives four stars in my book for several other reasons. Sure, you do get a little cushion when using it, but it is small and thin and just wide enough to get your shoulders off the ground. It is not meant to keep you warm in cold conditions either, it is meant for one thing, traveling fast. I have been using mine for adventure racing and this is where it earns the stars. Wicked light and made of quality material so it could be used on bare ground in my opinion without puncturing. Good product for a small range of applications.
This pad is truly light weight and packs to a very small size. I can easily stick it in the side compartment of my backpack and its just a little bigger then my rain pants. It travels well, and has its own self patch kit. It is wonderful to sit on in camp and has a thick bottom padding.

This pad is made for back sleepers only. I've found that as a woman, I can sleep on my stomach only if I push it up and have my hips and legs on the ground. This is not comfortable at all if there are rocks are any type of hard ground under you. I've woken up in the morning with bruising on my knee from an unseen rock in the way.

This pad DOES NOT keep you warm in colder climates. Your legs are always on the ground and this pad only comes to about my hips (I'm 5'6).

It is made for slim people. The back support is minimal. The head section is usually uncomfortable as the valve is there. I constantly slip off this thing.

I would not recommend this at all. While I like to go as light as I can-just go without.