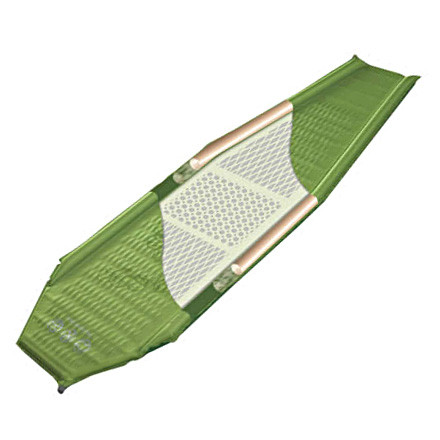 Detail Images
Do the stuff sack, strap, and repair kit...
Do the stuff sack, strap, and repair kit come with the pad?
i can't find the "rolled size" anywhere....
i can't find the "rolled size" anywhere. does anyone have any idea?
Best Answer
The rolled/stuffed size is 4.5 x 12in for the regular, which is the only purchase option at the moment. The petite rolled size is 4 x 12in.
even after a few uses I still have to inflate this myself, which makes it not exactly "self inflating", which would be fine if it was not supposed to be self-inflating.... also, I bought it because I seem to have the "achy hip" issue from lying on the ground, and thought that a women's pad might alleviate this annoyance. No go. :(
I was so excited to try this out. I tend to roll alot as well as slide all over my sleeping pad (I am also a side sleeper). The side air baffles seemed like a great idea they just weren't "quite" enough to give me that "tucked" in feeling (I was really hoping for). I pretty much slid up and down on the pad the "sticky s-print" just didn't cut it. As for the extra padding in the hip area, my hips ached in the morning (I do sleep on my side). I thought that maybe I was just a bit too pudgy. I think overall that this is a pretty well thought out design but perhaps due to the fact that I am just a freak kind of sleeper, it didn't work for me.
tastes great, less filling (actually, less $$ from the wallet!)
I bought this for a recent backpacking trip to avoid taking my over-sized car camping pad. I was originally looking to get the Thermarest Pro Lite because I know a lot of people who love theirs, but I really couldn't justify the price of the prolite. I came across this POE pad and liked the sound of it, and the price!
I have only used it a couple nights but i couldn't be happier. I even fell asleep on it at home by accident the first night i had inflated it before i was going to pack it the next day. The baffles on the side that are suppose to keep the heat in also help to keep you in the middle of the pad (and i usually have issues sliding off the sides of my pads -hence my oversized car camping pad- and even when i was a little 12 year old i would fall off, but i don't fall off the sides of the All Out Lite.
i haven't used it enough to report on durability over time or inflated it enough to speak to it's self inflation but will report back when i have. But so far, i can't see why anyone wouldn't want this pad for backpacking!