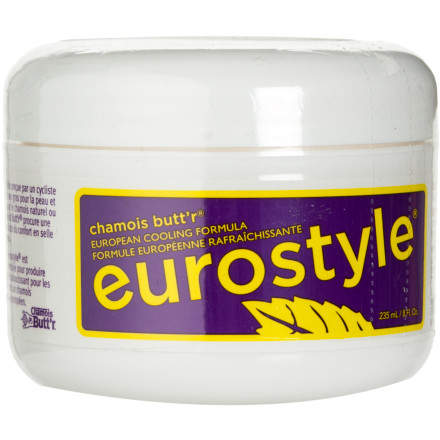 Colors

Community Images
Description
Butt butter.
Chafing's probably the most effective way to ruin a good long ride, but Paceline Products' Chamois Butt'r Eurostyle Cream will sooth your skin and lube your legs. It's thicker and creamier than most chamois butters, so it won't rub off or sweat away, has a non-greasy feel, and contains cooling, slightly tingly ingredients such as Brazilian Peppertree, menthol, and witch hazel. It even tightens pores to reduce friction and fights the bacteria that can bring on saddle sores.
All-natural ingredients
No perfumes or dies
Cooling sensation
Salvation
Familiarity:

I've put it through the wringer
Cool, tingly, butter in a surprisingly loooooong lasting tub. Did 250 miles over 3 days and it did the job. It's now a daily ritual. Smell is fresh without being overwhelming.
Pro Tip: I had some chaffing on my armpits from an underlayer, and it eliminated that as well.
First time user and hooked
Familiarity:

I've put it through the wringer
Good bye saddle sores.

It even feels soothing when apply the cream. There doesn't seem to be any residues left after the ride.
A Must Have Item
Familiarity:

I've put it through the wringer
This product is a must have for any cyclist. Its easy to use and makes any ride a lot more enjoyable. I like the consistency of the cream. It is just perfect. The 8 oz tub gives you more than you would think.
Soft
Familiarity:

I've used it several times
Highly recommended if you are doing long rides...
Feels just like the more expensive Assos cream. Much easier to use in the Eurostyle tub than out of the tube.
Everyone has their favorite...
Familiarity:

I've put it through the wringer
Every chamois creme is a little different and I really like the Eurostyle by Chamois Butt'r better than the others I've tried. It's a little thicker consistency, has a nice cooling effect, and generally does the job quite well!
Just say NO to chaffing!
Familiarity:

I've used it several times
I've used Chamois Butt'r and DZ Nuts and this one is by far my favorite. Has a bit of the "tingle" factor and is much slicker than the others.
Bottoms Up!
Familiarity:

I've put it through the wringer
I like this cream better than any other I've tried before. A must for medium to long rides. Say goodbye to soreness. A great value as it is a rather large tub container. Get some today . . . . Your butt will thank you! Thanks C Cycle.
The production description shows the 8oz tub. However Backcountry only have the 4oz tube in-stock right now. Price is fair, but just be aware.



The product itself is great. Works well.
Great value, no complaints!
Can't beat the value compared to other cremes. As a former user of DZ Nuts, which is also a great product, I was very impressed with the similar performance to DZ Nuts at a fraction of the cost. I also like the Euro style more as it has a little extra tingle to confirm it's doing its thing. No complaints on my end.
Oh how I love this stuff. The Witch Hazel adds just the right amount of zig and tingle to let you know it's there and still working. Will never go back to using Udderly Smooth.
This stuff will save your bacon on longer rides. It is my 60-75 mile pick-me-up... applied at that point in the ride it brings you home as cool as the other side of the pillow. : )
Of course, you can use it on short club rides and all your cycling friends that aren't out to crush you will wonder why you are just so darn congenial!
Is this the best stuff in the world?
Yes. It is.
I only wish it was less expensive!

The euro style is the creme for warm/hot weather.
It truly is cooling and makes all my rides more comfortable.
I rode for years without chamois creme. That wasnt very smart. But i prefer the density of this creme as it adheres to a wide range of pads nicely and (in my opinion) carries the cooling sensation longer.
Beyond that, It reduces friction longer.