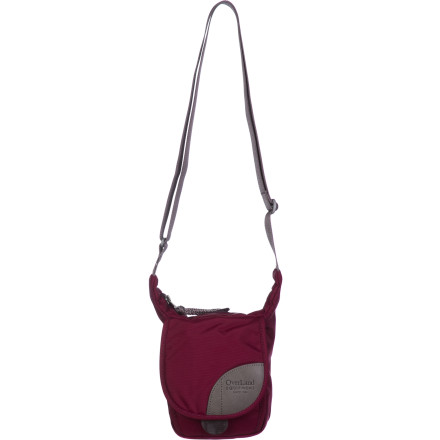 Detail Images

Community Images
Stop overstuffing your pockets and fit all that you need in the Overland Equipment Placer Purse. Sling this bag over your shoulder as you tour the streets of Italy or run errands at home. With top-zip access and a five pocket organizer inside, the Placer keeps your journal, pens, and coins in order and easy to access. It even safely holds your cell in a fleece-lined pocket, and the back stash pocket quickly stows tickets or cash when your hands are too full. A vacay in Italy always includes a scooter ride, so tighten up the adjustable straps on the Placer and hop on.
this purse ROCKS! i got this to take with me when traveling....i have a larger version of this i have taken with me on many trips and while it has been great, i wanted something smaller for when we are out and about and i only need a few items....it has a great front pocket with lots of internal organizer pockets....this is going to be perfect to hold my chap stick, sunglasses, camera, ID, cash, and eye drops....it will keep me from stuffing an over sized bag with un-necessary items to weigh me down when exploring....
This little purse fits all your necessities in very organized pockets. My smart phone has a pocket, so does my pen and lip gloss. The main compartment is perfect for a wallet, checkbook,and some neosporin (I'm accident prone). This is a crossbody purse and it has a pocket close to your body on the back of the purse. Whenever I get out of my car I drop the keys in it. In the past I had to all but dump out the contents of my entire purse before finding the keys, now I just reach in the pocket. I LOVE this purse!!!
Write your question here... How long is...
Write your question here... How long is the strap on this purse and is it adjustable?
25" shoulder strap and yes it is adjustable.
Perfect size bag for everyday!
This bag is the perfect size!! Not one to carry a purse, this little bag is a true gem - a spot for everything in a compact size.