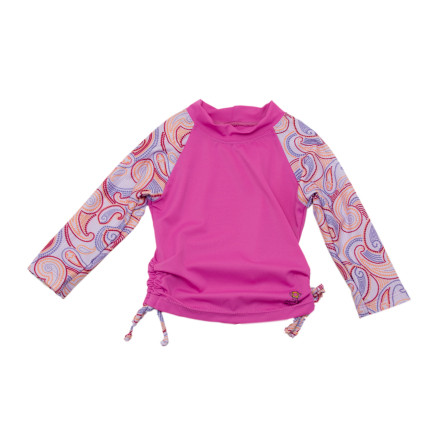 Detail Images
I purchased this for my one year old for our vacation - solely for wear in the pool and beach. I honestly chose this particular one for the price. It fit her great and was really cute.But I'm disappointed. After wearing it twice (we're talking MAYBE a total of 1.5 hours in the pool, being held in my arms) I noticed the emblem had already worn off and there was a stain/mark on the back of it. I'm still baffled about it - it was worn only in the pool, not to play in, etc. So I can only assume the stain got there while it was hanging on the clothes line in our hotel bathroom?!!! I just found it strange that it happened so easily. I tried washing it when we returned from our trip, but the mark is still there. I think I may utilize Back Country's return policy on this one and exchange it.Overall though, it did a wonderful job of protecting my little one's skin! And she was comfortable in it!
Is this a UV protection shirt?
Is this a UV protection shirt?
provides UPF 50+ sun protection