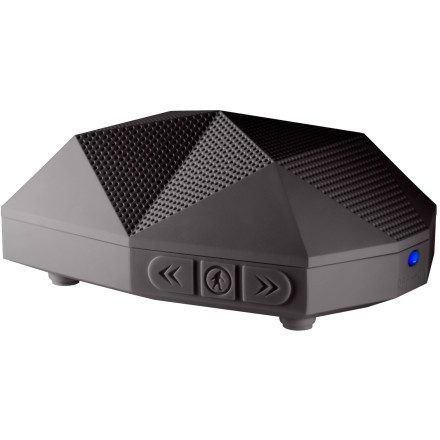 Colors

Detail Images

Community Images
Description
Same shell, better stuff inside.
Any time is a good time for an impromptu dance party. Let's face it, you were born with this ability to produce smooth dance moves, so show them off while rocking tunes out of the Outdoor Tech Turtle Shell 2.0 Wireless Boom Box. The folks at Outdoor Tech kept the same water, shock, and dust-proof case that meets rigid IPX-65 standards of excellence, but they made the two speakers and passive bass radiator 30% louder. And you didn't think you could get kicked out of a hotel with a portable Bluetooth 4.0 enabled wireless speaker! The rechargeable lithium-ion battery can run for up to 16 hours, so you can rock it at the crag or on the ski hill and kept the party rolling to the hotel or backyard. Pesky wires always seem to get in the way of your breakdancing routine, but the 2.0 has a wireless range of 32 feet, so wires or the shell itself won't be getting in your way.
Water, shock, and dust-proof case
Meets IPX-65 standards
2 speakers and passive bass radiator
Rechargeable lithium-ion battery
Built-in mic
16 hours of run time
Connects to any Bluetooth-enabled device
32 foot wireless range
Comes with USB charging cable, 3.5mm to 3.5mm cable, ODT carry pouch, and manual
Killer porch speaker.
Familiarity:

I've put it through the wringer
At my house, on of the main spots people congregate to hang out is the back porch. When you have a good amount of people coming together, you need something to ensure good tunes accompany the gather. In comes the Outdoor Tech Turtle Shell! While not the end all speaker, the turtle shell is the ideal speaker for the situation. With solid sound quality coming out of a durable speaker; the turtle shell speaker is perfect for the adventurous type wanting to bring their tunes on the go.
Overpriced for the performance
Familiarity:

I've used it several times
Honestly, I'm a bit underwhelmed with this considering the cost and in comparison with other Bluetooth speakers I've owned. The lows are almost nonexistent, and the highs are rather tinny and unpleasant sounding. You might think that's to be expected in a small package such as this, but the Beats Pill and others prove that you can get big sound from a small speaker. Probably more disappointing is the range, which generously might be 8 feet with clear line of sight. The Turtle is outperformed by a $12 Bluetooth shower speaker in both audio quality and range.
Perfect size and sound
Familiarity:

I've used it several times
I bought the Outdoor Tech Turtle Shell 2.0 to use out in the yard when working or with the fam when camping. Digging trenches and busting rocks is much more enjoyable when you have some tasty jams in the background. The sound is impressive and while I haven't tested the water or shock proof-y-ness of the case yet, I can attest to the dust-proof angle. If you are looking for a sound system for your background wedding, this isn't for you. Go ahead and rent the DJ. I'd give it 5 stars if the blue-tooth range was longer, but it's not, so 4 stars.
Sturdy As She Goes
Familiarity:

I've used it several times
I've know a couple of friends who have these, and I've seen just how much they can handle. Everything from wood shops to sandy beaches to completely submerged in water, this thing stands up. For the price and sound, it easily worth it. Bluetooth compatibility and mounting kit are solid bonuses.
Big Sound Out Of A Little Package
Familiarity:

I've put it through the wringer
I picked up a little Jambox a few years ago and it used to be good enough. But after a few drops and heavy use it just wasn't cutting it. Then I managed to snag one of these on sale here at BC.

This thing can really pump out of the volume and has an impressive bass for only two speakers and being so small. I'm also a fan of the resistance to the elements and dropping. Both of which were always a concern for me with the jambox.

ODT knocked it out of the park with this one. I want to see what the big one would be like now.
Take the Turtle Shell Anywhere
Familiarity:

I've put it through the wringer
This is my second purchase of the Outdoor Tech Turtle Shell Wireless Boom Box, and the 2.0 is a nice upgrade over the original version. The device easily connects to any Bluetooth device and bumps some quality sound. Both the 16 hours of run time and 32 foot wireless range described by Outdoor Tech are absolutely true. Recommend adding a carabineer to the bottom clip and give yourself the ability to take the Turtle Shell anywhere you go. It goes everywhere with me, whether a round a golf, day on the slopes, party in a hotel room, or tubing down the river. Highly recommend the Outdoor Tech Turtle Shell 2.0 Wireless Boom Box!
Solid sound. Easy to use.
Familiarity:

I've used it several times
One of the only complaints I've heard about this speaker is that it doesn't handle loud bass really well. Doesn't bother me at all. This thing sounds great. I love the small size and how easy it is to use. Plus the battery is incredible so far.
Carrides, Couchrides, Bikerides
Familiarity:

I've used it several times
So versatile. We can share music, movies, all audiomedia is so easily shared, I can't believe I didn't get one earlier. The sound quality is great, it's easy to use, syncs well with an iPhone, Samsung s6, PC and MacBook. I don't have any complaints. The battery life is fantastic.
Must have for the music lover
Familiarity:

I've put it through the wringer
These are a great addition to any music lovers arsenal of gear. Fairly light and compact this speaker can go pretty much anywhere. The rubber casing makes the speaker rugged and durable. Really great sound for the size of this little guy. Bluetooth seems to work really well up to about 20ft before it starts getting a little spotty. You'll definitely want to take your phone out of your pocket when you are transmitting, your body will block the signal. Under normal conditions you can expect about 12 hours of solid play time. Waterproof is no joke, completely submerged this on more than one occasion and it doesn't miss a beat.

Matthew Pizza
Expert Gearhead
mpizza@backcountry.com
801.736.5363
Easy To Use
Familiarity:

I've put it through the wringer
Picked one of these up for the grandparents since I love mine so much. The best part about this speaker is how seamlessly it connects with bluetooth devices. After the initial pairing, you literally just turn it on each time you want to use it and it syncs right up.
Patio chillin
Familiarity:

I gave it as a gift but have feedback to share
Bought this for my semi-technology-literate father and he absolutely LOVES it. He told me he connected it to his iPad super quick and was drinking gin and tonics on the patio and listening to Bueno Vista Social Club.

Sound quality and battery life are great and he said the range is awesome.

I liked giving this gift so much that I got one for my sister's hosuewarming when she moved to NY.

Ben
brabinowitz@backcountry.com
801-746-7564
Great for the money!
Familiarity:

I've used it several times
Good quality, good sound, good price, great battery life. I've never had a Bluetooth audio device last this long. It says 16 hours in the description, but I've had it play for 24+ hours (accidentally) and it still was not dead.
Pretty solid, yet a bit overpriced
Familiarity:

I've used it several times
This thing has grown on me a lot. I just feel like from a working mans perspective, $100 is just too much.

If I received this as a gift I would be stoked.

Best gift ever
Familiarity:

I've put it through the wringer
I love these so much, they are durable and can withstand like anything. I personally dropped this off of my pack as I was longboarding the Provo and it does not have a scratch on it. Sounds great in the woods and the battery lasts a long time! This and a buckshot is all you ever need
love!
Familiarity:

I've put it through the wringer
I take my speaker everywhere with me... literally camping, in the car, to the beach, and to work! Love it! The charge lasts for a very long time and it is a very durable speaker.
Can you plug in none blue tooth devices to this turtle shell?
Hey BSHEUER404400 ,



Yes, you can use a 3.5mm audio-in port instead of using blue tooth!
Small box, big sound.
Familiarity:

I've put it through the wringer
Love this little thing. Great for backpacking! Light enough and small enough, not to mention more than tough enough! A must have for any music and backpacking enthusiast!
So nice I bought it twice
Familiarity:

I've used it several times
After doing some research I bought one of these as a present for my non-tech savvy mom to have and take to the back patio and the beach. Super easy to set up (gives you voice confirmation on turning on and completing synching), nice color (purple and sea-form-easy to find/not forget), and sounds great for the size, good base and easy to hear/understand middle and treble. Worked so well that I bought a second one for myself. One nice feature that I didn't realize it had and haven't used yet is a tripod screw in bracket on the bottom so I can connect it to gorrilla mini-tripod to hang from a tree branch or the ceiling of my tent.