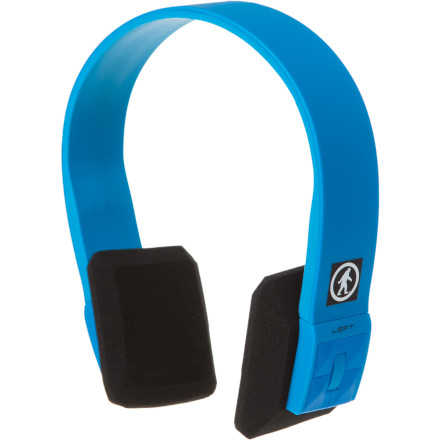 Detail Images

Community Images
Pull on the Outdoor Tech DJ Slims Wireless Headphones and hit the platters. Or just watch a movie without waking up the old lady. The 30-foot range and 8-hour battery (listening mode) mean you don't need to worry about missing anything when you go grab another beer.
Driver size: 27mm
Frequency Response: 2.40GHz-2.48GHz
Bluetooth Version: 2.1
Support Profiles: Headset Handsfree AVRCP A2DP
Range: up to 30 feet
Operation Time: Talk – 9 hours, Play Music – 8 hours
Standby Time: 254 hours
Got em before they were gone
Familiarity:

I've used it several times
I just recently bought these after I heard that ODT is phasing these out for their other bluetooth options. These are my first pair of over the ear headphones since my day's of owning a Walkman so I cannot really compare them to much. The sound quality is awesome for me. It allows me to ignore the world when I want to, or listen to music and hear things around me also. The noise centralization is cool too; as in, you only hear them when they are on your earls. They connected to all my devices very easily and charged up fast. Battery is still going from my initial charge. They are not workout proof from what I hear, which would be a problem if I actually worked out.

I have a little issue with the headphone cushions getting all wonky and crooked after every use, but I think that is because they form fit to my weirdly shaped ears. And if you have a greasy or flaky head, that will show very well on the black headphones at least.

Overall, stoked on the purchase and you should snag some too. ODT is the bees knees
the husband's favorite
Familiarity:

I've put it through the wringer
got this as a birthday present for my husband and it is hands down his most favorite pair of headphones he has ever owned
super awesome bass, slim and comfortable, long battery life (at least 8-9 hours) and will take on a lot of beating (used while working outdoor on a dock and would drop them all the time)
they died after finally taking on a last beating (rip headphones!) .
will be buying him another pair for christmas (shhhh don't tell him!)
Jammin'
Familiarity:

I've put it through the wringer
I use these headphones for commuting, school, and hanging out. The sound quality is awesome! Super loud and clear. They look really good too. Connect super easily to my phone and laptop. Definitely recommend these headphones and other outdoor technology products. Have yet to let me down
Get the job done and then some...
Familiarity:

I've used it several times
I've used these casually and for snowboarding. They're super comfortable and durable. I think they could've designed the touch buttons a little bit better (made them a little easier to find and push, especially with a thinner glove). I also wish they were a little louder as has been mentioned in other reviews...can't really get them absolutely blaring. They're great though! Def get the job done on the slopes or at home
Great buy
Familiarity:

I've put it through the wringer
These are the first headphones I've purchased that are Bluetooth, and I won't go back. I've used these for a couple months now and they keep getting better and better. They are comfortable, have a long battery life, and the mic is good quality. They can take a beating without breaking, which is also a huge plus. The only thing I'm not too crazy about is the sound quality. It's good, but not great by any stretch of the word. I still give these five stars because you're still getting a great headphone for a good price. If you're looking for incredible sound quality, you might want to try something different.
Great: Cheap & light till they break
Familiarity:

I've put it through the wringer
I love these headphones. They are cheap, have good battery life, decent sound and phone microphone. As an active wheelchair user these things are indispensable. Imagine not being able to walk and talk at the same time... that's life in a chair (where your hands are needed to move about) until getting a good handsfree bluetooth device. DJ slims are a perfect way to rock out or be able to answer a phone call and talk on the phone with ease while our hands are full. I love these guys while they're functioning, but I have found that they tend to break down and eventually get internal electrical shorts that can: make it hard / impossible to get them to charge (lots of wiggling the cord), can loose audio to once side, can turn off, etc. I am currently filling out a warranty claim to get them replaced for the 2nd time ...but at this cheapish price and with a one year warranty...its still a good deal, even if you need to replace them intermittently.
Beats by Bigfoot
Familiarity:

I've put it through the wringer
Forget all the fancy nancy headphones out there. I'm going on two years with these and they just don't quit. I use them at night with my computer/tablet to keep noise down for others. I'm snowboarded COUNTLESS days with them. I've been rained on, gotten them soaking wet, dropped them, abused them, used them...and they keep going...they're currently on my head playing some mad Kesha...but we're not here to judge.
do these fit under a snowboard helmet
do these fit under a snowboard helmet


I would bet against it... and if they did, I'm guessing the helmet doesn't fit.
False! These are so sleek I'm able to fit them under my Bern Watts and Baker with ease...It works best without the button on liner but I've used it both ways with ease. But if you want a better solution, order an audio helmet from BC and order the USB adapter also made my Outdoor Technologies.
Awsome
Familiarity:

I've put it through the wringer
Awsome love em, have two pairs now. they are great for whats on the market today. could go louder and last longer on a battery but thats what the futures for. i get about six hours off em at max volume and they do great in the cold snowboarding. finally no cables
Fit & Functionality with Bluetooth Tech
Familiarity:

I've put it through the wringer
Only great things to say about these wireless headphones.



Very good quality sound for non-noise cancelling headphones, even in noise-filled environments they still perform adequately. I'm probably most impressed by their ability to handle simple phone calls. The mic must be something special because I get more complaints from talking on standard iphone headphones than these.



I wear these when I'm washing dishes, walking the dog, or anything else where cords may get tangled. One overnight charge and you can use them on and off for 2-3 days. I have a smaller sized head and unless I'm doing some inverted yoga or tumbling, they always stay on.








good product but....
Familiarity:

I've used it several times
sounds was good, bluetooth worked well but I had a really hard time

keeping them from moving all over my head. i was working out and doing things outside around the house.
Will these headphones work/pair with Apples'...
Will these headphones work/pair with Apples' 7th Gen nano w/Bluetooth?
Best Answer
Definitely. Should work fine.
So will these work with any smartphone...
So will these work with any smartphone with bluetooth capablities?
Best Answer
Yes, anything with Bluetooth.
Gotta say these headphones are pretty badass. I like them so much, i got all three colors. Only downside, gets a little annoying when your battery is getting low and it constantly reminds you with a soft beep while listening... so just keep these badboys charged and you'll be set!
Purchased this item for myself since I wanted to get rid of some cords in my setup. These headphones are great! The bluetooth works really well and I'm able to roam about the house without worrying about the music cutting off. The headphones has decent bass output and the sound leak is not that loud.
Definitely ideal for travel. Lightweight, no chords bugging you and sound quality is great. very comfortable and easy to store and very durable. The only downside is the fact that these have a small blue light on the right side that is actually quite bright so if you are on a plane in the dark it might really annoy your neighbor. That is the only thing I did not like, but overall great headphones and for the price these are top of the line.
Quick question before buying: Do these...
Quick question before buying:

Do these headphones cause ears to over heat, sweat and feel discomfort?



I would be using these for walking/running and would prefer my ears to breathe.

Have used over headphones which have great sound but cup the ears not allowing airflow.



Thank you.




Best Answer
Hey,

They don't cup your ears like regular over the headphones. They will allow moisture to move and your ears to breath. They are great!