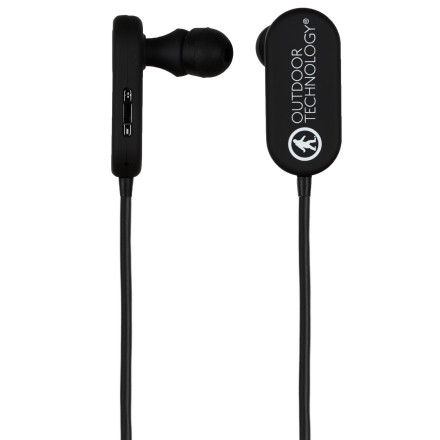 Colors

Detail Images

Community Images
Description
Music freedom.
The Outdoor Tech Bluetooth Headset bring you great sound without of the wires. Any Bluetooth-enabled device with a little music on it will connect to these buds. Connect them to your computer, your MP3 player, or your smart phone (yes, you can make and take phone calls with it too), and your music is right with you. The 32-foot range lets you roam through the house or clean up camp without being tied to anything.
Simple, Clean.
Familiarity:

I've put it through the wringer
I have had a dew pairs of the Outdoor Tech Headphones and always the biggest issue was the compatibility between devices. I am glad to say that these little speakers finally allowed me to simply switch between my phone and computer while working and or play.

The sound quality is bar none and the amount of adjustments that can be done for various sizes with the little rubber whatchmacallits, made the fitting process super simple. I was also pleased to find the ear hangers, so the headphones would stay on my ears if things got sideways.

The only real issue that I have with these is the volume button doesn't seem to do didly squat. I have held it tapped it, pressed it like a gentle puppy and nothing happens even though it is listed to perfrom magic. That really isn't an issue because most of the issue can be taken care of simply on the front screen of the phone.


Pretty amazing for the price
Familiarity:

I've put it through the wringer
These things are honestly pretty great, and I use them almost everywhere I go. I bring them to school, work, biking, running, or really anything else I am doing!



First of all, the earbuds. These things are pretty comfy, and also it comes in a variety of sizes, so you can size it out specifically for your ear! Also, I was incredibly surprised on how noise-isolating they were, especially for this price-point. Also, these stay in really well. They come with optional clips if you are doing something real quick, but I have been absolutely flying on my bike before with these things without falling out.



The charge is pretty good too, with a charge time of about 8 hrs (give or take). It uses a USB cable to charge, so it is pretty easy to just plug them into a computer.



The controls are super easy! There is one giant button, which controls on/off, and then pause/play on songs. Then, there are two smaller buttons that handle volume, as well as switching songs. Also, these things work with calls too, so thats pretty cool!



The only downside I have experience with these is that sometimes, the audio cuts out very briefly. The usually happens when I have stuff covering, or near the device I am connected to (i.e. stuff in the same pocket as my phone). Also, these things are not waterproof, so you really can't use them while commuting in the rain.



Overall, I would totally recommend these to anyone that wants a good Bluetooth, in-the-ear headphone for both casual life, and for sports like running, or biking. They offer a real good sound quality, without the hassle of cords!
I Dig It
Familiarity:

I've put it through the wringer
This is my first set of hands free headphones. While these are not the most techy, or bullet proof headphones they rock! They are simple to use, once you understand the central button, and are very versatile with the different sized ear pieces. I would imagine any person's ear would fit these. They are not water proof, but i have not had any issues biking in the rain with them. My one gripe is that the connected devices need to be sorta close. I tried to keep it in my bike shorts pocket, and it had break ups from my body in between the devices. Now i set it in m backpack and have no issue.
Still working out the kinks
Familiarity:

I've used it several times
Not sure if I'm ready to give these more than 2 stars yet. I've used them twice. Once was riding my mountain bike, the other was yard work. For riding, these things seem great, no wires, solid feel in my ear, etc. However, if you have the phone in your back jersey pocket(same side as the BT receiver) you get fairly choppy sound with loss of signal. The headphone is within 2 feet of the phone, but apparently they don't transmit through your body, so its slightly frustrating. I was happy when I didn't have to look left, as that's where I lost my sound.



During yard work, I had my phone in my right front pocket of some shorts, and the sound wasn't cutting out or choppy nearly as much, but did have some interruptions.



I'd give these a solid 2 stars for the first two uses. I plan on trying them with my phone in the top pocket of the hydration pack (closer to the ears) to see if that helps at all, but it may be better to fork out the money for the nicer version coming out soon or some Jaybirds.
Skrille-eeeeeXXXXX!!!!!!
Sweet Earphones
Familiarity:

I've put it through the wringer
I use these at work mostly. They are easy to pair with a computer or iPod. They have great range and sound really clear. The battery life is pretty good. I only have to charge it every other day or so, depending on how much I use them. They take a while to charge. (that's a slight downfall but alright) I liked them so much I bought a pair for my husband. We both really like them. Good price, good quality. I'd buy them again.
just yes
Familiarity:

I've put it through the wringer
these headphones are quite unique, and even when theyre dead they still look dope around your neck. ive had these for at least a year, they show usual wear and tear but the connection someitmes goes in and out when its in my pocket skating
Do they come with the ear clip attachmen...
Do they come with the ear clip attachments?
OK..I guess.....
Familiarity:

I've used it several times
Awkward in the way they fit in your ear and the battery doesn't last long. I should have gone back with the LGs........
I got these for my brother in law for Christmas and he loved them!
What is the battery life like on this?
What is the battery life like on this?
Best Answer
The battery will last up to 6 hours of talk time, and 7 hours for listening to music. Charging the device takes about 2 hours and requires plugging a USB cable into the back of one of the earbuds.
Will the earbuds connect to any type of...
Will the earbuds connect to any type of bluetooth dongle? What im asking is I have a ipod nano 6gen, and I have a sony bluetooth dongle from a pair of sony headphones that broke, can the earbuds connect to this dongle to work?
Impossible to know for sure, but if it's a Sony product, my guess would be "no." Sony is frequently "slightly proprietary" when it comes to their tech.



Best way to find out is to order them and then if they don't work, avail yourself of the excellent Backcountry return policy.
I've been using them for a while...
Familiarity:

I've put it through the wringer
And I think they are great!

Super comfortable, easy to set up and I think battery live is pretty decent.



I use them when running, biking, just walking around or at the office. They are a great buy!
Frank spitting game about the Tags
broke after a week of use
Familiarity:

I've used it several times
I liked it when it worked but after a week the volume button stopped working. Besides that, I would have recommended the product. I really like the freedom of no cords and the range was really good as well.
Love the idea, but range is terrible..
Familiarity:

I've used it several times
I love the concept and look of these headphones. The fit is comfortable, lightweight, and great quality of sound; however, the range is TERRIBLE. Not even two feet away and they get choppy for some reason. Wouldn't even connect to my macbook pro? Too bad since I loved the look and feel.
My husband uses these while running. He...
My husband uses these while running. He says that his music cuts in and out a lot. He wears his phone on his right arm. Is there a reason for this to happen? My son also has a pair and hasn't complained of this problem. He has only had these for 2 weeks.
Best Answer
Hello Scollins,

There may be 1 of 2 issues. It's most likely a faulty wire, which would mean you've received a defective product. There could also be an issue with the AUX port on the phone where you plug the headphones in. I would have your hubby double check the integrity of the port with a different pair of headphones, to make sure the phone isn't the culprit. If the phone is fine, then you've probably got a busted pair.

Chat or call in to a Gearhead and we can help you a fresh pair sent over.


Unanswered Question
none of the reviews talk much about using...
none of the reviews talk much about using for calling as a primary use. I'd like to know more about how they would perform for this. Is there wind or back ground noise? Does the sound come through the cable?


I love that i can plug my phone in and let it charge while i can walk up to 30-40 feet away and still have music streaming through the earphones.
Never heard of DF before this transaction. Incredible service, and thoroughly impressed all the way around, even in the follow up and communication styles. Class act.