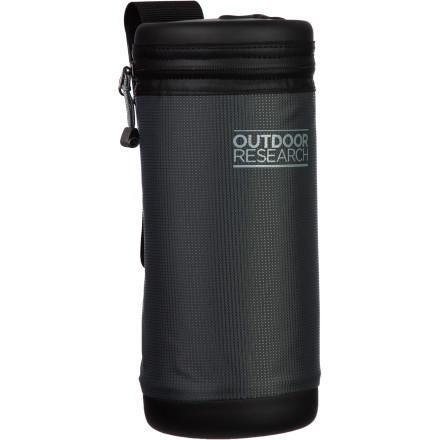 Colors

Detail Images
Slip your water bottle into the Outdoor Research Water Bottle Parka, zip the top closed, and keep hot beverages hot and cold liquids cold without lugging around a thermos. Made with durable nylon and polyester, this bottle parka is packable and tough enough for camping or travel. A reinforced nylon strap allows you to attach it to any backpack or haul bag, and the water-resistant main zipper drastically reduces the opportunity for leaks should your water bottle spring a leak inside.
Synthetic external material and internal liner are highly durable
Open-cell foam insulation helps maintain the temperature of your hot or cold beverage, and during the winter it can help keep your water from freezing solid
Zip-top design means that your water bottle is fully inside the Parka
Nylon webbing and hook-and-loop attachment point allow you to affix this accessory to a duffel, haul bag, or backpack
Size compatibility:
#1 size fits Nalgene 1L, GSI Outdoors 1L, Cyclone 1L. or Bilt Fresco
#2 size fits Nalgene .5L, Klean Kanteen 27 oz, Camelbak .5L, Sigg .6L, or Cyclone .5L
#3 size fits Klean Kanteen 40 oz, Camelback 1L, Sigg 1L, or Bilt Mega Fresco
Share your thoughts
What do you think of the
Outdoor Research
Water Bottle Parka
? Share a...
Great protection for a vacuum bottle!
Offers excellent protection for your valued vacuum bottle and extends the insulating time of your container.
An easy winter essential.
I was taught to keep the outside of my pack clean and not have crap strapped all over it dangling around. Bottles do fine inside the pack with not getting frozen when your body is against it.

We have all seen the people whose packs look like a Gypsy wagon as they clamber by. Stop every hour to hour and a half and pull out your bottle.

I like these because you can leave bottles out of your sleeping bag and out of your parka if it isn't way below freezing and they help insulate warm water or beverages from getting cold quickly.

I will agree it is a nice winter essential but there is no need for one the rest of the year when most people do their hiking and climbing.

Are you winter camping? if yes buy one
Familiarity:

I've put it through the wringer
Ive used these over the past 5 or so years bagging winter peaks, both overnighters and long day hikes. the simple ease of use is worth the weight (I strap one right to my side hip belt), and the piece of mind knowing that your water isent going to freeze on you before your done is the main reason that I never leave the trail head without one.
Crucial for mountaineering
Familiarity:

I've put it through the wringer
These things are awesome! they keep your water in a liquid state and they keep it close by. one of the biggest problems in mountaineering is not drinking enough. with these you can attach your bottle to the hip belt of your pack and then its always in reach, so you can get a quick drink on the trail without getting into your pack. I like to make hot tea on summit day and put it in a nalgene in a parka, and wrapped up in my down coat in my pack and its usually still pretty warm at the top!

also, if its not super cold you can leave your bottles in the parka in your tent and they do fine, you do not have to sleep with your water any more! that alone is worth it if you ask me haha.

I have been borrowing my buddies for years, and his have been through hell and back and are still going strong, i just got two of my own and expect years of awesome use out of them.
Nice sung fit .
Familiarity:

I've used it several times
This bottle Parka does what it claims to do. Keeps stuff cold in hot weather and Keeps liquid from freezing in the cold . What I like most is that your bottle fits nice and snug . That coupled with the fact that you can secure it to about any strap or belt width with adjustable Velcro makes this a versatile piece of gear.
Velcro attachment is critical
Familiarity:

I've used it once or twice and have initial impressions
What makes this awesome is the velcro attachment. Ask anyone who has ever attached a nalgene bottle by a caribiner or other hook. The flopping, bouncing and jossling will drive you absolutely mad. But with the fat, velcro strap of the OR Water Bottle Parka, the problem is solved! It works on hip belts or thin gear straps. It's got a couple of inches of velcro to hold fast even when the pack is getting nocked around.
It's not a super thick insulator. Parka is a generous term here. But, a 12-1 liter volume of water should stay liquid in most conditions (if you're nearing 0* latitude, i suppose you've got to find a better system).
Now, if only I hadn't lost my Backcountry logo nalgene...
Cold weather must have
Familiarity:

I've used it several times
I used the Nalgene size parka a few times in very cold temps on day trips and it worked as advertised.

Last night I put it to an actual test. I filled 2 Nalgene bottles identically. One went into the parka, the other did not. Three hours on my deck at about 6 degrees F.

I had to break the ice on the non parka bottle but could still drink. There was a very little amount of ice on top of the parka bottle. I poured out the water from both bottles, then waited for the ice to melt.

9 oz of meltwater was left in non-parka bottle. Almost none in the parka bottle.
Keep your water from freezing at night
Familiarity:

I've put it through the wringer
I've found these to be great on some ice climbing expeditions in Alaska. You no longer have to worry about you water freezing at night. I also use them as a pre-thermos for ice climbing days. The first round of hot liquid goes in one of these, then a spare thermos for later in the day.
Want it Cold or Hot?
Familiarity:

I've put it through the wringer
I live in Guam where the temperature is 85F year round, and hydration is a key factor in staying... well...alive. I have two of these, 1 for my 32 oz Nalgene (the #1 size) and 1 for my 17oz REI thermos (the #3 size), both sizes are perfect, easy in easy out, keeps things just the right temp. These have served me well in the cold country as well, the velcro is superb, extra thick and extra long, fits well around any backpacks waist belt or throw a biner through strap and attach it anywhere. Here is an idea of how well these work: April on Mt. Rainer summit trip, only had my thermos in my back pack, it held the fluid temp well for about 6 hrs, then it was cold. May again summit trip on Mt. Rainer, added this parka to the bottle, brewed a cup of tea at 2am before heading up from Paradise Parking lot, tried sipping on the tea all day but it was too blistering hot still, camped at Camp Muir, left for the summit around midnight, fluid temp was still stifling hot but drinkable. Returned to Camp Muir around 10am and the fluid temp was just perfect. Get one of these for your thermos, get another for your drinking water.
Yep. Like it says in the description, the #1 size will fit a standard 1L Nalgene.