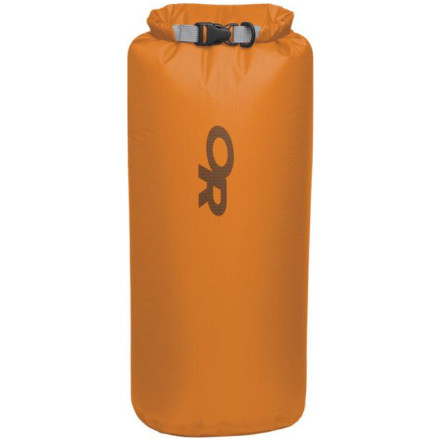 Community Images
Description
Ultralight waterproof protection for all your outdoor gear.
Protect your gear from moisture without weighing down your pack or boat with the Outdoor Research Ultralight Dry Sack. This super-light dry bag features waterproof nylon fabric, taped seams, and a roll-top closure to seal out intrusive moisture. Store your sleeping bag, clothing, or food inside and know that whatever goes in will come out dry.
Share your thoughts
What do you think of the
Outdoor Research
Ultralight Dry Sack
? Share a...
Keeps things dry
Familiarity:

I've used it once or twice and have initial impressions
Got another dry sack. Easy to use, keeps things dry and packed up small. Light and good quality.
As advertised, ultralight and rugged. Feels like it will last a while. I use the 2.5 liter one as homemade emergency kit, having filled it with moleskin, duct tape, safety pins, medical tape, sanitizing wipes, etc.
OR dry sacks are fantastic
after seeing various brands of dry sacks in use and doing some research, I have leaned toward the OR brand dry sacks. The seams and taping seem to hold up better than some of the other brands that my friends have used.

This particular sack is very light and perfect for sleeping bag, down jacket, clothing etc. This stays inside my bag.

I also have an OR Durable Dry Sack with daisy chain sewn on the side. That one holds my food and can do double duty outside of the pack on canoe trips or hanging food from a tree at night.

Having each of these bags is perfect for dry lightweight organization while backpacking. I love these sacks.
Very thin material. Perfect for inside a pack, but I would not trust it on it's own on rocky terrain. Feels much easier to tear than it's "full size" counterparts.
Agree with all the previous reviews
It's a great tool and I can only agree with all previous reviews. Used it for my 3 day kayak trip. Everything inside stayed dry. And you can easily fold the back so it doesn't take much space in your suitcase (hence good as a laundry bag too)
what are the dimensions of the dry sack?
what are the dimensions of the dry sack?
The UL Dry Sack comes in 6 sizes:

[5 L] 12 x 6 in;
[10 L] 14 x 7 in;
[15 L] 17 x 8 in;
[25 L] 19 x 10 in;
[35 L] 21 x 11 in;
[55 L] 23 x 13 in
This dry bag is super lightweight and thus accompanies on every backpacking trip. I use one for my down sleeping bag and one as a stuff sack for clothes. The siliconized nylon makes it easy to stuff and compress my bulky sleeping bag. I also used it on a canoe trip and so far everything stayed dry. I have a sea to summit ultra-sil bag as well, but the tape over the seems pretty much came off all around, so I wouldn't bet on it being waterproof anymore. The OR version of this seems to be better, I also like the strap enforcing the top, it makes it easier to roll. Also, the 2 D rings on each side of the buckle make it easy to either hang it up in a tree or to just make sure the bucke doesnt open.

I love that it's so lightweight!
Bag seems pretty well made. Haven't water tested it yet but figured i would give you an indicator on how big it is.
I used this bag to stuff a down jacket in it (Millet Expert Down Jacket - Men's).

I first purchased the 3L bag which was to small for this size of a down jacket. 3L would fit a Marmot Zeus Jacket fine.

I returned it and received the 5L bag which just fits the Millet Expert fine.
What size bag will fit a 6ft mummy bag in...
What size bag will fit a 6ft mummy bag in it?
Totally depends on what the bag is made of and what its insulated with. If its synthetic, I'd probably go for the 25 L, most down bags would probably fit into the 15L...unless its got a low fill rating and/or is for really cold temperatures (below zero).
I have a 15 degree 650 fill that's 6'6", and it fits into the 15L without any problems, and it keeps it dry.
What size bag will fit a 6ft mummy bag in...
What size bag will fit a 6ft mummy bag in it?
i can get my mountain hardwear ultralamina into to the 10 Liter. its a tight squeeze, but it fits.
I took this on a weekend trip to Zion...I knew it was going to be wet so I wanted to get something to keep my bag dry. We were backpacking in the rain for a solid 12 hours, and my bag (and clothes I managed to squeeze in there) came out ddrryyy. Granted, my pack was covered with a trash bag and stuff outside the sack only got damp, but it served it's purpose. Also, all my buddies who were pulling out their gear stuffed in plastic bags were jealous-it looks badass. I'd recommend it.
I use this mostly for bivy camping. It's perfect for your items you really don't want wet or damp. I use it for my iphone, socks, wallet, etc. I stuff the sack down in my bivy, and forget about it. It's also come in handy for those snow trips in the wet snow of the Sierra's. All my "need to stay dry gear" is perfectly dry when needed. Great buy. Thanks for another great product, OR.
The Outdoor Research dry bag has many uses.

1) to hang food
2) a pillow, when stuffed with extra clothes
3) keeps extra clothes dry
4) keeps a wet tent seperate
5) a laundry bag when in town
6) a foot-rest, when stuffed with extra clothes
7) tied to the outside of pack to haul extra gear
8) keeps sleeping bag dry
9) keeps dirty clothes seperate
10) fill with water when at campsite

These are my top ten uses of my Outdoor Researc dry bag while hiking...
I have these in a variety of sizes and I also have certain colors for items so I know exactly what bag to open. I have yet to have something get wet that was in these sacks. I have even tossed items into the bottom of my kayak and the contents remain dry. They are really lightweight so I carry a couple extra's with me just in case.
This sack performed above my expectations, keeping items dry even when thrown in the bottom of a canoe with standing water. I do wish for the larger sacks that the fabric was a bit thicker, but in terms of price this is really great. Definitely recommend. The smaller 10L I got really compacts clothes nicely as well.
Like a charm. I was super happy with the dry sacs. I got 3 of the 5L, and they worked perfect. Only side note is to keep in mind they are ultralight, and to stuff things in while the bottom is securely on the ground... things have a tendency to tear on you otherwise... turns out I only needed 2 of the 5L. I took these bags through monsoon type rains, and everything inside (including my down sleeping bag) stayed nice and dry. Highly recommended.
Great product, lightweight, I have several in different sizes and they all preforme flawless, nice colors too