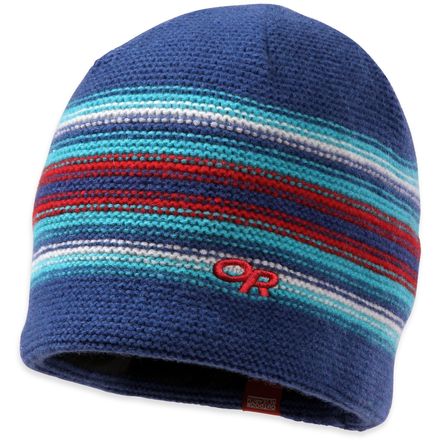 Colors

Detail Images
Description
In case you get in a jam, you could also summon the awesome power of alpine sheep to help you out—you're already wearing their wool.
A WindStopper ear band inside the Outdoor Research Spitsbergen Hat keeps your dome toasty warm, even if you're battered by the wind while you polish a boulder project or two at Cathedral Ledge. Wool construction means rugged protection, season in and season out.
Unanswered Question
I have an earlier version of this hat, love it, and want another color. Looking at the pictures it seems there are 2 different stlyles (for example the Evergreen/leaf looks like my old one and the baltic/typhoon looks much deeper). Are the different colors different lengths/depths, or does it just look that way in the images?
Everything is great with this hat but one thing. The lining they use does have a slight crinkle sound to it around the ears. Not bad but it does make for a different ride.
It's made of merino wool but lined with...
It's made of merino wool but lined with "WindStopper" lining. Not sure what WindStopper lining is. Is it soft? I love wool hats, but they're scratchy so I always end up with cheap polyester stuff. Really prefer something that's mostly natural fibers.
The exterior is wool and on the interior, there is a Windstopper fleece band around the ears/forehead region. Windstopper is a highly wind-proof fleece so it will be warmer than just wool alone.

But also, this will help keep you forehead/ears from becoming itchy by contact with the wool.

Hope this helps.
Just got my second Sptitsbergen hat in White....I have a year of abuse from my first one...(black)Just wanted to start the season fresh with a white one....

Comfortable and warm on cold winter ski days....Style is not everything,but this hat has great style.....
is it wahing machine? would it schrink?
is it wahing machine? would it schrink?
It is washable. I personally usually wash things on the gentle cycle though just to be safe. As far as shrinkage, I've never really had any hats that I've washed really shrink at all.
Best Answer
Great hat....Be carefull it will shrink....