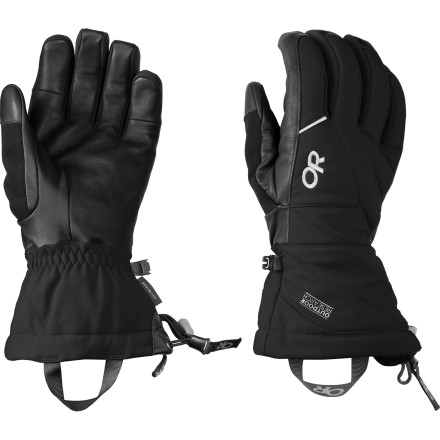 When you wake up to the sound of avalanche cannons echoing through the mountains, reach for the Outdoor Research Southback Glove. This waterproof, insulated glove is ready for heavy powder days and free-skiing madness thanks to its careful balance of grip, protection, and dexterity.
Gore-Tex waterproof breathable insert seals out moisture while allowing water vapor escape
Durable stretch-woven nylon on the back panel and gauntlet stands up to occasional run-ins with stray tree branches
Leather palm wraps around the fingertips for supple comfort and an unhindered grip
Strategically placed EnduraLoft insulation—133g in the palm, twice the thickness on the top— holds the cold at bay without creating restrictive bulk
Tricot lining is soft on your skin for all-day comfort
FlexAction wrist articulation keys in on mobility allowing full range of motion in your wrist joint
SuperCinch gauntlet closure stops snow from getting packed under your glove
Ladder-lock wrist cinch with easy-grip keeps warm air right around your hand so your fingers won't freeze
Removable idiot cord secures this glove so it won't go flying if you pull your glove off to check your phone on the lift
What do you think about this product?
Have questions about this product?
Life time warranty ? I always blow out the...
Life time warranty ? I always blow out the thumbs . If I send them back , you send me a new pair ?

What temperatures are they good down to ?

Do they come in XXL mens ?
The OR Infinite Guarantee is detailed here: http://www.outdoorresearch.com/en/warranty/



Unfortunately we only have them up to an XL (shown above) and as far as temperature goes it mostly depends on what you are doing with them and how your own body tends to do in the cold. If you are just standing around or have circulation issues they may only be good into the 30s but if you are generating some heat while skiing and skinning and tend to run warm they may be fine right on down into the teens or lower. I guess that is a way of just saying, it depends.