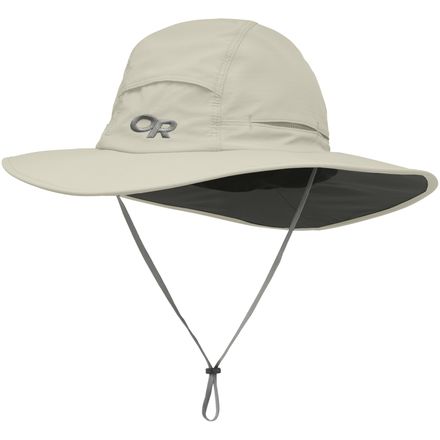 Colors

Community Images
Description
Your nose should only be pink from attacking the altitude, not from sunburn.
Whether you're trekking through the mountains or fighting your way through crowds of tourists, adventures abroad should never catch you without proper headwear. The Outdoor Research Sombriolet Sun Hat, complete with foam-stiffened brim floats , keeps the sun off your head during ray-intensive explorations. A mesh-lined crown and moisture-managing headband help keep you dry, while crown vents let you cool down the think tank when you're overloading on the gorgeous views.
Best hat ever
Familiarity:

I've used it several times

Fit:

True to size
I use the hat for birding - it stood up to rain, sun and high winds. The brim doesn't sag, it's light and comfortable and looks good. Got lots of complements.
Giant shade .
Familiarity:

I've put it through the wringer
Sweet hat great for keeping the sun off your neck and face. I find it very breathable and easy to wear all day on hot days. I wear 71/4 hat purchased a medium. Find it a bit snug but not uncomfortable . With the draw string cord on the back if you are debating on a size go up a size . You will be able to snug it down no problem .
Big Bad Brim
Familiarity:

I returned this product before using it

Fit:

True to size
The brim on this hat is huge, just as advertised. It would be perfect for spending all day on a charter boat catching red snapper with a few buddies. They wouldn't make fun of your big hat for very long and the coverage would be fantastic. But for other pursuits I felt this hat was too big for me and a little obnoxious. I returned it and got the OR Helios Sun Hat instead. Totally a style preference and couldn't be happier with the switch.
Great Hat for long days in sun
Familiarity:

I've put it through the wringer

Fit:

True to size
I've had this hat for two years now. I love the asymmetrical brim as it keeps the sun off the back of your neck while not obscuring your forward view. I also like how the hat vents as I tend to end up with a wet head from sweat in my other hats. I will say that if you pack this tightly in a bag, it may come out somewhat misshapen. It will return to its normal shape over time, but the support for the brim seems to learn whatever shape its stored in.
Bring on the sun
Familiarity:

I've put it through the wringer

Fit:

True to size
Great hat. Very lightweight and breathable mesh liner. This hat has a wide brim, that is neither floppy nor stiff but a perfect mix of both. It holds its shape, and keeps you protected from the elements. From working outdoors as a lifeguard, to lounging at the beach, canoeing the rivers of Maine, and hiking the peaks of NH and VT, this hat has been able to do it all. It can be folded, or tied to a pack when not in use and easily stored. Wind poses a potential problem, as the brim will blow upward and leave your face exposed.
Does the Helios Sun Hat come in a royal...
Does the Helios Sun Hat come in a royal blue color???
Hello Robert.

This particular model does come in a Royal Blue color, however we don't carry it. So sorry about that!

Best to order directly from Outdoor Research if you are set on that color.
How wide is the brim on this hat, particularly...
How wide is the brim on this hat, particularly in the back?
Best Answer
Hey Bwana, here are the stats for this product.



Medium: 22.5 in / 57 cm.

Large: 23.25 in / 59 cm.

X-Large: 24 in / 61 cm.



Measurements:

Circumference: 21 in

Brim: 3 in
Great Lid!
Familiarity:

I've put it through the wringer

Fit:

True to size
This hat is great. It has a nice wide brim to keep the sun off your ears, face, and neck. I took this hat while I was hiking Kings Peak in Utah and it rained on us the whole day. This hat is water-resistant, but not waterproof. However, the brim did a great job of keeping the rain off my face and it allowed the water to roll down the back of my jacket as I was hiking. The mesh ventilation is nice as well. I haven't felt super hot in this hat yet (which was initially a big concern of mine). Love this thing!
Outdoor Research Sun Protection Products
If you're not careful, long days outside hiking, paddling or climbing can leave your skin damaged and burned. To keep you protected from damaging ultraviolet rays, Outdoor Research offers a full line of sun hats, and UV Protective shirts and pants designed to keep you protected from the sun.
This is the best sun hat I ever owned; and I've owned my share.



I added a strap to hold my hat more secure against wind from the rear. It's simple, you might want to try it" Using the same chin loops for the front, I tied 2 mm paracord to each loop (behind the existing strap) with a half hitch, lifted the strap -- dangling the hat -- cut the cord at it's apex -- then over laped the two ends with a half hitch on each side.

It now can be adjusted in tightness to compliment the already good cinch on the back of the hat.
I wear a 7 1/8 to a 7 1/4 fitted hat size. I went with the medium I could have gone large and used the cinch strap, but the medium stays on my head with out causing any discomfort. I've worn it for a few weeks now on numerous 8 and 12 hour shifts working outside, and have been pleased. This hat has all the qualities that the previous reviewers speak of.
I bought this hat 3 months ago. I am an Assistant Scoutmaster with the Boy Scouts and after a few outings in the hot sun I decided I needed something better that would block the sun and provide ventilation at the same time. This hat does great at both. I wear it outside working or playing, when I mow, and a week at summer camp. The brim is wide enough to block the sun. The four vents are great for allowing air to flow through, helping to keep you cool. The hat does have a stiff rim around the brim, but I can still roll it up and pack it away when I need to. It also has an adjustable draw string to adjust the fit of the hat.
My brother likes it so much that he ordered himself one. Another of the Assistant Scoutmasters is getting himself one also. I have recieved a lot of positive comments about the hat. I would definitely buy this hat again. I also recieved great service from backcountry.com.
Ive always worn visors while backpacking, but thought I would try this one. I love this hat in the summer for backpacking. It rarely leaves my head. Its coverage is perfect, large enough to shade my face and neck. It breathes very well and I'm cooler with the hat on rather than off.
Well, it's not exactly a fashion statement, but it seems to work well, which is why I bought it. Lightweight, with good ventilation -- a "must" here in North Central Florida. Besides general outdoor use, I got it to wear when driving my convertible. The chin strap is a requirement; I wouldn't trust it without that while motoring. Brim does a decent job of not "flopping" back excessively in the wind -- and a more rigid brim would probably go airborne anyway. Heading to China for 3 weeks in a few days. Seems like it will pack well -- nice and flat. All in all, a nice hat. I just want to wear it under more conditions before going all the way to 5 stars. No complaints!
Can this hat fold up? Or is the brim stiff...
Can this hat fold up? Or is the brim stiff and doesn't allow that? Just thinking about portability and if I can stuff it in a cargo pocket when not using it...
The brim is pretty stiff. If you're looking for this kind of coverage with a foldable brim, look at the Helios--a lot more flexible brim that can be shoved into pockets a lot easier!
Is the back of the brim going to whack...
Is the back of the brim going to whack against a tall backpack? From the OR website, the back of the brim is cited at 3.75 inches on the M, which I will get (22.25in head).
Is there any adjustment to size , like a...
Is there any adjustment to size , like a back draw string ? I have not been able to see a back view in the photos of OR Sombriolet
Hat?
The absolute best. Period.
I'll preface this review with my cut and paste statement that I work as a backcountry backpacking guide in Yosemite National Park. Nearly all of the products I take the time to review have seen at least a half a season, if not more, of use... and I'm committed to not bothering to write a review until I feel like I've really gotten to know a product. I never thought I'd bother to write reviews, but I've recently decided that since I've spent so much time over these last many years reading reviews, and finding a tremendous amount of value in articulate and well-informed opinions, that I wanted to give back to the community. So, with that being said, here we go...

I live in this hat in the summer. It rarely leaves my head until I can cool off in the shade of late afternoon. Its coverage is perfect... not too big, but large enough to shade my face and neck. It breathes so well that I'm cooler with the hat on rather than off. There are times I fold it up and throw it in my pack after a trip, and while the rim will bend a bit (it has a sort of wire shaping form around the edge)... I just lay it out with a book or something on it and its like new the next day. I've washed it a few times and it always comes out looking like new. Even after over a year of heavy use/abuse its still flawless.

I'm frequently asked where I got it, and who makes it... so its a hit with other folks, too. I can't say enough great things about it. I'll likely pick up another just to keep... in case.