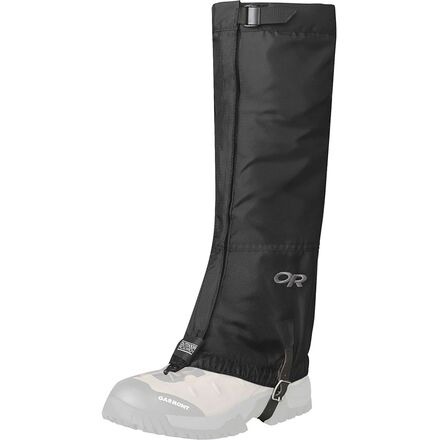 Community Images
Description
A lightweight gaiter that keeps out the riff raff.
Keep snow, mud, and other trail debris out of your boots with the Outdoor Research Rocky Mountain High Packcloth Gaiter. The Rocky Mountain High is a basic design that gets the job done without any unnecessary frills–just tough, breathable fabric securely attached to your boots.

Tough 420D nylon stands up to years of hiking, trail debris, and hungry insects
Super-tough Hypalon instep strap for year-round dependability
Breathable fabrics throughout allow water vapor and sweat to escape
Reinforced boot lace hook keeps the gaiter in place
Elastic bottom edge keeps debris out
Tough, inch-wide hook-and-loop front closure
Comfortable fit
Familiarity:

I've used it several times
They're light enough that you can strap them on guilelessly, and I can not tell you how wonderful they are when out in blowing snow. I've never been one to let 3 foot of snow cover keep me off the trail. As a resident of the great plains I absolutely love snow shoeing. There are times when the prairie can be merciless and wind gusts turn the top crystallized layer of snow into flying daggers. Wind and moisture will inevitably find any existing chinks in your winter armor. These gaiters do wonders for keeping your base layers as dry as possible.
What's the difference between the men's and women's gaiters? Is it just different sizing? Thanks
hey Lily, Leta here from OR. Yes, its all about sizing, not only around the shoe (volume), but also around the calf and the height of the calf. These gaiters are fantastic, and a great value.what are you using them for?
Thoughts on if these are appropriate for the pacific northwest (late winter / spring conditions) or if I should look at the verglas / crocodiles?
These guys aren't waterproof, so take that into consideration. If you're in snowy or damp conditions these guys will work fine (and they will keep you dry on stream crossings too) but if you're in persistent rain I would recommend the Verglas.
Really shed the mud and water
Use these any time i need to get in the woods when it has just rained or is mucky and muddy. These really do the job, great construction, and never feel like they're going to come off!
What are the (height) on these OR Gaiters and the (circumference around the calf?) Is there enough room for insulated coveralls(Carhartt) to be worn underneath ?
Zappos lists the measurements for the XL size as having a 19 in shaft height, and an 18in circumference (which HAS GOT to be wrong - I honestly think they meant to type 8 inches, and just added a 1 on accident). REI lists the shaft height (no circumference measurement available) as being 15.75in, BUT they don't include the size they used to take that measurement, so it may be a size Medium or Small in that case. Campmor lists the "average height (again, no listed circumference measurement provided)," whatever that's supposed to mean, as being 18in. Amazon people who have asked what the circumference of these is, and two of the three supplied answers list the measurement at 8 inches, with one person saying that "I'd say it can fit up to a 17" calf. My pair measured 9" across at the top."

For some reason, OR doesn't seem to think this is valuable or sought-after information, even though it would be one of the first things I would think to provide as part of the product specs.

Sorry I couldn't be of more help, but just buy the gaiter size that corresponds with your shoe size and give them a whirl with your coveralls on (I wouldn't remove the tags, though). I would think they would fit over your coveralls, but Carhartt does run on the heavier, bulkier side of things, so I could be wrong. However, doesn't hurt to give it a try.
I think our friend James here is confusing diameter and circumference. If these has a circumference of 8 inches they would only fit legs with a diameter of 2.5 inches. I don't know anyone with legs that thin who also isn't a child. If the 18in circumference is correct, which is probably very close if not spot on, then the leg diameter it would fit is 5.73in that sounds a lot more like a regular human.
+5 Gait Efficiency and +5 Morale
Familiarity:

I've used it several times
Pretty sweet gaiters here. I'm not sure how much more progress there is to be made in gaiter technology but these Outdoor Research Rocky Mountain High gaiters are to the point and offer all the features required of a high quality gaiter, even for Mr Sunshine on His Shoulder John Denver.

I've used them for a rainy and slushy last week of hunting and they keep my lower legs dry, the scrub out of the shoes and are reliable. I didn't have any problem with them riding up/down my calves nor were the attachment mechanisms failing at any point. These act like any other Gore Tex type material; if you're stealthing around after big game the gaiters can and will be a little louder than other materials, like denim. I wear a 14 shoe and the XL fits nice and comfortably snug and rather more breathable than I was expecting. About 30miles logged on these babies so far; further bulletins as info warrants.
Lightweight and durable, runs large
Familiarity:

I've used it several times
Got these as a birthday gift from my brother and have to say that I'm really happy with them. They're incredibly lightweight (I can't even feel the weight when I'm walking) and very durable. I haven't used them with crampons, but they seem like they may tear easily in that regard (an abrasion-resistant patch on the inside of the ankle would probably help in this regard).

I would also add that if you're near the bottom of the size range, size down to a smaller sized gaiter. I have size 10 feet and received the men's medium, but they fit well. I definitely have to stretch the base to get the velcro to reach on the front, and it's a bit of a pull to get the lace hook low enough that I'm happy with it, but I end up with a slim fit along the calf (which I prefer) and a great seal along the bottom (I've worn them through small but rapid creek crossings that were higher than my boots and stayed dry). For fit reference, I've fit them low over my size 10 hiking shoes, and slightly higher (although still below my fibula) on my size 10.5 lightweight mountaineering boots. If I were to buy some to go with insulated mountaineering boots I would probably size up to a large (which would be my recommended size).
Recommend looking at the Verglas
Familiarity:

I've used it once or twice and have initial impressions
Outdoor Research is the best for gaiters. Unfortunately I tried them on for the first time in the backcountry and the sizing chart was off. I have a size 13 boot, went with the XL but they were baggy and I could not strap them tight enough to my upper calf.



Feet and legs stayed dry in the snow. Not as breathable as I would like so I upgraded to the Outdoor Research Verglas in a large.
new to gaiters
Familiarity:

I've put it through the wringer
ive never owned a pair of gaiters before, but i love them. ive worn these in mud and thigh deep snow and my feet/pants stay completely dry. i use them daily at work. absolutely worth the money. im only about 4 months in, but i have zero complaints and would recommend highly.
Keep your pants dry
Gender:

Male

Familiarity:

I've put it through the wringer
Had these for 3 yrs and I've always had great success. Keeps the snow, water, and burrs off your pants. They fit well and instep strap stays put. I liked them so much I last bought a pair for my brother, so he would stop stealing mine.
Groovy Gaiters!!
Familiarity:

I gave it as a gift but have feedback to share
I bought these Rocky Mountain Gaiters for my husband a while ago and they work great for him. The sizing chart is dead on. I suggest these to anyone who is tired of having a wet lower half.
Simple & Perfect!
Familiarity:

I've put it through the wringer
These are perfect in every way! Simple, Affordable, Quality & Waterproof! What else do you look for in a gaiter?? I have used these gaiters hard for a long time now & they look like new still. Great OR Product!
Everything and More
Familiarity:

I've used it once or twice and have initial impressions
This gaiter is everthing it says and more. I wore it on a summer trip to Mt. Adams. It was light enough to keep you cool but sturdy enought to keep dirt and snow out. These are one of the best pieces of gear I took with me on that trip. They wont keep you warm but they will keep you dry.