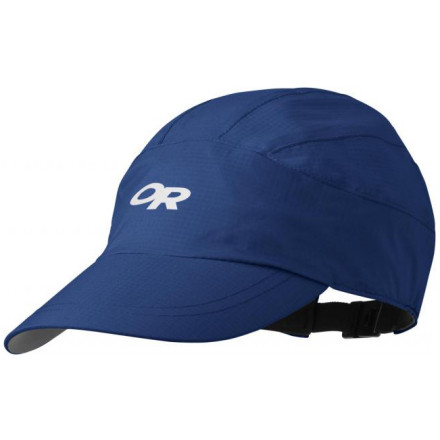 Community Images
Bask in the glory of your run with the Outdoor Research Revel Baseball Hat. Outdoor Research made the Revel with proprietary Pertex Shield DS stretch ripstop fabric for a variety of benefits during high-output activity. This waterproof breathable fabric helps regulate your temp during those misty morning runs, while a moisture-wicking headband reduces sweat buildup and keeps you dry. When the sun comes out, you'll be glad to be sporting this hat so you can spot trail features rather than eat them.
Great for winter time
Familiarity:

I've put it through the wringer

Fit:

True to size
I using it for medium rainy trekking days and for winter running. is it not to heavy and rain proof
Nice waterproof cap, breathability decent for rain gear
Fit takes a bit of getting used to, somewhat between a military cap and running hat. 0 structure to the body of the hat but the brim provides good coverage and holds its shape. Very comfortable overall aside from getting a bit clammy when upping your physical output above zone 2.

It performs very well as a rain hat, I've been in several heavy downpours wearing this w/o a hood and no water made it through from the outside, but is pretty stifling for more active endeavors in mild - warmish humid weather. All of the sweat (and you will sweat w/ this on if you're doing any cardio activity in anything over ~65F) seems to get trapped on the inside and doesn't seem to dry/evaporate w/o taking the hat off for an extended period of time.

I'll give it 4 stars based on it being designed as more of a rain hat than anything else, and at that task it does very well.
This hat meets my expectations. It is light-weight, waterproof but less breathable than a standard hat. It's brim is long, which I think is a good thing. This hat is not a low rise hat as the structure may suggest.

I bought this for my Boy Scout for rainy camp-outs. He likes it even if it is a little too big. The hat tightened to fit puckers in back and goes below his ears. It fits me pretty much the same way. If it fit better I would buy one for myself. 4 stars instead of 5 b/c its "one-size-fits-most" favors the lineman over the ladies (and teens).
I never leave home without it. Lightweight, flexible, and fits in my cargo pants pocket when I'm not using it. Very breathable and dries quickly to boot. Recommended
Was on the AT in Shenandoah. The day was miserably rainy and windy. Hat was perfect on my bald head. Breathed! Kept my hood off my face and rain out of my face--my glasses barely got wet! Wicking was excellent which allowed the cap to dry very fast! I once only wore this hat to run, but it will go with me to the mountains from now on for such eventualities. I will need to remember that I take because it weighs nothing!
Waterproof, lightweight, and a rich red color--this is a great hat. As a bonus, you get to watch the raindrops collect on the brim. With most hats, the water soaks in before it gets that far. One caveat--pinheads need not apply for this one-size-fits-all cap. I have a medium (albeit nearly hairless) head and I have the strap pulled within a centimeter or two of its limit to get it to fit me. Macro-domes will be happy with this one.
, ☃bcs_badge_alumni_label☃
These have a buckle clasp.