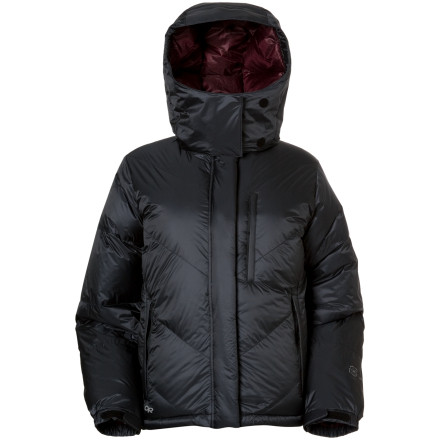 Detail Images
Share your thoughts
What do you think of the
Outdoor Research
Refuge Down Jacket - Women's
? Share a...
I have never once been warm...
on the summit of a mountain in the winter. Until yesterday when I wore this jacket. It was probably 15 degrees with 30ish mph winds. I was toasty warm. I only ordered the jacket last week, so I've only used it once, but as a the perpetually cold winter hiker I was quite pleased with its maiden trial.
I just got this jacket and I am in love with it. It is so warm and functional. It has kept me warm in -15 weather...and I'm always cold. The hood is amazing and I like that you can zip it off. It seems to be crafted really well and there's a lifetime warranty! All in all awesome jacket!
The warmest down Jacket I have ever owned! If you're like me,(you freeze), this will be your new best friend! Great for belay or around town, or on a super cold ski day. No aerobics in this puppy! Way too warm!
I am 5'2'' 130, I ordered the Medium & I was swimming in it! It fits large. In all others things I wear a Medium usually. I'm going to order a smaller size. It looks and feels like a great jacket! I love all the pockets inside and out. It seems to compress pretty small as well.
Seriously Warm and Pretty Light too!
This jacket will warm you up in no time. I cannot wear it in anything about 40 degrees because I end up way too hot!I am more than happy with that because I got the jacket for mountaineering when its super chilly out. It works perfectly for that. I do kind of agree that the styling is not terribly attractive, but this is not made for wearing around the city. Plus, I don't understand all the complaints about the hood: It's removable people! If you don't like it, you can just take it off. Overall, a great buy if you can get it on sale.
Convinced the wife to go with this brand when it came up on S&C. She's 5'6" and 110 lbs, and the small seems to fit her well. Hood's big, she looks kind of like a pink helium balloon, but she's cool with it. She dug the features and seems content to keep it. Only eyebrow raiser was that to me it felt like there was not very much down fill. Seemed thin. I guess that provides for better shape, but I'm crossing my fingers that this keeps her warm enough through the winter. It's a nice one, but doesn't feel worth anything close to its retail price. Maybe that's why it made it to S&C. Hope its performance proves us wrong about that.
I'm 5'8'' and about 125 pounds. Do you...
I'm 5'8'' and about 125 pounds. Do you think the small or the medium would be best for me? Would it be long enough for the snow to not go up?
My wife has this coat and she is about 5'7" and 135lbs. She wears the small. it is not a long coat, but normal length cut. She loves it, SUPER warm, and it has a drawstring on the waist, so snow would not go up it.
I bought this coat for the summit so color and style are secondary to warmth and compactability. The medium is bigger than I expected or needed, but it does make it easy to layer on top of whatever else I have on. And it's very warm and light so I'm happy with it! :)
Does the length of this jacket compare to...
Does the length of this jacket compare to sub zero or sub zero SL? I want something a little longer....
I had an old sub zero and just got this jacket. The sub zero is a little longer and has a waist cinch as well as the bottom. Overall this is a way nicer jacket though (at least for the purposes it was intended). The sub zero might be a little nicer looking for walking around town.
This seems like a very well-made jacket; however, I went with the Mountain Hardwear Sub Zero Down Parka instead for several reasons. First, the OR jacket had a very shiny fabric sheen that I found kind of ugly. I liked the non-shiny, subdued look of the MH parka. Second, the fit was much boxier than the MH parka, which came down over my hips and butt nicely.

That said, it's a nice jacket and looks high quality, and OR makes great stuff. Yes, the hood is enormous, but you can easily pull the toggles to minimize it, or just unzip it completely. It looks fine when minimized. Nice pockets.

I am 5'3" and 117 and the extra small fit well.
I am 5'5" and 115 lbs: would a small or...
I am 5'5" and 115 lbs: would a small or extra small be the best fit?
I'm your size and I wear the small one. I can wear a sweater underneath and it fits great.
I know Ann Sue Riddick, and the Mountain Hardwear Sub-Zero Parka was a much better choice for her petite size. It's even great to wear when the weather is beautiful.
Unanswered Question
I'm 5"4' and about 125 lbs, though i'm on...
I'm 5"4' and about 125 lbs, though i'm on the thick side (35-29-38). I wear a size small patagonia down sweater and can fit a 100-weight fleece under that. I saw some reviews saying it runs a bit big so would this jacket in size small fit over a light down sweater? or should I size up to a medium?

Or more objectively, anyone out there can tell me what can be layered comfortably underneath this jacket in size small for a woman my size?
This jacket is perfect for stuffing in my pack and pulling out at the summit. It keeps me perfectly warm and dry. The big hood is awesome over a helmet for toasty belays. I can't say enough good things about it!!
Very warm and versatile. Good for backpacking, climbing, or just walking around town on a cold night. i like the length and large hood
Toasty warm, great length and capacious fleece lined pockets.

Silly as this may sound I got this to wear when walking my dog in the rainy Pacific northwest winter. (The shell-with-layers configuration was not working for me because the unlined pockets meant I had to wear gloves, and gloves are not always practical when you are the kind of person who constantly loses gloves.) I was looking for a waterproof down jacket with warm pockets and a hood, and there are not a ton of choices, but I am really happy with the choice I made. Now we go for longer walks since my hands aren't freezing after 5 minutes, so my dog is happy with it too.

When I finally get my act together and do some backcountry skiing I will be glad to be able to fit a helmet under the hood.

Yup, it's a big hood. But it's removable, and anyway, I don't do much looking in the mirror when I am outside so I don't really think about it.
Are outdoor pockets zippered?
Length of...
Are outdoor pockets zippered?
Length of sleeve ? Adjustable?
Yes, all 3 outside pockets have zippers. I am happy with sleeve length though that's typically not a problem for me. I am 5'4" and the small fits nicely. I'm not sure what you mean by "adjustable."
Lightweight and pooffy...
I live in Toronto, Canada where the cold can get as cold as -30 Celsius and with a few light layers underneath this jacket kept me warm. It's extremely lightweight but very poufy (I concur with the marshmallow statement from another review) and the hood is ridiculously big and dorky for city wear (thus the 4 star review). In terms of fit, I usually wear a Medium in North Face jackets but ordered the small in this one and it fits a little on the big side. So overall, I would recommend this jacket but beware of the hood if you are not going to wear a helmet!
I've had this jacket about a month now and really like it so far. I haven't used the hood yet because I haven't had a need for it yet. But the jacket is so super light and fluffy that I love wearing it anywhere (even though I look like a big black marshmallow...the only reason I gave it 4 stars instead of 5). The inside color of the black jacket is a sweet maroon color and I wish they'd made the outside that color. The pockets everywhere are perfect and handy. Pretty much the best way to describe the jacket is its like a warm, waterproof sleeping bag.
I'm trying to decide between this jacket,...
I'm trying to decide between this jacket, the Nuptse from TNF and the Sub Zero Parka from MH. I'm 5'11" 150lbs with long arms. I've read a lot of reviews that say the MH jacket is shorter in the arms (a MAJOR pet peeve of mine with outdoor clothing), and I want to make sure I get one that is long enough in the back that it won't ride up under a pack while snowshoeing or expose my lower back to wind and snow. Anybody have an opinion on which is best for tall gals? Thanks!
In my opinion you're looking right here at the best jacket. Both my wife and I deal with the same issues you're facing and OR stuff has been great. The arms have always been long enough and the quality is second to none. All of our MH and TNF stuff had marginally short arms and especially MH rode up the back. Since we switched over to OR we've had a lot more fun in the nasty weather.Hope that helps.