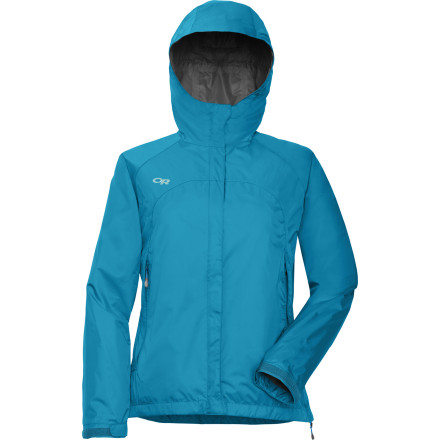 Outdoor Research added TorsoFlo waist-to-Underarm zips to the Women's Palisade Jacket, so you can adjust your temperature from sweating like crazy to nice and cool. If rainclouds brew on the horizon, just zip the sides closed and let the Palisade Jacket's fully seam-taped shell and adjustable hood keep you dry. This Outdoor Research jacket also includes an internal media pocket that doubles as a stuff sack when the sun comes out and you need to stash this shell in your pack.
Love the fit, hate the wet
Familiarity:

I've used it several times

Fit:

True to size
I really wanted a heavier, more functional layering system for the wetter season here in the Eastern part of the PNW. We don't have a lot of rain, but sometimes those down pours are a bugger. I wore this snowshoeing at Steven's Pass where it rained/snowed and I was soaked though. I wasn't sure if it was that it didn't breathe or if it was the rain. Now that I have read the other posts, I see it was probably both. I used this in lighter mist and was fine, but it doesn't breathe well even with the cool pit zips (I love you can open the whole jacket up). I also love the way this jacket fits, it's not as baggy as other lighter weight, layering rain jackets. I would love to return this and put the money towards another jacket. I hear OR might be interested in hearing about this? I Love OR products and will continue to buy them, it's just this jacket was a big bummer. I mainly use it as a car coat now.
Can I zip a lightweight fleece jacket into...
Can I zip a lightweight fleece jacket into this jacket?
This isn't zip in compatible but that shouldn't stop you from layering it underneath!
Straight Forward- Good Jacket
It took me living on the on the Northwest Coast for 6 months and a very rainy cold hike in the Canadian Rockies to finally push me to invest in a light-weight rain jacket. I love it so far! It's very waterproof- the fabric doesn't really breathe as a consequence, but I'd rather be dry ( I don't see this really being a problem in the area I live in, but I can imagine in hot humid areas this jacket would be a bit stifling). Other than that, good jacket and has room for layering which I look forward to in winter headed to and from campus during one of Utah's fat dumps.
Nice jacket, great color, good price
The green is even nicer in person - much more of a classic Kelly green or pine, not so turquoise-ish as my monitor shows. I got this to replace my Marmot PreCip - which is a great jacket, but got totally ruined in pine sap, and also had some weird pocket issues. Honestly it's so similar I'm having no regrets.

I was on a budget this time, and the sale price got me. One thing I'll say is the size is smaller than Marmot's sizing - I got a L - and while I wore my Marmot jacket snowboarding last year with layers underneath, this will not be good for much more than maybe one or two very thin layers. Also - I'm an easy 12, can fit in bigger 10s - and this L would not be advisable for a large 12 or small 14. Sleeves are not as long as my other jacket, I can't pull it over my hand past thumb base... but that's probably good for hiking and more active uses. Good tech components, like velcro at sleeves, side vents, and pockets.
A great light little jacket
I was super pleased when I received this shell. It's super light weight, comfortable and breathable. I live in the Pacific Northwest where a downpour can happen in the middle of a beautiful summer sunny day, so this shell is easy to pack around an whip out at a moment's notice. The fit hugs my waist very well and apart from traditional shells, this shell compliments my curves. My only complaint would be the placement of the pockets, which are on the hips and are a bit inconvenient for me. But overall a great buy for a wonderfully reliable product that will do the job and make youn look great too! :)
I can't tell if there are pockets in this...
I can't tell if there are pockets in this jacket. Does anyone know?
Yep, There are two zippered hand pockets and a zippered internal chest pocket that doubles as stuff sack
I've had this jacket since late last summer and since I live in Minnesota it hasn't seen much use due to winter being between then and now. Unfortunately, I encountered heavy mist and a little light rain yesterday on my way home. I was soaked through by the time I got home within 20 minutes. It does pack up nice and small but it just won't stand up even in light rain. Since I bought it on Steep and Cheap and not Backcountry, I can no longer return it. Find a different jacket if you want to stay dry.
I am so excited about this purchase. I researched and decided this was the best bet for the money. It is light weight, not at all stiff, and I know I will use this often. I am 5'9", and I ordered an XL. The sleeves and overall length are perfect. I especially like the adjustable hood. I have OR products that are 20 years old and still in great shape. Thanks OR!
I haven't had much of a chance to test this baby out yet, but so far it's getting the job done. Very light, comfortable, and looks pretty good on me -- what more could you want?
how's the fit??? wondering if it's on the...
how's the fit??? wondering if it's on the small side or normal fit.
It seems like a pretty normal fit to me, the sleeves are a good length but the torso does seem the tiniest bit short by comparison
Great, Simple Details! Just what I needed.
I just received my OR Palisades jacket, and let me just say, WHAT a relief! I was replacing a North Face nylon rain jacket that among other things, was a furnace, had very uncomfortable elastic at the waist and wrists, had the kind of scrunchy face pulls around the hood that made me have no peripheral vision when I was in a storm, a jacket so irritating, I left it in my pack during rainstorms. This OR Palisades jacket is the perfect replacement. The torso flo vents work BOTH ways, so you can unzip from the pits, and keep it closed at the hips, or you can unzip from the hips to the pits, for a sort of rain bib (so I can put it over my pack belt). The hood has the kind of gathering mechanism (at the back of the head) of my expensive Patagonia trench, so it looks quite elegant and pulls back right at the eyes so I can see everything while my face and neck are completely enclosed. Also it has velcro wrists which close down to even my teeny tiny wrists, while still being overall a great size and length for my tall frame. And instead of elastic around the whole waist (which jumps up as you move) it only has a pullcord at the back, so the front stays flat, and if i open the vents just a bit, allows for movement of the body without movement of the jacket. Oh! And the color is BEE-YEW-TEE-FUL! The Eggplant is a beautiful shade. Well done OR! And thanks, Backcountry, for letting me return that North Face Jacket after wearing it in a bit before I decided I couldn't take it anymore. I am SO pleased with this replacement.
This is such a functional piece! Completely waterproof, and you get the breathability from the huge side zippers that OR calls Torso Flow. Dumps the heat wicked fast and allows me to wear this piece over a pack hipbelt or climbing harness. Great rain piece.
is this jacket 100% waterproof or just...
is this jacket 100% waterproof or just water resistant?
Best Answer
the OR site says it's waterproof - no info about the rating though