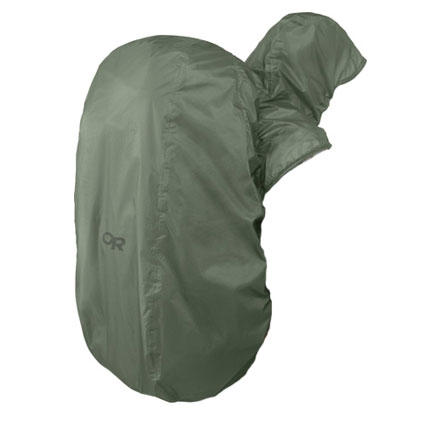 Outdoor Research takes a different approach to rain protection with the Pack Hoody—a pack cover that also shelters your head and shoulders. The integrated rain hood helps keep you dry if you decided to save weight by leaving your shell behind. More importantly, the Outdoor Research Pack Hoody eliminates the gap in rain protection that most pack covers allow, so your pack's back panel won't soak through and drench your gear.
what size will fit the crestone 75...
what size will fit the crestone 75 pack??
Hey, they only have one size... should cover 45-80L packs.
Light weight, easy to fit on my backpack and very effective. The drawstring system is very convenient helping assure the cover remained tightly in place around the pack. I was impressed with the 'breathability' without compromising gear protection from the rain.
What size pack is this intended for. Could...
What size pack is this intended for. Could it fit a 20 litre or 70-100 litre
Outdoor Research's website says it covers 45-80 L bags.
The seams are taped and waterproof. Full rain protection for head and shoulders. Bungee cord allows for anchoring of hood to sternum strap if desired. Elastic drawcord around back and bottom.
In warm/hot weather this worked great. I liked that the hood kept the rain from going down my back and potentially getting into my backpack through the back panel. A rain jacket would have made me too warm. And in the stretches of dryness all I had to do was push back the hood - no taking off the pack to stash my jacket or to put it back on.