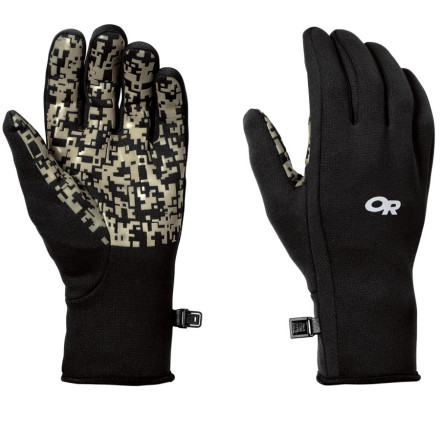 Pull on the Outdoor Research Omni Gloves whether you're raking the leaves or rummaging in the shed. These wind-resistant gloves serve as light work gloves or multi-use liners for layering when you're building a snowman . A pattern grip palm with glow-in-the-dark technology helps you find the gloves in a dark closet.
I bought these gloves almost six years ago, and they finally had enough holes in them for me to replace them.



These are my go to for bike commuting between 40F and up and also ski touring, they are a great "feel all" liner glove that is truly windproof. I've tried many other Pearl Izumi gloves, wool, etc gloves and nothing is as warm as the polartec gloves by OR.
Disappointed
Gender:

Female

Familiarity:

I've used it once or twice and have initial impressions
I hoped that these gloves would keep my hands warm at my local ice rink where I figure-skate, but they don't. They are, however, great driving gloves -- they really grip the wheel. These gloves would be good for the fall, but don't expect them to keep your hands warm in freezing weather.
I bought these with the hope of replacing my old OR Airfoil. Initially the glow in the dark palm was neat until pieces started showing up all over my room, truck, and random places during actual use outside. I figure within another month most of it will be gone... with only a month of ownership to date. The wind resistance is okay at best. Does not even remotely compare to the next-to-skin Gore Windstopper in the old Airfoil's. They are still better gloves after being five years of service and several half-baked patch attempts. I was hoping the grip pattern would also be comparable to the Airfoil. Again it was nowhere near close. The gloves are much bulkier with less dexterity.
I have a pair of these that I used last summer while climbing some 14ers in Colorado, they were perfect for cutting out the wind, completely waterproof, and had just enough insulation to keep my hands warm while climbing up high in the early morning. Sadly, I tore a hole in the index finger while sledding early this winter (hit a rock while holding on to the side of the sled, I'm surprised I didn't have deeper cuts in my index finger). I will probably buy some more of these before I go back to Colorado this summer.
I've had these gloves for a few years now and absolutely love them. I use them for light mountaineering, backpacking, and commuting on my bike. They are light, warm, block the wind, and permit good dexterity. The problem is, I wore some holes in them trying to arrest a long fall and now can't find them in a size Large...they seem to be discontinued. Rats! Snap them up if you can.
Fantastic bike commuting gloves
I seldom have the time or interest to write product reviews, but these gloves inspire me to. They are the perfect glove for year-round bike commuting in Seattle: never too hot or too cold with good wind-blocking. The material doesn't soak up water, but is soft and absorbent enough to comfortably wipe snot from your nose. The durable grips are white and glow (albeit moderately) in the dark, which helps hand signals be seen at night (provided you face your palm backwards). I feel naked on my bike without them and nearly divorced my wife when she lost one. They are the most beloved gloves I have ever owned.
I used these gloves all winter and into the ski mountaineering season in the summer in the coast of British Columbia and Cascades of Washington.

These gloves kept my hands warm,and they are very durable...I mostly used these gloves on the up track,then switched gloves for the downhill...