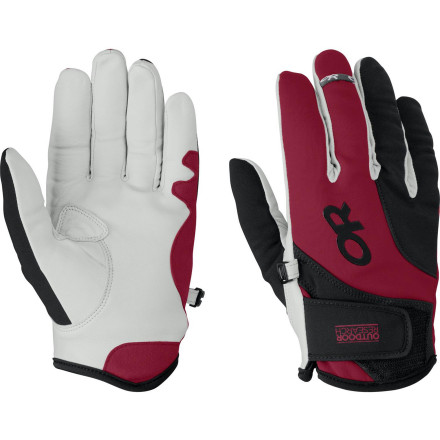 Dry tooling on steep rock and ice imposes its own unique set of demands on your body and your equipment, which is exactly why Outdoor Research designed the Mixalot Glove. WindStopper shell fabric on the back of the hand blocks finger-numbing winds while the tactile sheep leather palm provides a solid grip on leashless tools and the required sensitivity for clipping draws.
WindStopper polyester shell fabric blocks freezing winds and resists wet weather
Sheep leather palm gives you a secure grip on ice tools while providing enough sensitivity for placing screws and clipping draws
Stretch fabric on the back of the hand increases dexterity and comfort
Strategic seam placement reduces weight and bulk
Single hook-and-loop closure ensures a snug fit
Dexterity, Durability, and Damn Good!
There is nothing more terrifying than having your hands slip from an ice tool mid pitch on a challenging ice or mixed climb. Don't let this happen. I have used the Mix-A-Lot's on everything from easier ice climbs to completely overhanging dry tool caves. The dexterity of the Mix-A-Lot is beyond adequate. Snug to hand and fingers, you don't have that extra baggy feeling prevalent with some gloves. They give the climber unencumbered "feeling" of the swing thus allowing for total concentration on the climbing.