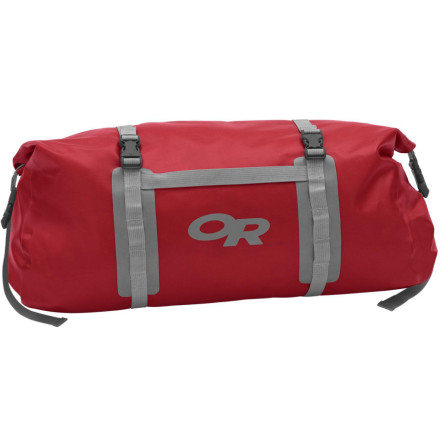 Detail Images
For easy, fully waterproof storage in the hull of your kayak or the basket of your raft, go with the Outdoor Research Lateral Dry Bag. The long, roll-top closure and radio-frequency-welded seams give you total protection from H20, while the urethane window lets you see the bag's contents. OR also included two vertical compression straps and daisy chains for securing to your craft of choice.
Not just for rafting/kayaking
Familiarity:

I've put it through the wringer
I bought the ten liter version of this as a handlebar bag for bikepacking. It's a nice slightly improvised setup that results in me not paying around $100 for a handlebar bag from Revelate or some other company. Very few differences for me in performance. This bag is awesome. I stole the idea from this http://3.bp.blogspot.com/-pyIh2V5GZvI/UGsVHCvm5TI/AAAAAAAADhg/7l3WlBacF-w/s1600/P1070904.JPG
Solid little bag.
Gender:

Female

Familiarity:

I've put it through the wringer
45 liters is pretty small as far as dry bags go, but I'm a light packer and I use this bag for week-long summer trips on a regular basis with no problem.



As a whole this is a great bag. I like the lateral design as it is easy to dig through and pack, and I often find the size and shape are a plus since you can fit it and rig it down anywhere on a gear boat.



The strap system is a little weird in that the straps that go all the way around the bag are small and the buckles on them are a bit weak. I also find it strange that they only go parallel and don't cross as it makes them more likely to slip and move around. Additionally, there is one hard-point strap that works great for rigging the bag but is inconvenient as a handle for carrying around camp.

All that being said, I've had this bag for three years and it's never leaked; which is all I really ask of a dry bag.
it's all in the packing (45 L review)
Pros: The wide opening is really great for packing and unpacking and finding your gear, and the 4 straps and handle/strap can also be useful for tie-down on a boat.

Cons: I found it harder to purge the air enough with such a wide opening for a comparatively shallow bag. I think this was due in part to the items I had and how I packed them, so I will explain. I used this bag on a river trip to hold some camera gear, tripod, small camera pack, and a couple random things. So the items themselves created a problem in purging the air around them. I also used this bag for canyoneering/backpacking and had items organized into 3 stuff sacks that I then put into the dry bag. The air purged a little easier with these softer items, but still had trouble getting it all. I think it would work better if you are not packing and organizing items in other stuff sacks or cases first, or if you have one stuff sack with say a sleeping bag, and then fill in all the space with your clothes.

Suggestions: I think adding a purge valve or a zip-lock style closure would make this bag close up better and more securely.
Lateral Bags Are Great New Design!
For years the standard dry bag design had been primarily top opening, making it impossible to get one thing out without pulling everything out as well. OR's new lateral bags make access super easy. The material is super durable yet suple enough to pack well. I use a 10L version for clothing and a 15L serves as my tent bag. Great design!