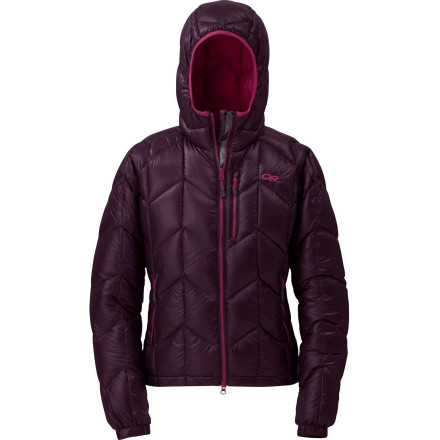 The Outdoor Research Women's Incandescent Hooded Down Jacket is the go-to puffy you should always bring along during the colder half of the year. The 800-fill goose down provides incredible warmth, the entire jacket weighs in at under a pound, and the down makes it compressible enough to be stuffed into its own front pocket so you can always fit it in your pack.
Pertex Quantum shell fabric is water resistant, breathable, and highly compressible
800+ fill goose down insulation keeps you warm in freezing temperatures
Standard fit and articulated elbows provide freedom of movement
Down-filled hood provides additional warmth and weather protection
Jacket weighs in at under a pound and is highly compressible for easy packing
Right front pocket serves as a stuff sack for low-volume packing
Tricot-lined elastic cuffs fit snugly around wrists
Drawcord hem seals around hips to keep heat in
The Perfect Heavyweight Down Jacket
Familiarity:

I've used it several times

Fit:

True to size
This is the down jacket I pull out when my OR Aria Hoody isn't quite warm enough. It functions really well for moving around in Seattle once the temps hover in an average mid to low 40s or below. The fit is perfect for me. The exterior shell doesn't feel very durable, and should probably be covered with a rain shell or something if you're going to do be using it for rock climbing in alpine settings, but as a powerful 800-fill down jacket you're hard-pressed to do better. It's spendy, but if you hunt around online you can usually find it for a great price (I got mine brand new for $85 from another retailer). The chest pocket is perfect for storing your phone, or a couple protein bars, or goggles or similar-sized items for easy access. The double zipper makes pairing it with pack or harness easy. The hood isn't adjustable, but has an elastic on it that works well if you have to pull it up so the wind doesn't get to you. The look is really flattering, and the angled chevrons are more appealing than the horizontal baffles on the men's version.
Warmest down jacket for the weight!
Familiarity:

I've put it through the wringer

Fit:

True to size
The Incandescent is a must for anyone who loves the outdoors when it's cold but doesn't want to actually be cold. I use this mostly for cold alpine rock and mixed climbing with the odd backcountry ski session thrown in, but especially when snow camping is involved. This was my only down jacket for 6 weeks in the mountains of Chamonix, France, and I couldn't have been happier with my decision. For its weight, it's so warm! I used to have the OR Refuge years back, which at the time was one of the warmest down jackets around. I think this one has it beat!



Other great features: the hood fits great over my climbing helmet, I really like the chest zip pocket, it stuffs into itself making for a nice pillow, and despite its warmth it still looks good — not at all bulky! Oh, and the drawstring hem allows you to shorten it a bit so it doesn't compete with my harness. It's a super quality jacket.
My favorite jacket
Familiarity:

I've put it through the wringer

Fit:

True to size
I love this jacket. When I first got it I was a little concerned that it was so warm that I wouldn't get to wear it much, but actually I ended up wearing it daily for most of the fall and winter. It's warm enough to be perfect on very cold days and in the snow, but it's also really nice on cool, damp days. I'm a kayak instructor, and this jacket is perfect to throw on after a day on the water. It feels snuggly and fixes that feeling of being cold to the bone, but the fit is flattering and feminine. The jacket is very light and scrunches up into a pocket that doubles as a stuff sack. Although it's not advertised as a rain jacket, I've worn mine in lots of rain showers and it stays warm and dries quickly. It's lightweight, and the hood is adjustable and perfect for keeping the ears warm without feeling bulky. I love it!
The Incandescent has traveled with me on every trip I went on this season from South America to Alaska. It is so warm, but also stuffs down easily and fits inside my backcountry day pack. If I know it might be cold, a bit windy, or find myself coming back with a headlamp, the Incandescent is a no brainer. Even without adverse conditions, it is nice to just have with me because it doesn't take up that much space.



I own it in Zin and love the way it looks. The shiny finish makes it even cute for town. Always getting compliments on this one.



One warning, the fabric does tear easily. If you're using it for the snow, it is perfect. For climbers you might want to look for a more durable fabric.



This jacket is an essential in my backcountry skiing collection!
The Incandescent Hoody is a super warm and lightweight down jacket. This coat stuffs perfectly in a daypack for any breaks on those cold days. Throw it on over thinner layers for instant warmth. Or it makes a great pillow in the hood of a sleeping bag. This coat is perfect for multiday winter trips or every day adventures.
I'm in love!
Gender:

Female

Familiarity:

I've used it several times
Love, love, LOVE this jacket. Super lightweight, toasty (but not *too* toasty), and stylish. It feels great (the Pertex Quantum shell fabric feels like silk), fits me perfectly, and has all the thoughtful details I want, like a cinch hem, chest pocket, articulated elbows, and a center back that dips down just the right amount to not let any snow in. I disagree with the PP's comments: I got the Zin and LOVE the color. It's cool enough for a city weekend and the wine + hot pink trim got a big thumbs up from my teenage niece, my husband, and my stylista BFF. AND they all think it's form-flattering (I returned an Ana Dablam because it made me look like a box). This is the jacket I've been searching for and have finally found after two years and lots of "not quite rights." The only one con I have is a wish the zippers were a bit sturdier and not a plastic that makes me wonder when they'll give it up. Still, with a lifetime warranty, I'm not stressing it. Thanks OR, for making a highly functional, stylish jacket that's as flattering as it is practical. Well done!
Super soft, warm... hard to give up
Gender:

Female

Familiarity:

I returned this product before using it
The good:

Super compressible, compresses to its own pocket- no separate bag to keep track of. Pockets.. 3 pockets- 2 hand, 1 chest. Super light, high quality down that is sooo soft and warm. Yet it was super-light for weight savings and had a drawstring bottom. It was a flattering shape and has a cool hood that made me look like an awesome teletubby (it's kind of a cool look). Best of all it has a double zip for belaying or wearing a harness, and the zip was a smooth thick plastic (not the small teeth cheap traditional zips -Virtuoso has a difficult zip), and the Zin color zip was bright pink, like the gorgeous inside color.



Why I returned it:

Wish I got the black (it was cheaper here on BC as black, but I wanted Zin...) - the Zin was not flattering on me. Looked like exposed muscle. I wish they reversed the inside and outside color. There are no inside pockets. I like pockets! Yes the 10D shell is light for obsessive weight savers, but I'm not obsessive... and prefer a strong shell. I doubt 10D would be strong for climbing, never tried, but I would be afraid to rock climb in it. Heck rocks scrape up my shin skin I doubt this 10D can avoid getting scrapes, and then the down would come out. If I was using it for playing in snow around town, no problem, but the thought of snagging this on rock would be bad. I guess if you were to just belay in the jacket it is not bad, or if you put a shell over it.
All i feel is warmth!
Gender:

Female

Familiarity:

I've put it through the wringer
This down jacket is amazing - so light, so warm, I don't even realize I have it on, except the warmth is fantastic. I have talked lots of friends into this jacket, and they thank me all the time! On the fashion front, I have never been stopped so much by strangers telling me that they love my jacket and ask me where I got it! FANTASTIC!